It goes without saying but, at university, the vast majority of your time will be spent studying! Luckily, here at Surrey we have some really great facilities for you to make the most of. I find having a good study space is essential for my productivity, stopping me from procrastinating and making sure the work I'm doing is good quality. I personally prefer to get out of the house to study as much as possible as this means I can keep my bedroom and house for relaxing – this distinction is great for helping me switch off at the end of the day! There are so many places you can study here at Surrey, in this blog I'll be telling you my three favourites!
1. MySurrey Hive
The Hive is one of my favourite places on campus! As a study space, I love the different seating available and the bookable group spaces are my absolute favourite when working on different projects! I also really enjoy how the Hive has a more informal feel to it than the library and the, 'take a seat' area is really great for collaborative working.
The Hive also has a kitchen area meaning you can warm up and have hot food. This is so great for getting me through a long study session – feeding the brain is so important!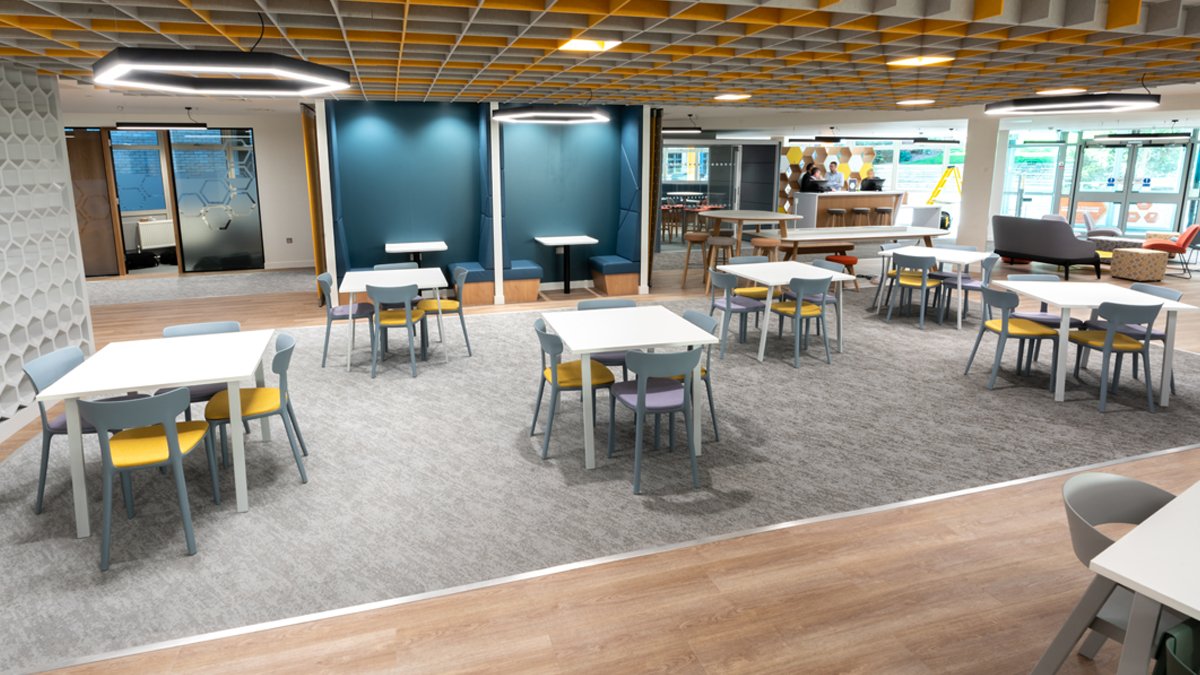 Along with being a great study space, the Hive is also an incredible centre for student support and services. There are weekly drop in sessions and the mentors are always available to ask any questions that you might have – they really do know everything! All the staff are so friendly and even put on weekly fun events. There are film and board game nights which are really fun and a great way to spend an evening with your friends or to make new ones. Socialising is just as an important part of university life as studying, after all. Be sure to check out more about the MySurrey Hive here!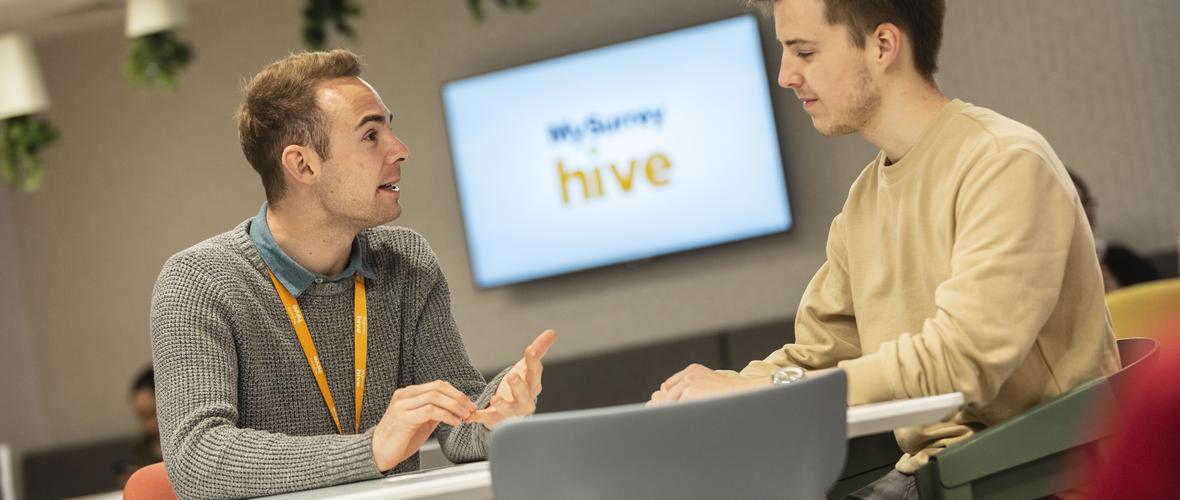 2. Surrey Sports Park
There are actually two venues for you to choose from at the Sports Park! Bench, a sports bar and a very large Starbucks – a student classic! The Bench does amazing food and is great for when you fancy doing work with friends and casually cracking on with an assignment. Starbucks also fits this bill very well with a great atmosphere and plenty of outdoor seating when the weather is nice. Treating myself to a nice snack definitely helps motivate me through a tough revision session!
One of my favourite study hacks is to set myself an academic related goal to complete in my time at Starbucks and follow it with workout or exercise class. This leaves me feeling happy and very accomplished. This feeling definitely keeps me going back which is great for tackling procrastination. I also love a chill revision session with friends after a sports training session together in Bench. These are very fun and, although not as intense as a few hours in the library, definitely helps me tick off things on my to-do list and allows me to feel that I have a good work-life balance. You can find out more about whats on at the Sports Park and Team Surrey here.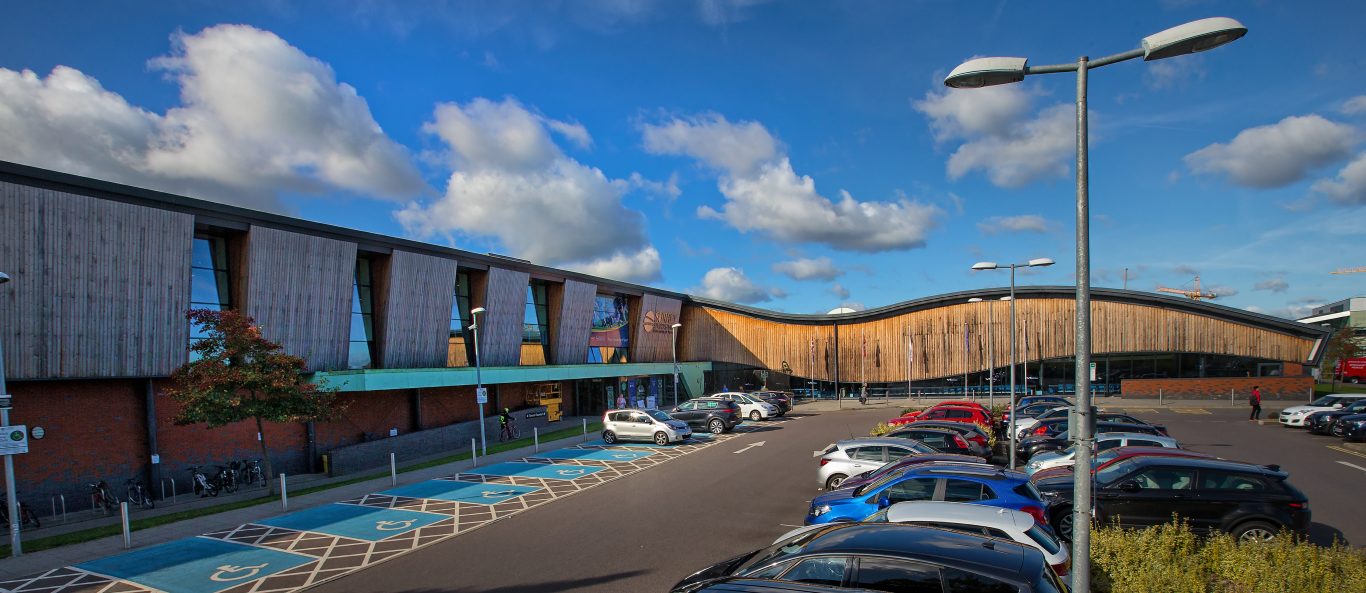 3. The Library
Saving the best till last, the library is here for all of your academic needs! Across the 5 levels there are tons of different seating arrangements and study spaces meaning, whatever your preferred learning style is, you will definitely find something that works for you. The ones I use most are: the booth style group learning spaces, silent studying booths and the double monitor computer screens. Another massive perk of studying in the library is the availability of textbooks – this means you don't have to bring yours from home and can quickly look up information as and when you want it. You can find more information about our incredible library here! With Simply Fresh the convenience store downstairs and vending machines on floor one, you can keep well energised as you work.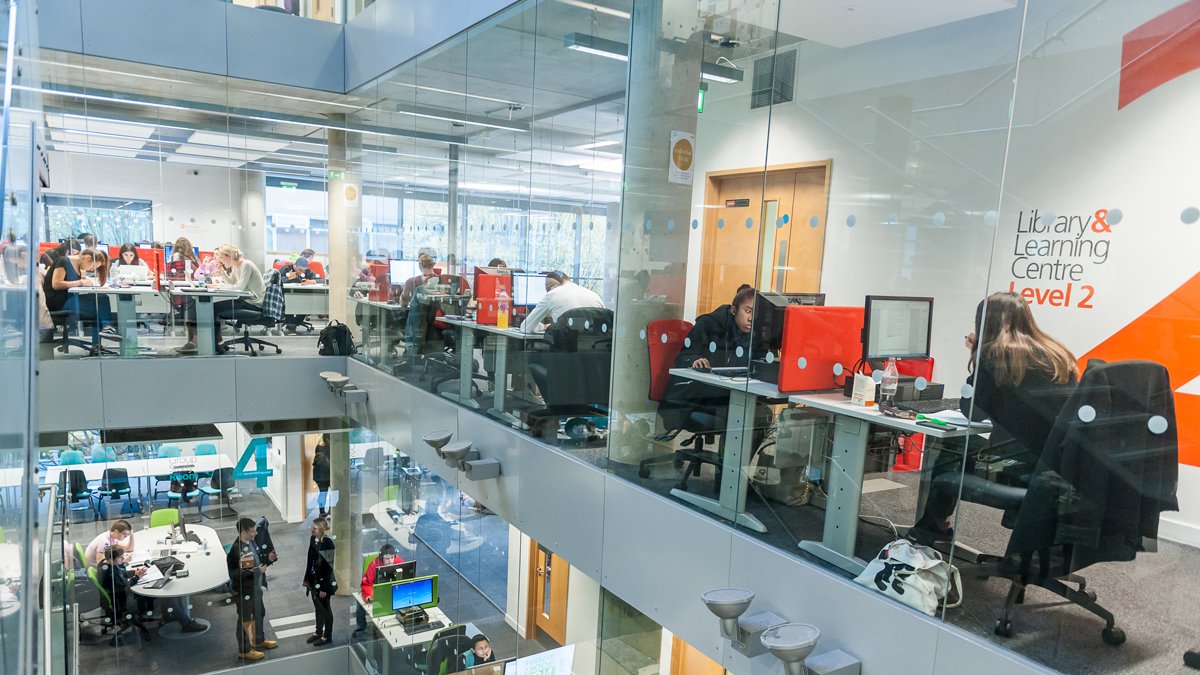 The library is also home to more of our amazing learning support services including the Maths & Statistics team and Academic Support. These teams run drop in sessions, workshops and you can arrange appointments to discuss your queries in more detail. They are very supportive and knowledgeable – I've always gotten so much out of visiting them. I'd recommend checking out the services to all students! Find out how they can help you here.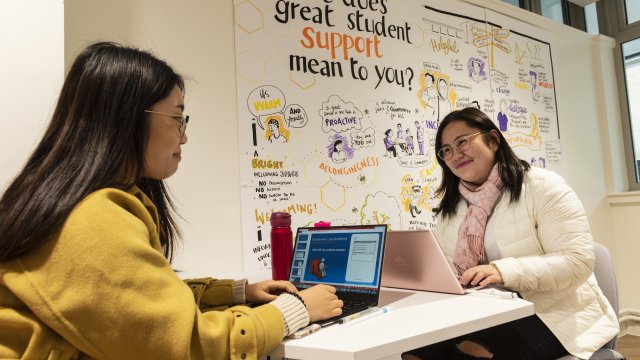 There are so many spaces you can use to study on both of our campuses! These are my personal top three and ones I find myself visiting frequently. We're very lucky to have such nice spaces to make the most of here at Surrey. Be sure to check out our Student Instagram to see where our other students choose to study!