Open days are one of the best ways to get a feel for a university, have a look around and talk to current students and academics. The open day at Surrey is hands down the reason why I chose Surrey. After the open day I could picture myself living and studying there, I got to look at the accommodation and even experience a subject taster lecture.
Register your place
In order to hear the latest news from the University of Surrey, you'll need to register your place for the Open Day. You can do this on the Surrey website.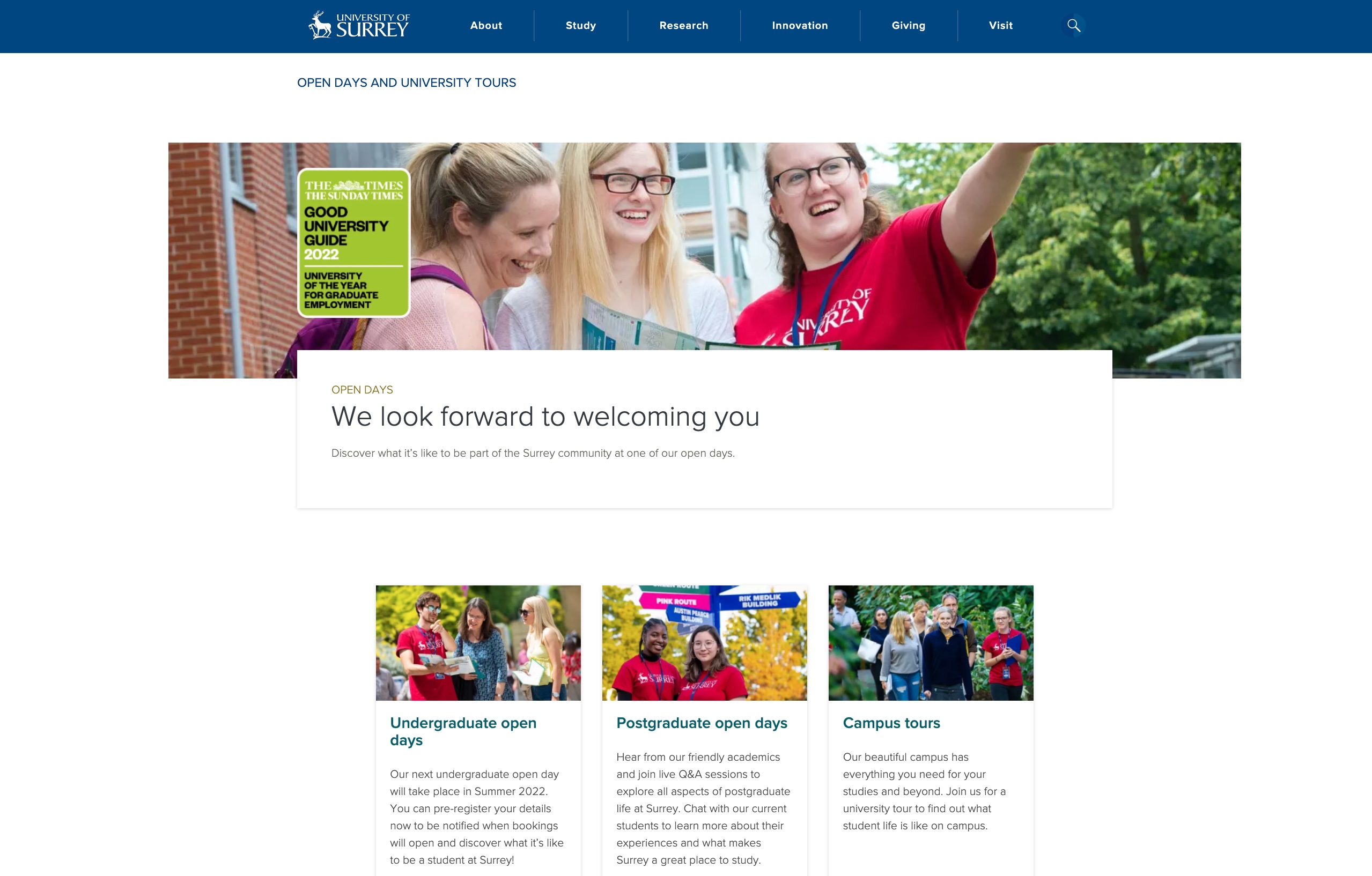 On the Day
Between 8.45am and 4pm you can come and explore our campus and take a good look around the accommodation and our facilities. We recommend allowing around 4 hours for your visit, this will give you the chance to see everything and get a real feel for what Surrey is like. The open day will provide you with the opportunity to go on a general campus tour and you will also be invited to attend subject specific and general talks including student finance, employability and accommodation. I'd definitely recommend using this opportunity to have a look around our campus, grab some food and look at some of our fantastic facilities.
Courses
Teaching staff will be hosting subject specific presentations throughout the day. These are a perfect opportunity to learn about your chosen course. You will gain an insight into the course content, it's structure and the course modules but it also provides you with the opportunity to directly ask the academics any questions. When I came to my Surrey open day, I was really impressed with the enthusiasm and passion that the lecturer displayed. It was definitely a deciding factor when choosing the University of Surrey!
Campus tours
For me, the campus is one of the most important elements. Surrey has such a nice community feel and just an all-round lovely atmosphere so I would definitely recommend going on a campus tour when you visit Surrey. The tour takes you around campus exploring all the key places, including the library, some accommodation, study spaces, and other facilities on campus.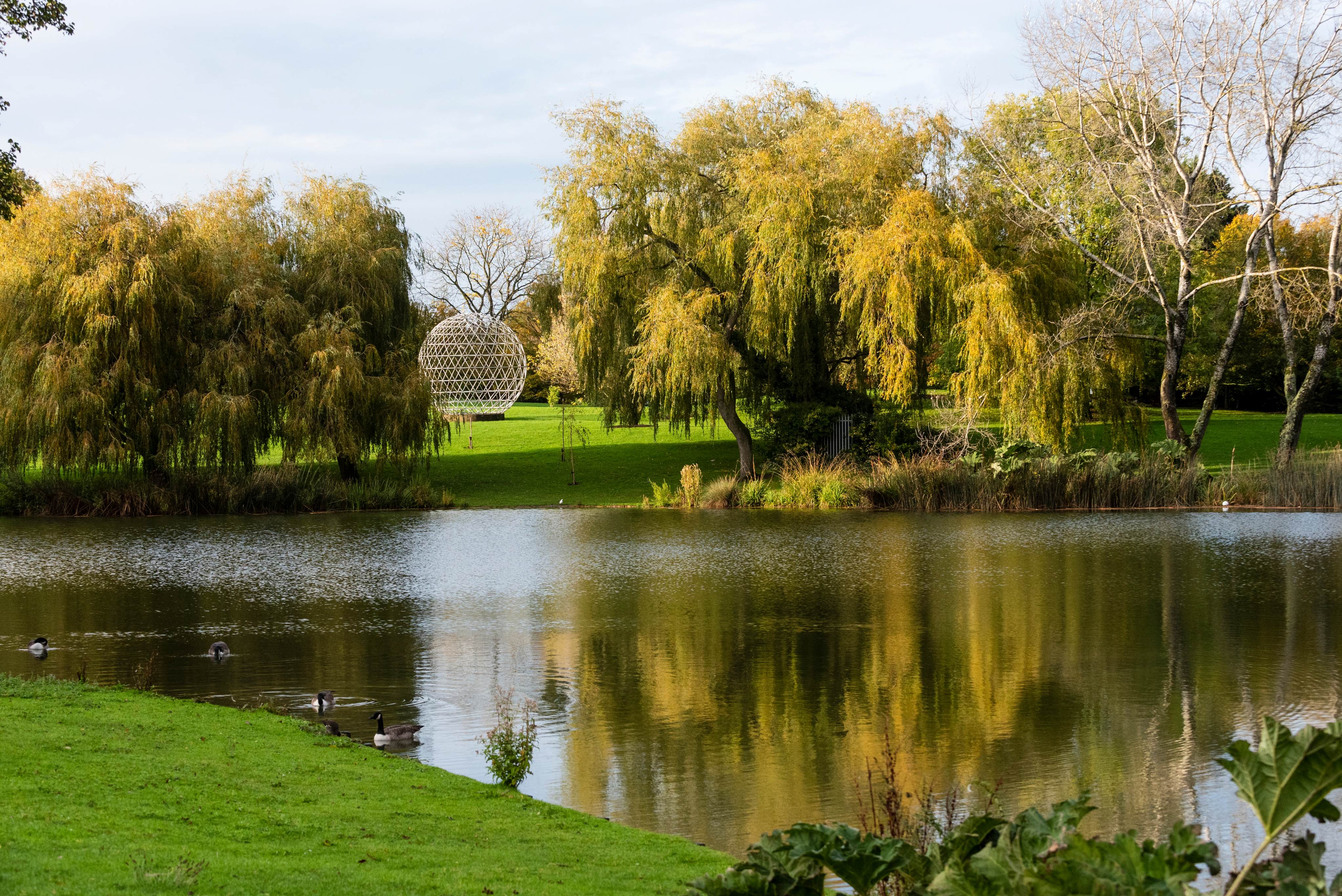 Chat to our current students
The tour will be led by one of our Student Ambassadors, these are the best people to ask questions to and have a chat about life at Surrey. Gain an insight into student life, societies, part time work, Guildford town, budgeting and so much more.
Plan your visit
You can get to our main Stag Hill campus by road, it is located just off the A3, only 15 minutes from the M25. Parking will be available on your open day. Additionally you can travel to Guildford by rail with the main campus just being a short walk from Guildford train station. Additionally the University of Surrey is just a short distance from Gatwick and Heathrow airport. There will be plenty of places available if you'd like to grab food and drink throughout the day.
Other ways to explore Surrey
If you cannot make our open days, chat to our current students (including me!) on our Unibuddy platform. Here you can talk to friendly student ambassadors who will do their best to answer any of your questions. You can find this on our website under 'chat to our students'. Surrey also hold live webinars, providing you with a better understand of our university, also giving you the opportunity to ask any questions during a Q&A.
We hope to see you at our 2022 open days!
For more information visit- surrey.ac.uk/opendays