In need of a part-time job to fit around your studies? We've got you covered with our on-campus job centre, Unitemps.
Located next door to the library and open from Tuesday-Thursday from 9-5pm, the global staffing and recruitment agency specialises in providing temporary and permanent staffing solutions to Universities and other higher education institutions.
You can swing by the office with any queries and our friendly, supportive team will help you out – be it support with creating your account, polishing your CV or guidance on how to apply for jobs.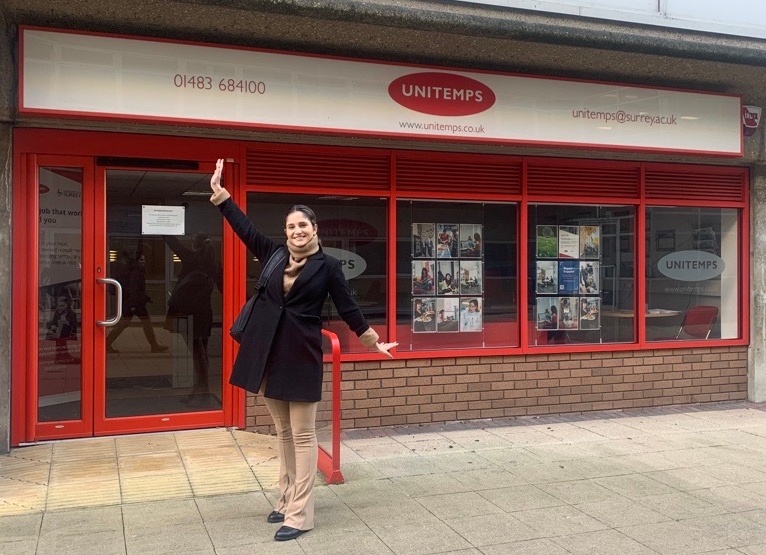 Benefits of getting a Unitemps job
Experience
An excellent opportunity for students to familiarise themselves with the job application, interview process and world of work. This is especially useful for those who are new to the workforce.

Opportunities
Enables you to meet new people and create opportunities for yourself in the future. Also enables you to improve important skills such as time management, communication and independence. These skills are not only useful for succeeding in the workforce but also for navigating everyday life. 

Career
Having a part-time job can be beneficial for your future career prospects, as it shows you can manage your time effectively and balance studies and work. Potential employers will appreciate seeing that you were able to excel in your studies while maintaining a job.

Finances
One of the most obvious benefits is that you will be earning money. This financial stability can be crucial for many students who may have to manage expenses such as rent, groceries and activities. Earning money through a part-time job also gives students a sense of financial independence and responsibility, helping them to manage their own finances and plan for their future. 
How to get a job through Unitemps
Update your CV
Sign up and create a profile
Under "Find a job", select Guildford as the location
Click "Search"
Choose "University of Surrey" as a branch
Click "Filter jobs
Have a look at the positions available – for more details, click on the position you're interested in
Read through all the requirements, pay rate and responsibilities
Select "Apply for job"

If you have any Unitemps-related queries, please email unitemps@surrey.ac.uk