A couple of weeks ago, the University of Surrey's School of Law hosted an 'Ask An Alum' event which gave its current students the opportunity to ask alumni about their experience at University and their working lives.
It was an incredibly insightful evening and we all have taken away lots of pieces of wisdom. We asked them a variety of questions, ranging from their best memories at University to the most rewarding parts of their current job.
When people hear that you are studying Law they generally assume that you would like to become a solicitor or barrister. Although this may be true for a large number of law students, it is not everyone and our alumni prove this. For example, Chris from the Class of 2015 is a Journalist at the BBC and Emily from the Class of 2018 is a PhD Researcher at King's College. It was so interesting to hear what other professions our alumni have entered into and how their law degree has prepared them for their working lives.
Chris said that studying Law was a great choice because it has lots of transferable skills such as writing and being able to process lots of information. Will, Class of 2017, who is an Associate Solicitor said that the knowledge you gain from a Law degree creeps back when you least expect it and as a Solicitor it has given him a core understanding of legal principles.
It was really heartwarming to hear that all of the alumni have fond memories from their time at Surrey.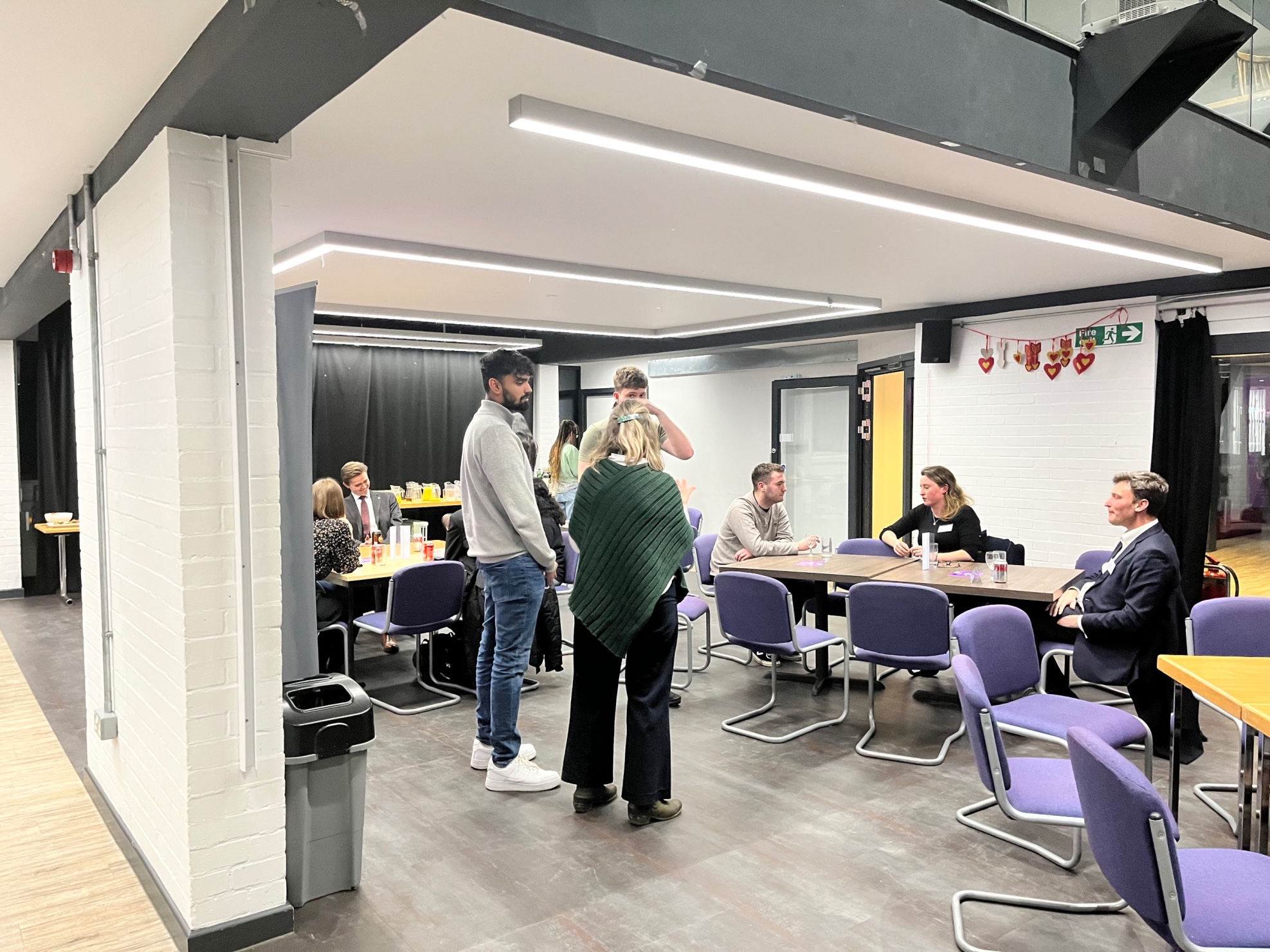 As a current student at the University, I chose Surrey because of the sense of community I felt at the Open Days. Many of the alumni such as Natacha from the Class of 2021 also agree that there is a strong sense of community here. When looking back at her time she said that she had lots of fond memories. The same could be said for Georgina, a Solicitor who graduated from the University in 2010. After leaving Surrey, Georgina was elected Vice President Welfare and started 'Raising and Giving' at the University.
As a current second-year student I was intrigued to find out if there was anything that the alumni would do differently looking back at their experience. Their main piece of advice was to be more confident and to put yourself out there.
Kahema, a trainee solicitor from the Class of 2017 said that he wished that he stepped outside of his comfort zone. He said that he would really recommend joining a society or sports club as they're not just good for your personal development but also give you experience for jobs and working life. Bethany, a trainee solicitor who graduated in 2020, said say 'yes' to everything. Get involved in networking as it's really important and your connections may be able to help you later in your career. Another alumni said that he wished that he 'didn't sweat the small stuff'. In the moment, it may seem like the worst possible outcome but in the long run it really isn't that important. The main takeaway for me was to enjoy my time at University as we will never have this chance again and to try as many things as possible.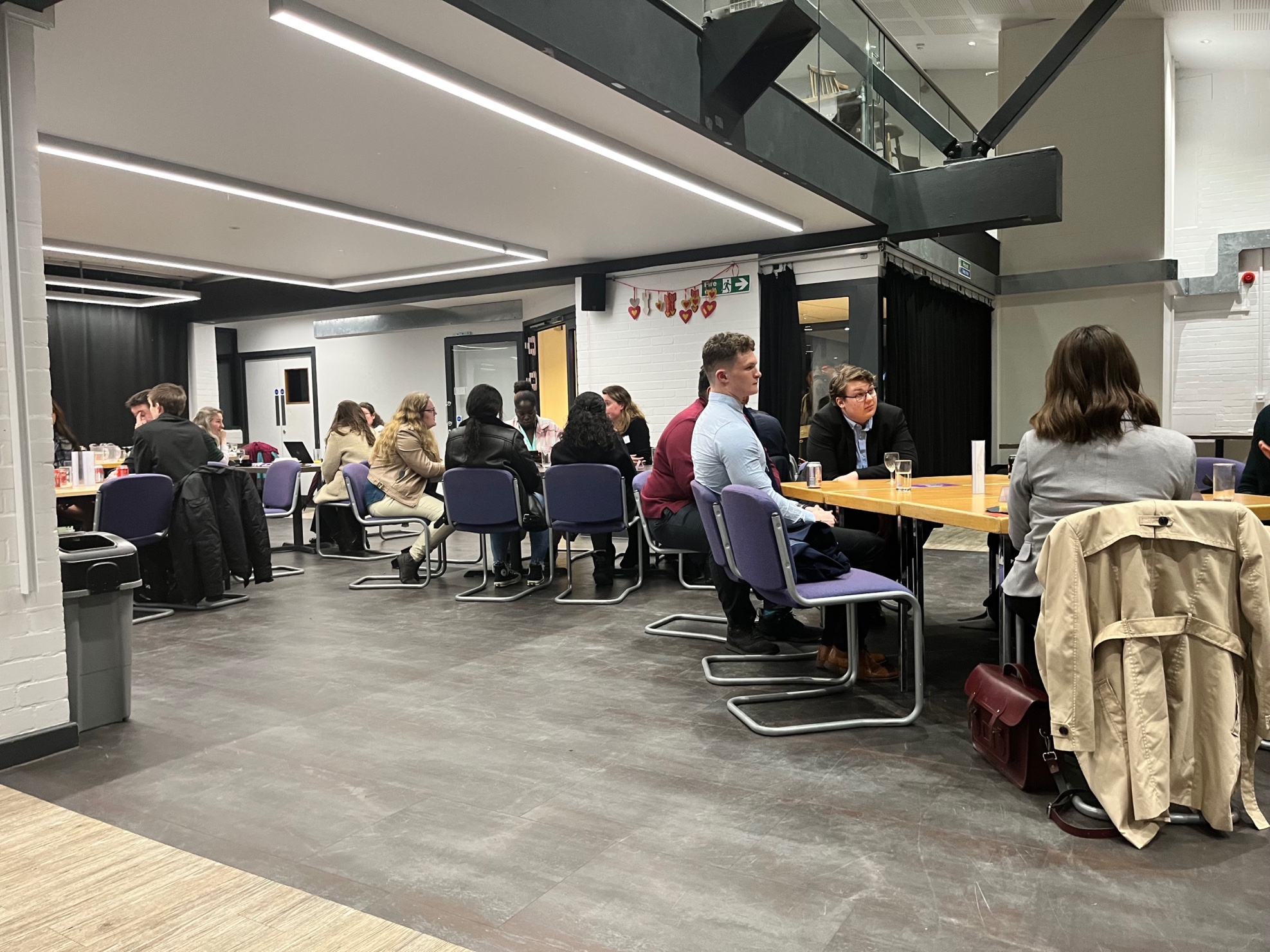 In terms of advice for professional work, our alumni suggested that if we are interested in a career in law we should seek legal work experience to give us an idea of what law is like in practice and try to get as much experience in various legal sectors to see what we enjoy. Many of our alumni also recommended partaking in a placement year as it will introduce you to the workplace and allows you to gain professional experience. Placement years are a great way of helping you discover what sectors or jobs you enjoy and others that you are not so keen on.
After we finished the speed networking event, we had the chance to mingle with the alumni and current students. It was great to talk to other students to discuss what information we had taken on board. Tracy admitted that before the event she had preconceptions about a career in law but after speaking to the alumni it really opened her eyes and the alumni assured her that it's a really flexible degree. Other students also agreed with this and valued speaking to our alumni as it gave them a really good insight into what life after a law degree looks like.