Hi guys! Time for some stories and news for the actual studying this week! As you know, second year is not that chill anymore which I would say every(or most) second year students will agree with me at this time.  Apart from the placement which was mentioned in my last article, the modules I have this year are more in-depth, and specially for my course more particles and projects are going on as well! Get started with filming and editing are excited but at the same time, they are really stressful due to the tight deadline and limited resources……
嗨各位!這禮拜網誌的主題就是我在課業上的各種更新和內容~你們也知道升上大二之後的生活不再跟像大一一樣悠閒了,這點我相信所有(或大部分)的大二生一定會認同我的話。除了像是我在上一篇文章提到實習的事情,這學期的科目也更精深,特別是我的科系也有越來越多實做的作品跟報告要交。雖然每次開始拍攝和剪輯新的影片跟作品都很好玩,不過在有限的資源和緊湊的截止日下,真的只有壓力爆表可以形容我這兩個月的大二生活….
After all these time that we have complained getting too much theoretical exams in our first year, we now have the never ending deadline weeks by weeks that are still waiting us to complete. I'm not even over emphasis the amount of assignments we have got, they are literally insane. 4 modules, 8 assignments in 8 weeks, and none of them are essays, they are all projects…… In terms of editing and filming a piece of sequence, advanced planning and time managements are super important. If I want to shoot a one-minute film, I will need to come up with a script, make a storyboard, find the casts and location, book the equipment, set up a scene and equipments, film and edit it. Not mentioning the lectures which I need to attend, part-time job and some social life which are going on at the same time, all these works are just for ONE assignments of a particular modules.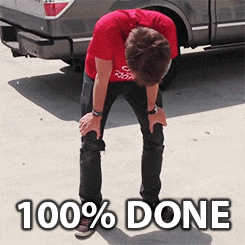 在我們抱怨大一沒有作品要拍攝只有理論之後,現在我們有感覺一週又一週永遠沒盡頭的截止日等著我們去完成。我真的沒再誇張,報告量真的是多到起笑。在這8周內我們有4個科目的8份報告要做,而且都不是打打字就好,而是實際的要拍出作品跟剪接,這時候事前規劃和時個管裡真的就非常重要……舉例來說如果要繳交一份不到一分鐘的短片,我要先寫好劇本,作分鏡表,找演員跟地點,借器材,做好場景跟拍片剪片。就不用說同時我還要上課,打工跟社交了,上面那些工作還只是拍攝短片的其中幾項必須功課。
Interesting stuffs are still going around for sure, the module that gave us so much pain is 'Cinematography' , fancy name and stressful for sure. Although I personally really like this module cause we get chances every lecture to use the proper film camera and go through all the professional procedure that actually happen on a film set. It is very refreshing and fascinating throughout the whole module. Most of the people don't really understand what cinematography actually is, including me at the beginning of the lecture. It is basically the skill and technique to deliver the desire scene/shot from the director, different DOP (Director of Photography) will have their specific style.
除了一連串的報告之外,當然還有有趣的課程;帶給我痛苦和喜悅的科目就是'Cinematography'電影攝影學 😂不過我自己本身還蠻喜歡這個科目的,因為我們每次上課都可以有機會操作到真正的電影攝影機,也體驗到正式的專業電影製作流程。上課的時候真的很有趣也很上課的時候真的很有趣也很令人印象深刻。包括一開始的我在內,可能大部分的人都不太清楚什麼是電影攝影學。它其實就是一門技術將導演想表達的場景和鏡頭用不同的攝影手法來呈現給觀眾,而不同的攝影指導(DOP)都有自己獨特的攝影風格。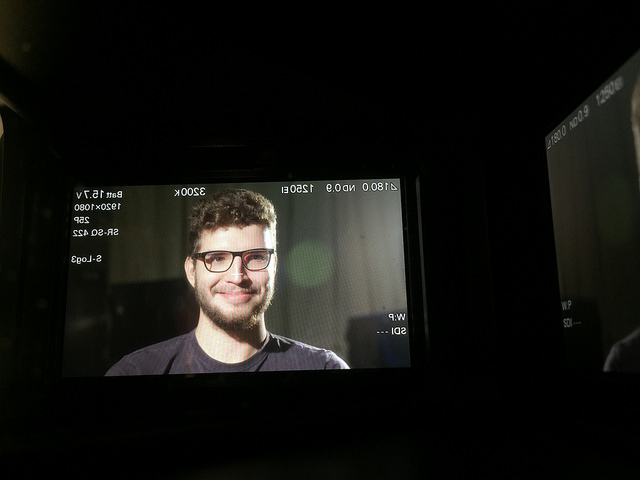 The shot from the proper film camera!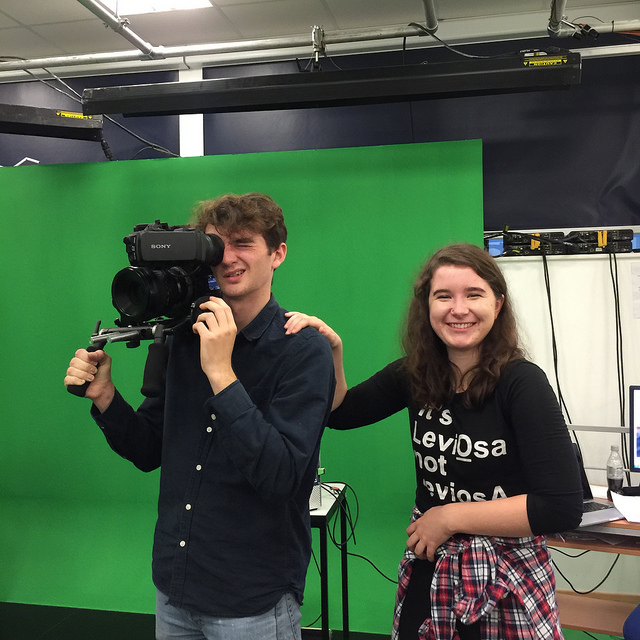 Film students with their gear😉
Last week we had a really impact lecture, which is to film a 2 minutes short film in a day. 20 of us including our lecturer being the director/producer and cinematographer and the rest of us switching the roles as a film crew. Spent a day rolling the camera, working with two actual actors, I would say it is one of the most impressive lecture of my life. Making a film is long, tough and sometimes not even as fun as you think it is, but we all enjoyed it very much. A piece of film is made of everyone's passion and hard-work in the crew, no matter how tough it is, it is what we love.
 上禮拜有一堂非常酷的課,就是在一天之內完成一步兩分鐘的短片。學生加上教授總共20個人,教授擔任導演和總製作人,我們則是輪流交換體驗製作團隊所需要做的不同工作內容。我們花了一整天拍攝和跟其他兩位真正的演員合作,這可以說是我目前所上過最令人印象深刻的課程了。其實製作一部影片的時間不但很長、很辛苦,其實也不一定像是看起來的那麼有趣,不過我們都很享受其中。一部電影是用所有人的熱情和心血累積而成的,不管它有多艱難,這就是我們的熱情所在。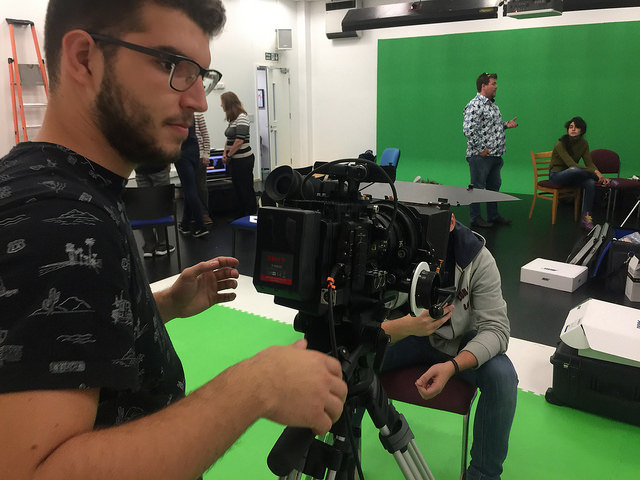 End this week with the sketch form our workshops, and it is time to go back for the assignments😌 I'll see you in the next article!
這禮拜就用在workshop拍的照片來結束吧,現在該回去繼續做報告了😌下篇文章再見啦~
Mandy xx