Hello everyone! Can't believe last time I updated the blog was last year, what am I even doing🤦🏻‍♀️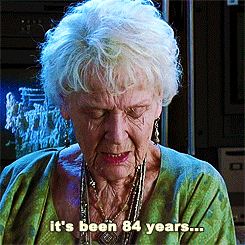 But hey I'm back in 2019 and ready to share some more information and story in Surrey so please do stay tune! And I will be planning on doing a whole series of articles with different very essential and important topics, whether for the freshers or all the postgraduates, really hope to see you guys in the future😉Before letting everyone being too excited about the new articles, I have literally too many things I'll need to update for these 3 months and you know it was holiday season😜 If you're ready for this, scroll your mouse and keep reading!
嗨嗨各位~原來我上次更新部落格已經是去年11月了嗎😮抱歉潛水了這麼久但是新的一年我又回來了!新年新氣象嘛,今年我會帶來一系列不同主題的文章,相信對於不論是新生還是碩士生都會成為非常有用的資訊,所以請大家以後多回來部落格看看,或是分享給個親朋好友喔!那在我爆雷告訴大家第一波新系列的主題是什麼之前,既然我已經消失了快三個月,當然有很多近況可以跟大家更新,你們也知道前一陣子是假期季嘛,準備好的話那我們就廢話不多說直接進入主題吧~
So the first thing I'll have to say is…HAPPY LUNAR NEW YEAR! I know it's already been a week but it's never too late for greetings right😂Things went crazy last week because of the new year celebrations, I have 4 gatherings in ONE week, oh my world. Didn't even know how I got through all of them hahaha. But here you go, let me tell you guys through the interesting parts of them! So last Monday on the New Year's Eve, which is the day that everyone will have their meals with their family. And for us internationals, we are definitely meeting up and have hot pot on that day for sure! Due to the time zone difference, I have seen so many pictures for the homemade new year meal all over the social media when I was having lunch, the struggle is real😭😭😭Something really interesting was because some of us from the same course were having lunch together, and all the Asian who celebrate Lunar new year were all FaceTiming with their family at the same time, cause it'll be too late if we do it after all of our lectures. But seeing so many of us just FaceTiming at the same time, while the others are still having lunch and have no idea what we are talking about just make me feel very funny🤣So at that night, 9 of us have eaten 6 boxes of meat slice and 2 bunches of vegetables and mushroom, what I'll say is hot pot is love and hot pot is life😍Although this girl got 9am the next day so literally stay until the last minute and got the last bus back home, but it was the best opening for the coming new year celebrations for sure!
今天要跟大家說的第一件事當然就是祝大家新年快樂,豬年行大運啦~我知道距離除夕已經過了一個多禮拜了,但是拜年永遠不嫌晚嘛哈哈😂上禮拜為了慶祝新年發生了太多事,我竟然在一個禮拜之內約到4攤,真的可以說是非常認真的在過年,雖然沒有放假而且還剛開學哈哈,不過還是蠻佩服我自己怎麼可以去每一攤!上禮拜一是大家和家人團圓的除夕,因為時差我從中午就開始在各個社群網站上看到大家的年菜,真的是對海外遊子非常不友善欸😭😭😭所以輸人不輸陣,我們台灣社也當然要聚一下吃個火鍋,用最傳統的中式料理來迎接我們新的一年~另一件好笑的事是,因為有時候我們一群系上的同學都會一起吃午餐,當天可以看到所有過農曆新年的亞洲同學,全部都在跟家人視訊,因為時差如果下課再拜年就太晚了。但是看到一群人同時在視訊,然後其他一起吃飯的同學玩犬搞懂我們在幹嘛,這個情景真的是很有趣🤣所以除夕夜那天,我們9個人吃掉了6和肉和兩大推蔬菜,還是火鍋最好吃了😍不過明天有早9的我還是認份地搭了最後一班公車回家乖乖的去上隔天的課哈哈,不過絕對是這一整個禮拜的新年攤裡最棒的開場~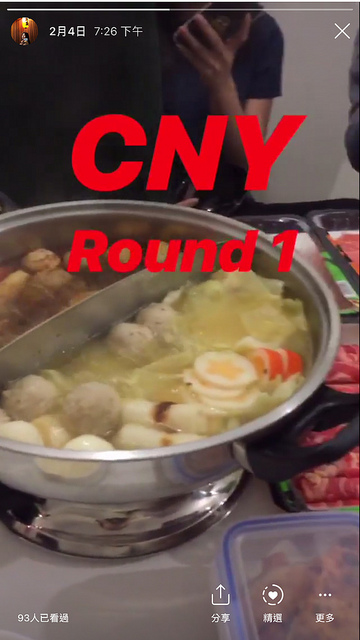 And in 24 hours, it's a potluck for all my mates from FVPT! Believe everyone still remembered the new year article last year, we made 4-5 dishes and hot pot in 3 hours and that was such a fun night, so we decided to hold another social event in our course, but this time it's potluck, so none of us will be exhausted from cooking before actually eating some food haha! This year was not only the people from our year, our first year FVPT came along as well, we didn't really got much opportunity to hang out with the first year although it is already the second semester of the year. And this time we got to just have fun, having some authentic food that everyone brought with them, having some small drinks and watch the films we made, just like what people from FVPT usually do! And to represent myself as a Taiwanese (obviously😆) I made the "Pork Belly Minced Rice" that I believe all Taiwanese will agree with me as the most authentic dish in Taiwan, took me 2 hours to slow cook it for the meat to soak into the sauce and eat with the hot steam rice, oh my god, just writing about this I am hungry again! I'm glad all of them love my dish, cause I was a bit concern that some people wouldn't eat pork belly since it is kinda oily, but they finished my dish! Well, guess I should be proud of my cooking from now, since I have been trained to cook myself since I got into uni haha. One of my coursemate made Cha-Shiu and it was absolutely amazing! The friend from China of course brought 3 tasty Chinese dishes, and add in some spice for everyone to challenge! It was not that spicy in our opinion but not for the Europeans obviously🤣And there were Green bean soup, stir fried noodles, and some Bulgarian pastry, seriously everyone is so good at cooking and it was an amazing night. It was always a pleasure to share someone with your own culture and food, wish we can make this a traditional and have it every year!
所以在不到24小時之內,我就去了另一個由我和其他系上的同學主辦的potluck,相信大家還記得去年新年的文章,我們做了火鍋和其他4-5道菜來招待我們其他的同學,今年的potluck就是以一人帶一道菜或零食的方式來聚餐,這樣才不會一個人還沒吃飽以前就煮到累死哈哈哈。而今年除了我們的同學們之外,我們也邀請了我們大一的學弟妹一起來慶祝,雖然已經第二學期了但是我們其實沒有很多可以和他們一起聚會的機會,我們也就趁著這次聚餐,一起看了對方的作品跟吃著不同地區的料理,真的是很好玩!而為了代表台灣我這次做了滷肉飯給大家~花了我兩小時在家燉三層肉就為了讓滷包還有醬汁入味,豬肉的油融入醬汁再淋上熱騰騰的白飯,光打次我就又餓了😋一開始還蠻擔心滷肉飯對一些人來說會太油他們不敢吃,不過他們最後的掃光光我真的很感動,也很慶幸他們都愛吃,看來我進入大學之後開始的廚藝有經過認可了哈哈哈!其他還有像是從香港來的同學做了超好吃的叉燒,從中國來的同學帶了3道中式料理其中一道是宮保雞丁,我自己是覺得沒有那麼辣啦,不過對於我們歐洲來的同學應該是一個大挑戰🤣其他還有像是綠豆湯,炒麵還有保加利亞的傳統起司燒,大家都很會煮我們也玩得很開心😊每次有和不同國家的朋友分享自己的文化和飲食都讓我感覺很新鮮,希望這個活動可以一直延續成為我們系上的傳統!
I've been written two paragraph and they are only the first two events I have been to? I really need to restrict myself on eating too much and get back to the gym😂Then it was Friday, the official event with the Taiwanese society was handmade dumplings! The day before, some of the committee members mixed the flours and made the dumpling skins and the minced mix in advanced just to prepare for the people who is coming on the next day. Appreciate to their hard work, so we can make the event success on that day🙇‍♀️ Although in order to finish the leftover dumplings we came back for another day just to have dumplings, we are now all sick of dumplings I guess🤣On the day of the event, apart from making everyone to experience making dumplings themselves, I made the pork minced rice again, and others made the mushroom chicken soup, Taiwanese society made our best effort to satisfied everyone's stomach in new year! Apart form the food, we also got a portable mic for home karaoke, how Taiwanese can we even be hahaha! Although there wasn't a lot of people came this time compare to the meet and greet, but we have prepared and planned more events in the future, and I believe we have all got more closer to each other. Recently we bought Ma-Jiang for the society, so come along next time, cause Taiwanese society won't let you down~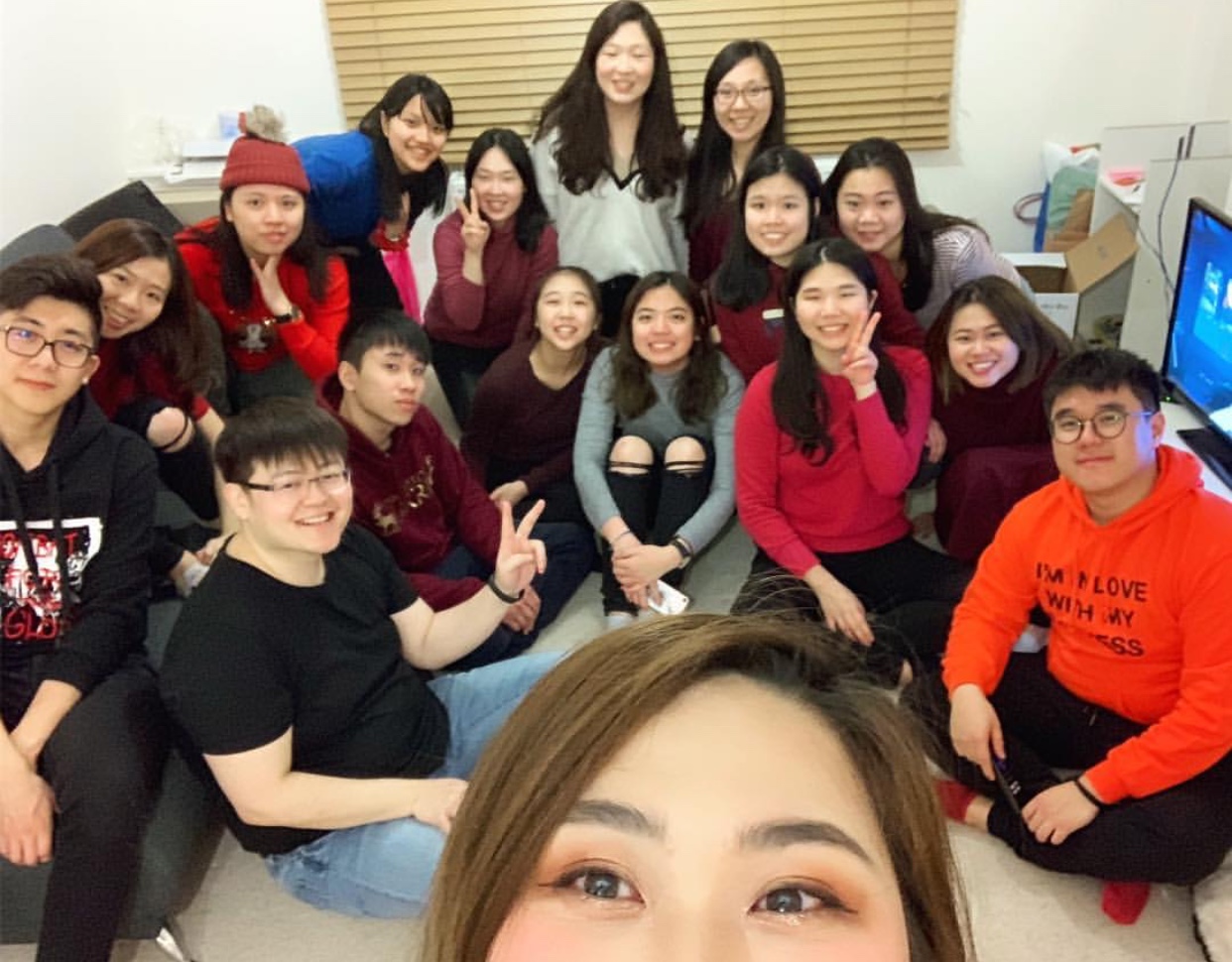 寫了這麼多才講到第二場😂😂😂應該要好好反性上禮拜有點吃太多了哈哈,接著到了禮拜五就是我們台灣社的正式活動包餃子啦~在活動的前一天,其他幹部還特別提前揉好麵團,桿了80多張皮跟做好餡料準備迎接大家一起來包水餃,真的是辛苦他們了~雖然後來為了解決掉多出來的餡料跟麵團我們又多吃了一天水餃,現在我們真的是看到水餃就怕🤣活動當天我們除了讓大家一起體驗包餃子,我又煮了滷肉飯,還有其他人準備了香菇雞湯,為了把大家餵飽我們真的是使出渾身解力哈哈哈,除了食物之外,我們還有家庭式的移動卡拉ok,可以說是要多台有多台哈哈哈,這次活動雖然沒有像上次一樣多人,不過大家也都變得更熟了,希望每個來參加的人都有美好的新年回憶,我們預計元宵節也會辦活動,而且最近還購入了麻將🤘希望下次會有更多人一起來玩~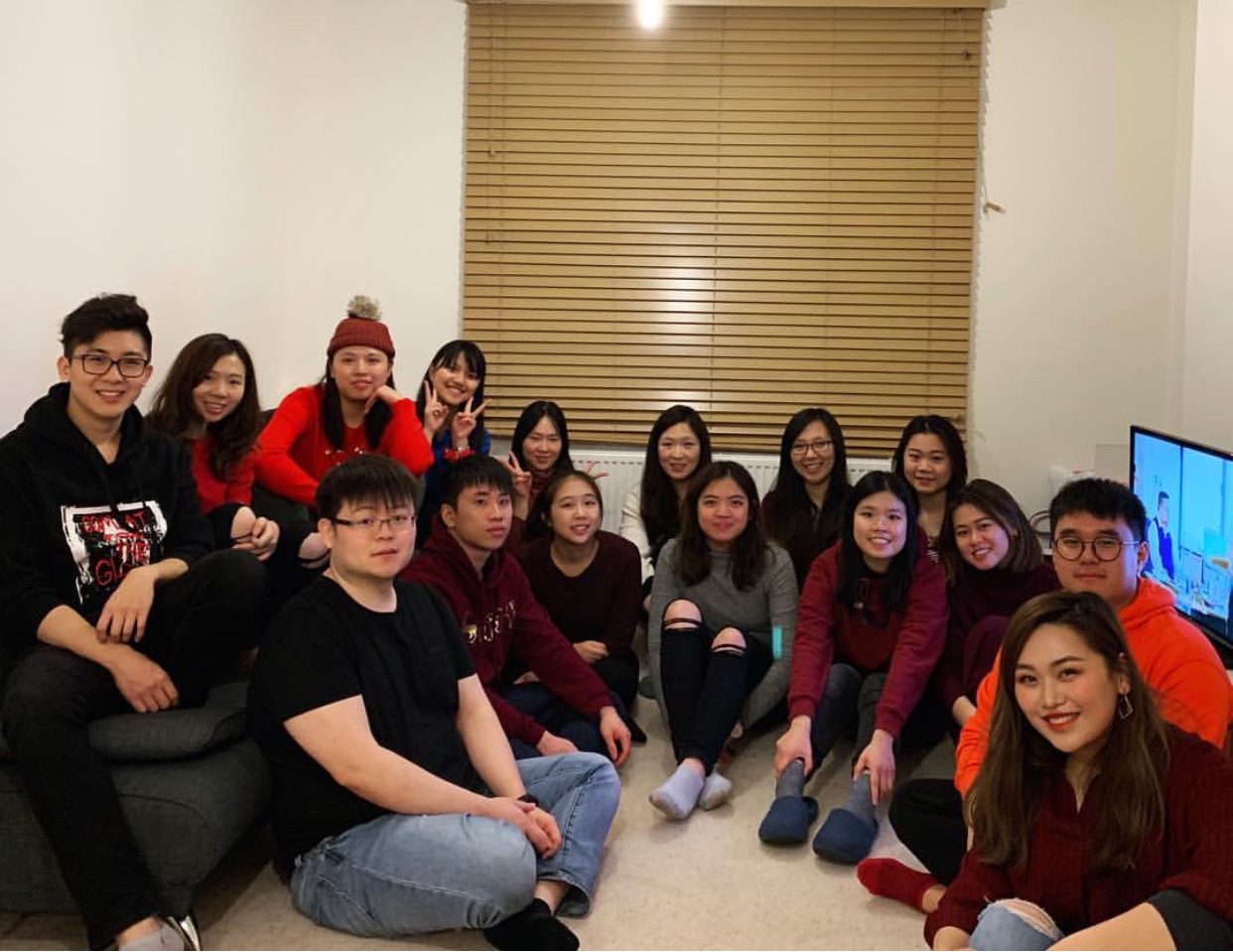 Oh and did I said I went to 4 events in one week? Yes but rip the webpage, I will just share my crazy eating week up till here, I hope everyone also had a very great start for the lunar new year, if you miss out making changes in 1st January, you've still got Lunar new year!🤣Anyways, hope you guys enjoyed the article for my new year celebration and from next week some exciting topics are on its way! Which is "House Haunting!" I know that's something everyone is thirst about and I am writing it! So don't miss out from next week and I will be back very soon😉
不過我前面是說我去了四攤嗎?是沒錯啦但是由於版面問題我就分享到這裡就好哈哈,希望大家的新年都有非常好的開始,如果你們錯過了一月一號的新開始,沒關係你還有農曆新年!🤣總而言之希望你們喜歡我慶祝新年的文章,然後從下禮拜開始我會帶來一系列關於"找房子"的文章,我知道很多人需要這個資訊很久了,我要開始寫了~所以不要錯過下禮拜的文章喔,我很快就回來~
Bye guys~
Mandy xx