The second half of my winter break was unforgettable! My parents treated my sister, her friend visiting from America, my boyfriend, and I to afternoon tea at the Soho Hotel in central London. The hotel was so funky! Lots of bright pinks and greens mixed with classic architecture. It somehow looked good together. We were sat in a special tea room with couches surrounding a wooden coffee table. It was massive and thank goodness for that. When the tea arrived, the whole table was filled! There were three stacked trays between us and a couple smaller plates of finger sandwiches. We got the tea with some champagne to cheers to the new year. This was the first time I have eaten the food, besides a couple of cookies, at tea because I am a picky eater. I was very pleased with myself! I had hummus and rocket finger sandwiches, scones with clotted cream, a puffed cheese ball, and a couple other things. It always surprising how full I get; we took two boxes of desserts home. For a 5-star hotel in central London, the tea was reasonably priced. The base was £25, with Bellini was £30, and champagne was £35. The whole experience is unforgettable. There are Groupons that are worth looking at if you want a cheaper tea. I have also been told Devon, in the southwest, has the best afternoon tea.
Tea in Devon is something to add to the list of things to do in the south that I spoke about in my last blog: https://blogs.surrey.ac.uk/usablog/2017/01/03/christmas-cheer-in-southern-england/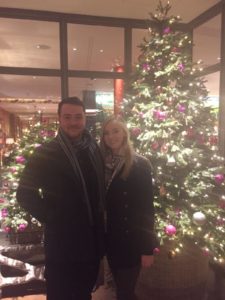 The next day was New Year's Eve! I had breakfast with my parents at the Premier Inn Hotel in Kingston-upon-Thames (a town very much worth a visit). The Premier Inn Hotels have always been a family favorite. They are reasonably priced (can be as low as £40 a night), have nice rooms with all the necessary amenities, and tend to be very well located. We have stayed in one right in Leicester Square where the London movie premieres take place. If you are traveling around England, they are worth considering.
After breakfast, we said goodbye as they headed back to America. My boyfriend and I took another walk in a new park. We went to Bushy Park that was only a five-minute walk from the center of Kingston and across the bridge over the Thames river. The park had a very similar feel to Richmond Park; it sported some incredible trees, had deer, and had a more natural essence. Check out my blog about other London parks here: https://blogs.surrey.ac.uk/usablog/2016/12/12/london-parks/
We headed back to central London after to meet up with my two best friends from University and my sister and her friend for dinner at Dim T. It is an Asian restaurant that overlooks Tower Bridge and is next to city hall. Normally it is only about £10 for dinner. I had a hard time finding a restaurant for new year's because every place was either already booked months in advance or was incredibly expensive. It seems to be standard to have a set new year's menu that is often much more money than their regular menu. When I booked Dim T, there was no new year's menu advertised and the prices were excellent. I booked a table for the six of us thinking it would be the regular menu. Unfortunately, when we arrived they had changed the menu to be a new year's menu. It was £44 for a three-course meal. That was out of our price range so we agreed with the manager to get three mains for £88 total plus a couple bottles of wine on top. They were very accommodating with us during such a high-pressure time. We were very thankful and the food was amazing.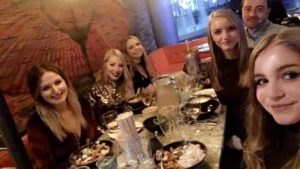 We walked over to Southbank, the area by the London Eye, to wait for the fireworks. London charges £10 for tickets in these select areas to watch the fireworks. It keeps the number of people down to avoid overcrowding and supports the police and ambulance that are on site to keep people safe and healthy. I was very impressed by the presence of the police. The police in England are incredibly friendly and approachable. They are there to help. Throughout my three years here, I have been constantly pleased with the police. They don't have the same aggressive attitude that I am used to with the police at home.
We had about three hours until the fireworks started, so we started a dance party! A DJ was playing the latest music and some fantastic throwbacks. My group of friends started dancing and quickly people saw how much fun we were having and joined in! It was a great atmosphere of happy people who just wanted to have fun. The hours passed so quickly! Soon it came to the countdown that was projected on the building next to us and the fireworks were set off from the London Eye. It was incredible. They played the Big Ben chimes as the fireworks went off. It reminded me of how only a few weeks ago I climbed Big Ben and have lived a dream since coming to England. Some tears of happiness were shed. I have a good feeling about 2017. It certainly has started out well!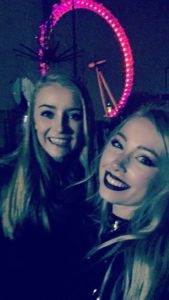 To read about my climb of the Elizabeth Tower to see Big Ben ring for the 12 o'clock bells visit here: https://blogs.surrey.ac.uk/usablog/2016/12/17/climbing-the-elizabeth-tower-to-see-big-ben/
For now, I am back at work taking advantage of every opportunity to have unforgettable experiences.
Ta ta!