Where do you get food on campus? An important factor and although I did do some research ahead of time before arriving it was nothing like I expected. With my undergrad in the US I had a meal plan and it was a lot of fast food on my campus or a cafeteria. I would not exactly say my previous university food was all that impressive. However, Surrey's food options were a pleasant surprise for me. They do not have meal plan options like most universities in the US, but that is actually beneficial for me because if I want to cook or go out, I do not feel obligated to use the amount of meals that were paid for ahead of time. The pay as you go scenario is much more appealing for me. I do have a kitchen in my accommodation because I have Band F (Studio Flat), but I have friends in other bands with the shared kitchens and those are just as nice. However, when I am not cooking, I do go to the different options on campus for food.
Youngs Kitchen is on the Stag Hill campus and they serve Asian dishes there. The staff are very friendly and it is in a great location to stop by between lectures and sit down with friends for lunch. You do not have to wait for the food to be prepared because it is more of buffet style serving, which is very convenient for a quick and delicious meal. They also have full English Style Breakfast, but since I live in Manor Park I am usually not on campus before it ends at 11am so I have not yet had the chance to have breakfast in Youngs.
Pizzaman is also located near Youngs, but it is more fast food atmosphere. The only places to sit down are three picnic tables outside. This is obviously not ideal when it is raining or cold, but you can have your food to take back to your room or to go study in the HIVE. They have wraps, burgers, and pizza. On a long day of studying and lectures I love going to get their burger meal deal and adding some cheese fries. The meal deal is perfect when you are hungry, but are on a budget. The staff is also friendly, but if you go at prime time you may have to wait in line for a while because it is a popular food option on Stag Hill Campus.
Also, near Youngs Kitchen is Hillside. Hillside is more of the cafeteria type food option. You have the trays and choose which food that you would like. Hillside has significant amount of seating. It is a great place for study groups because you can sit at the larger tables or the comfy chairs and have a great meal while working on a project.
Lakeside Café is in the business school Rik Medlik and even though I am not a big coffee drinker, they do make a fantastic mocha. If I am tired in the morning after a long night of studying, I will stop at Lakeside Café before heading to lecture for a Mocha because it is close to where the bus drops me off at the Stag Hill campus. They have pre made sandwiches and pastries if you want something quick and simple. It can be crowded during certain hours the day, but even at their busiest times the staff is always friendly and accommodating.
If you love to cook you can always go to Tesco's for groceries, but if I have free time on Thursdays, I always go to Rubix for the market. You can choose any vegetables and fruits that you would like. Just make sure to bring your own bag! Also, the Brown Bread company is there with pastries, bread, and desserts. Their bread and pastries are amazing and a brownie is always bought every Sunday by either me or friends. If you are going for a brownie make sure to stop by as soon as possible because they are incredibly popular! Then you have the food stations outside that offer different cultural food options. I always stop for paella when I am there and it has become a Thursday tradition.
Heart and Soul is my all-time favorite place to have food at the University of Surrey and it is located in Manor Park Reception, which is where I live. It has an amazingly chill atmosphere with unbelievably nice staff.  The music varies from day to day and they have a pool table if you want to challenge a friend. The food is always great quality and every Sunday they have a Sunday Roast, which you do not want to miss. Sunday Roast is a tradition I do weekly with my friends. Whoever is in town and available always joins and we are just able to destress and catch up with each other. On Tuesdays and Thursdays there is a Greek Truck and German Sausage Truck you can order from to keep some variety in Manor Park. I am in Heart and Soul at least some point in the day normally almost everyday if it is just saying hello to friends or the staff and it is also convenient for me since I live right upstairs.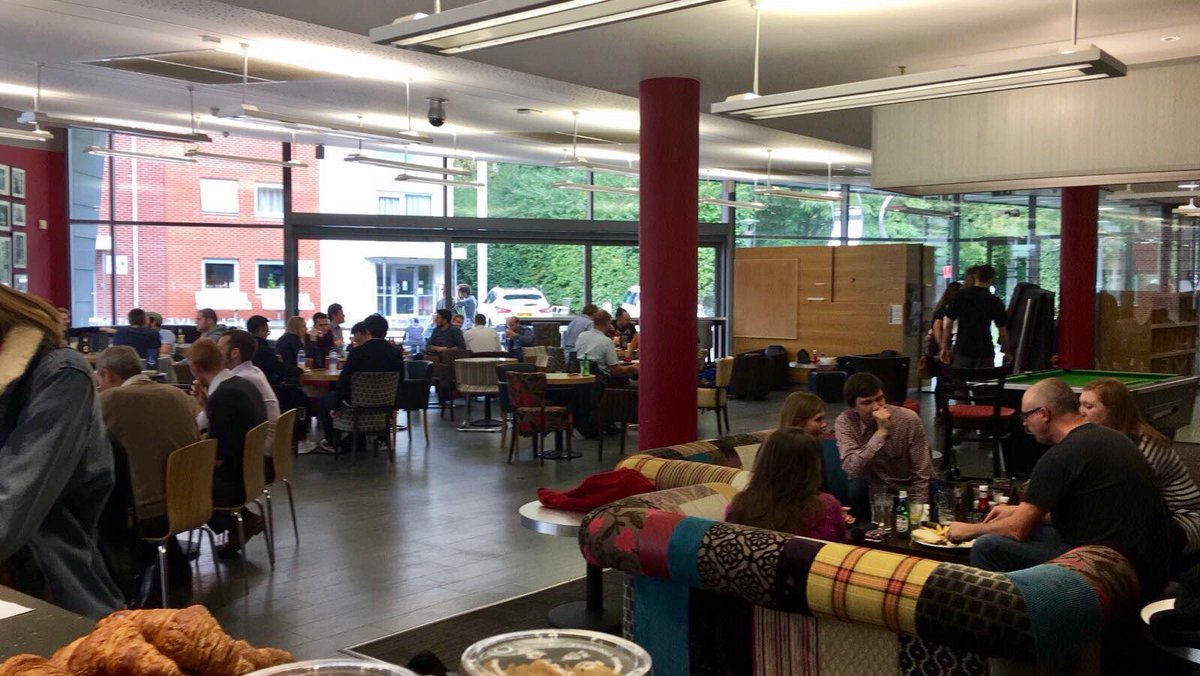 If you did have any questions about food hopefully my reviews helped and I honestly love all the different options I have between both campuses. You never really know if you will see a new food truck either. I have even seen the Wagamama, which is Japanese, on the Stag Hill campus. Between all the options you definitely will not have to be worried about being bored eating the same meal every day.