A couple of weeks ago we held our final 'In Conversation' event for this academic year on the very important topic of race equality, the Race Equality Charter and the University's recently-launched action plan. Pro-Vice-Chancellor, Education Professor Osama Khan was our host once again, and we were joined by the Academic Lead for Equality, Diversity and Inclusion, Dr Emily Williams.
It has been a huge year for issues of race and race equality worldwide — especially with the disproportionate impact of Covid-19 on the UK's Black, Asian and minority ethnic (BAME) communities and the Black Lives Matter movement. There was rightly a strong drive to address racism and structural inequalities. This has certainly galvanised our efforts at Surrey and created forward momentum. Now, we must sustain this focus. Emily, Osama and I discussed Surrey's progress so far, the actions we are taking and our goals for a future of substantial and meaningful culture change around equality.

It was quite moving to hear Osama remark on how proud he felt of the Equality Act of 2010, which makes racial equality a legal responsibility in the UK – and, in doing so, effectively proclaims this principle as a core national value. Equality, Diversity and Inclusion (EDI) is the most solid principle upon which to build a society. The University of Surrey is no different: we need to safeguard and empower every member of our multi-cultural and -national community. And, as educators, we also recognise the need to teach social and cultural intelligence alongside disciplinary knowledge.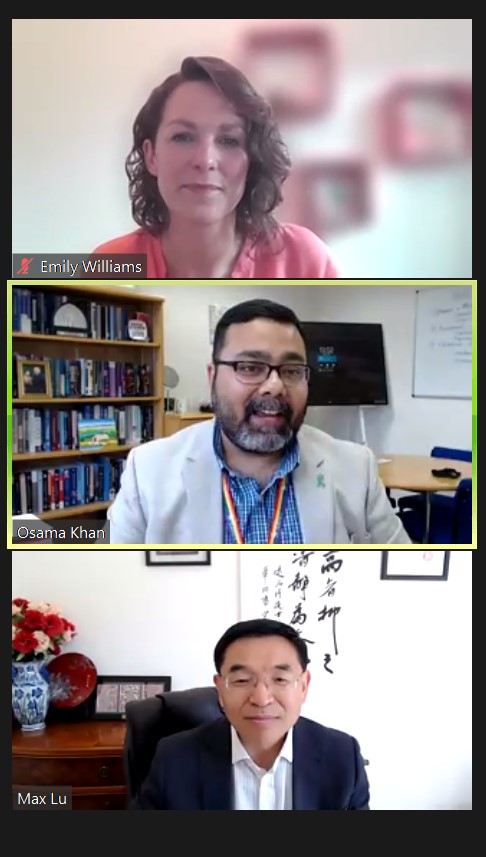 Launching our Race Equality and BAME Awarding Gap Action Plan and applying for the Bronze Race Equality Charter this year are therefore significant steps for Surrey.
Firstly, Advance HE's Race Equality Charter provides a framework through which institutions work to identify and self-reflect on institutional and cultural barriers standing in the way of Black, Asian and minority ethnic staff and students. It encourages investment, helps us focus on what our data is telling us and creates university-wide momentum towards cultural change. We've also introduced a new Race Equality Adviser position (we are lucky to have Jocelyn Chandler-Hawkins in this role) and set up the SEED (Surrey Embracing Ethnic Diversity) network for members of our Black, Asian and minority ethnic community. SEED advocates for change, helps us prioritise and holds us accountable so the task — and privilege — of driving and shaping culture change falls equally upon all of us.
Secondly, our Action Plan is part of a comprehensive EDI strategy.  When adopting the International Holocaust Remembrance Alliance's definition of antisemitism, we emphasised the principles of inclusion, anti-racism and anti-discrimination of any kind in the Surrey community.  Further, celebrations for the festivals of all different cultures and religions are woven into our calendar throughout the year. Meanwhile, the Race Equality and BAME Awarding Gap Action Plan itself is an institution-wide approach with 68 action points across five areas of strategic focus: Learning, Teaching and Assessment; Student Support and Wellbeing; Research and Innovation; Changing University Culture: Advocacy and Campaign; and Staff and Student Recruitment. I am really pleased to say that 80 per cent of the action points are already in progress or have been completed, with 15 senior 'owners' responsible for action points across all areas of the University.
After one year, we have now halved our Black-White awarding gap, which is great news. Does this mean our actions are always impactful? Not necessarily: we must ensure that we understand what has worked and made a difference this year — and what outside factors may also be at play — so we are focusing our efforts effectively. We'll only continue to progress if we work as a team, informing, supporting and encouraging each other as new questions arise.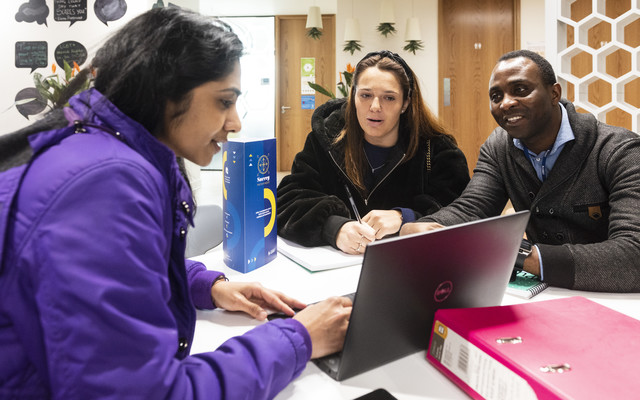 There will always be a variety of perspectives on race equality. Singling out groups of people, even with the best intentions, can cause controversy. How do we square all points of view? As Emily pointed out – ultimately, it's about looking honestly at the structures within our society that are inherently unfair. Our goal is that everyone must feel valued in our culture – and at least for now, a targeted approach is the best way to achieve this. I do believe that the arguments must be heard – that all dialogue is to our advantage. However, it is unavoidably true that societal discourse fundamentally disadvantages our minority students and staff, and we must address this. Evidence consistently supports the existence of these racial inequalities, and if we don't focus on certain groups, progress towards race equality will slow to a crawl. Certainly, we must also rely on the commitment and effort from the majority of our community to advance the equality agenda. That's why EDI goals are at least as much about cultural understanding as they are about policy change, and why we have to strive to create an environment that fosters constructive experiences and conversations around race, culture, religion and any areas of potential conflict.
It's fantastic that the University of Surrey has two Executive Board members from minority backgrounds. But there's more to be done, with some departments and disciplines making great strides and others less so. Our students and staff alike rely on us to deliver the representation and role models they need to shape their own academic and professional identities. The recruitment process is a fertile area for the culture change we seek to effect, and this is a going to be an area of focus and priority for us in the next few years.
Everyone is a stranger somewhere. We all know how this feels. And we know how wonderful it is when someone reaches out to us across a divide. When in doubt about what we as individuals can do, we can start by practising and living by our Surrey values: respect and integrity in particular. Small actions matter, and brief moments of awareness accrue and become waves of understanding and compassion. Change happens day by day.
In my personal experience, diversity in academic institutions leads to strength. It's a simple, unarguable equation. As I look to the future, I'd love to inspire young people from Black, Asian and minority ethnic backgrounds to see Surrey as the best environment 'in the round' for them to study and build their careers. I think an excellent EDI culture can and should be one of Surrey's Unique Selling Points. With our fantastic community behind us, everything is possible!