Students everywhere can attest to the fact that thinking about food in university can be stressful, especially if finances and nutrition govern your diet.
At the university of surrey specifically, there are no catered options for accommodation, everyone, even first years, plan their own diets.
In the short time that I have spent here, I have met a range of students, from those who opt to eat out every day… all the way to those on a frozen pizza and instant noodle diet… Obviously, it is no surprise that both of these diets are not sustainable in the long run, economically and nutrition-wise.
It would be wise then to draw up a meal plan… something like a timetable. This helps incorporate a healthy variety into your diet whilst helping you remain within your budget. I have heard many good reviews about this, though many students I know prefer to have one in their head, I have a physical one I try to follow, it helps me plan my shopping list as well as get in my required nutrients.

The idea is to mix things up and change the meals every couple of weeks so that the meals do not become repetitive and boring. It is a good idea with the right execution but it does not come without some challenges along the way:
My first challenge was that I do sometimes get tired and lazy and I do not always want to cook. Other times – most of the time- I am in a hurry and I do not have time to get a good breakfast in, or even time to prepare a good lunch. This is not out of the ordinary for me and I usually find myself getting something from the SimplyFresh by the library on campus. Eating once or twice in a week from this university convenience store is okay, but every day, especially during exam-weeks, causes a strain on one's wallet.
There are other spots on campus that serve nice hot food that you can grab in between lectures. My favorite is the chicken wrap from 'Asian Meals'. The nice lady who prepares the meals sets up on PATS field and I usually go there on Thursdays. On warmer days, you can sit by the lake and enjoy the flavorsome meal and it serves as a nice break in a busy week. Other favorites include the Paella stand, Young's Kitchen … and Hillside which also does great buffet option lunches. During Climate week specifically, Hillside served vegan dishes from around the world. This is how Hillside made its way on my favorites list. The options were very encouraging as I am constantly endeavoring towards living a more sustainable vegan lifestyle.
Another challenge I faced when following my meal plan was that incorporating fresh vegetables into my diet was becoming a problem because they did not last throughout the week. Like most students, I did all my weekly grocery shopping once, at the beginning of the week. The vegetables were still crisp and fresh at the beginning of the week, however, by midweek, my fresh spinach was already wilting in my fridge and my once sunny yellow bananas were black and squishy. My resolve was to buy frozen vegetables. Fair enough this is not always a crowd favorite as frozen vegetables usually connote to mushy and bland. My experience has taught me to prepare these vegetables cautiously… low heat for a short period as they cook through very quickly. That way, your carrots are still crunchy. Also… fun fact: Frozen vegetables are more nutritious than the fresh ones you would usually buy from your grocers. It has to do something with fresh vegetables losing nutrients and antioxidants once harvested and frozen ones preserving the nutrients because they are quick-frozen.
For fruits, my struggle remains the same, I buy only a few so that I do not have to throw any when they go bad before the week end. This way I cut down on my food waste. For bananas now though, I buy those green ones that ripen-up at home. The trade-off is that I would not have bananas at the beginning of the week… but I would at the end when my other fruits have run out…
For studying, my friend Izzy suggests peanut butter on apple slices for the good oils that aid brain activity.
When I miss home, I prepare meals that I would usually only eat while I am in Kenya. Once with my friends, we had a home-made Texas burger and bhajia night. This was when I missed my mum's home-cooked bhajias (potato fried in spicy vegetable batter). Other times, I go even more traditional and make Ugali which is like a cake made of maize meal; a staple food in Eastern Africa. These foods really remind me of home… I also brought with me some of my favourite teas from Kenya…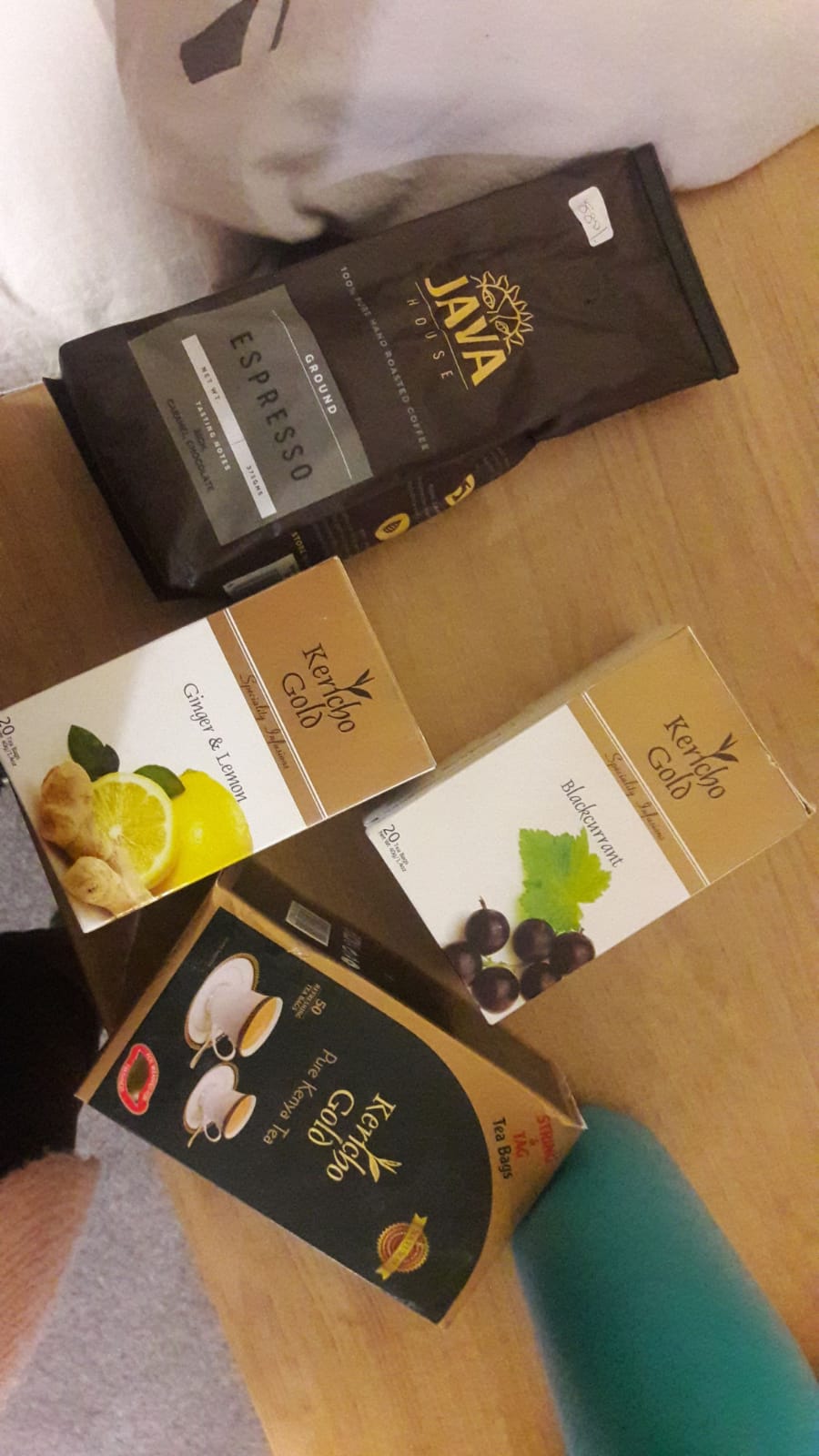 Right now, I am back home in Kenya where I am not really in charge of the food consumed. However,  I will be sure to post more on my meal planing experience when I go back to university towards the end of the year.
That's all for now folks,
Best,
Anne