Hello everyone!
When venturing out from home and coming to another nation life can be very different. Moving to study in the UK is no exception. It is fair to expect to encounter new cultures and customs during this adventure.
This is is why it is very important to have support networks that can be relied upon during a time like this. The University of Surrey has several support systems that have been built to enable International students to adjust to life at the university and in the UK in general.

Today, I would like to share my own experiences of some of these University-led initiatives to support International students.

Last Christmas, (2021) was my very first where I celebrated outside of Tanzania. As expected, I missed the familiar faces of my family and friends that I normally celebrate Christmas together. But at the same time, I was excited to see how Christmas is celebrated in the UK. One of the memorable ways that I spent this particular Christmas, was when I was invited to spend time with a British family living in Guildford to learn more about their ways of life and Christmas celebration.
This was made possible through the Local Link programme, run by Friends International, a local Christian charity, which aims to support International students in building friendships with other students, making local links with families, and exploring life in the UK.

Another experience worth sharing in this regard is that of being offered Christmas meals and gifts by the University on Christmas day. This offer was extended to all students and especially International students who were present at the University. It was not only about food, but also about connecting with other International students University staff, and volunteers who graciously offered their time and love to serve International students.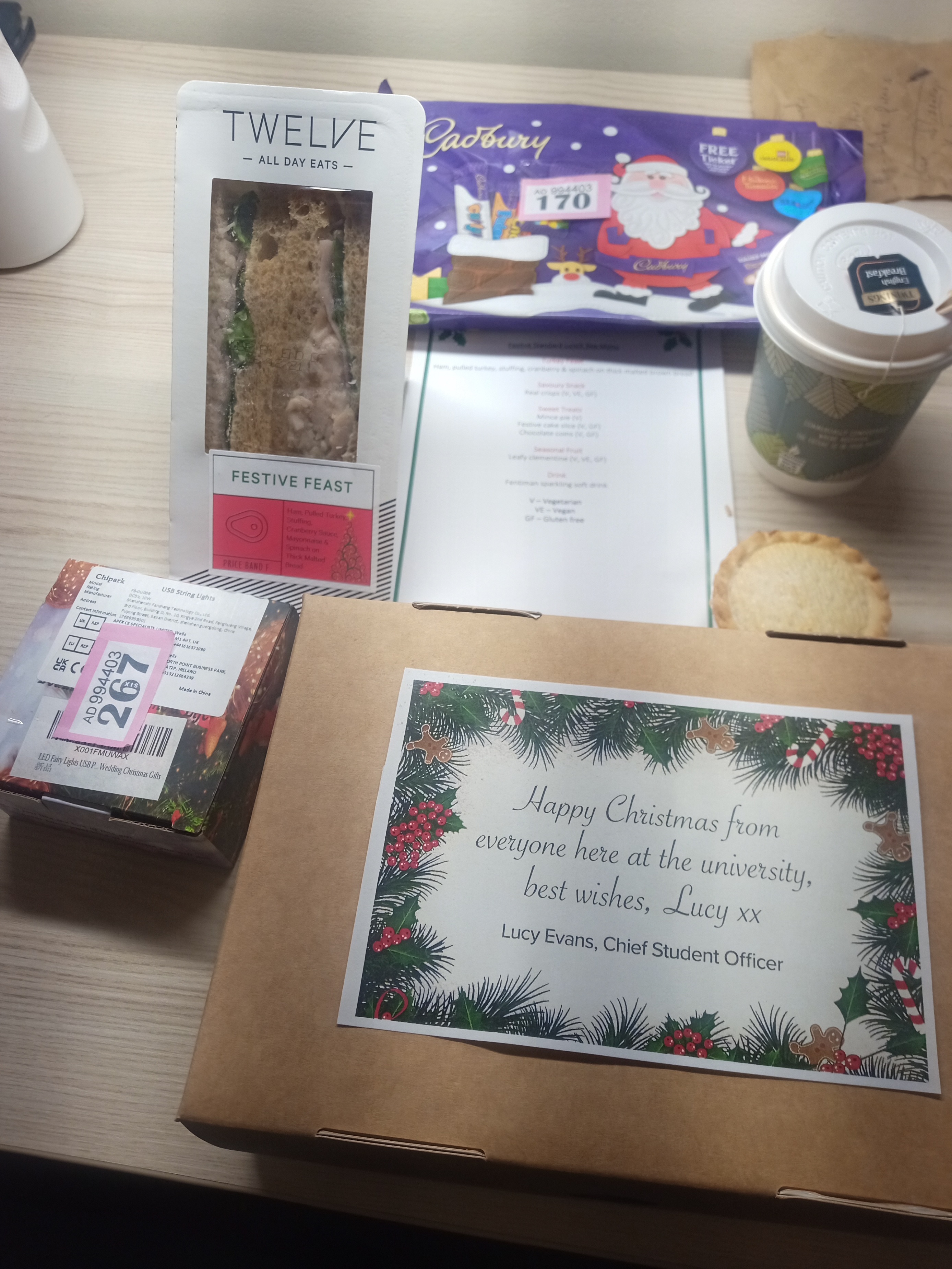 A Christmas lunchbox together with other goodies offered to International students by the University of Surrey during Christmas 2021.
Am grateful to be part of a University like Surrey, where as a result of initiatives like these, despite being far away from home, adjusting to life here has been relatively easy.
Till next time,
Joachim