Hello everyone, my name is Victor, and I would be leading a series of blogs for Ghanaian students and for anyone who is interested in the Ghanaian culture at Surrey. Many of us (Ghanaians) arrive in Guildford with little to no orientation of things to expect that differs from home. If you are a bit lucky, you had some pointers before travelling from ex-students. But how much is Guildford and how can I ease into staying in easily? A few good ones:
Entertainment  
The first would be about entertainment. Although entertainment might not be the most essential thing and your priority might be studying, we all remember the saying 'All work and no play makes Jack a dull boy.
With that said, Ghanaians love music and to dance. Music is part of the culture and helps to unite. Within the music, artistes say a lot about how we live, our struggles and achievements. Most of these also talk about romance. If you are longing for Ghanaian music, the Casino in town regularly hosts African DJs, most of which are Ghanaian. In the process, most of the Ghanaian DJs performing are bound to meet fellow Ghanaians enjoying the music.
2. Football/Sports 
Ghanaian males are always talking about football. If you are male and a Ghanaian, chances are that you already have an English premiership team you support. Your options to enjoy the beautiful game are many. You can watch the games in pubs around Guildford (Wooden bridge and the the Bench at the Sports Bar). The University's pub at Wates also televises some games. To play physical football, there really is only the Surrey Sports Park as the best option for students to play amongst themselves.
3. Shopping 
For Ghanaians who love to shop you can head over to the high street to check out the latest styles of the season. Dresses are sold in season, so it might be difficult to find clothes to buy suited for the weather at home at the time. Shopping online would be a better option. 
Walking is recommended  
You also do not need to taxi everywhere. When you arrive in Guildford, everything seems to be at obscure places. To get to somewhere non-familiar, your first thought might be using an Uber or the numerous bright green taxis at the train station. These are often expensive if you are not with luggage. Even though Guildford is not an easy town to navigate, it takes a brief time to get accustomed to surroundings. For example, the bus station in the Town Centre, has buses that are frequent and can land you in any place round the county. You can almost walk to anywhere as well with a navigation app(Google Maps). In Accra and most cities in Ghana, cars are used to get from one place to the other.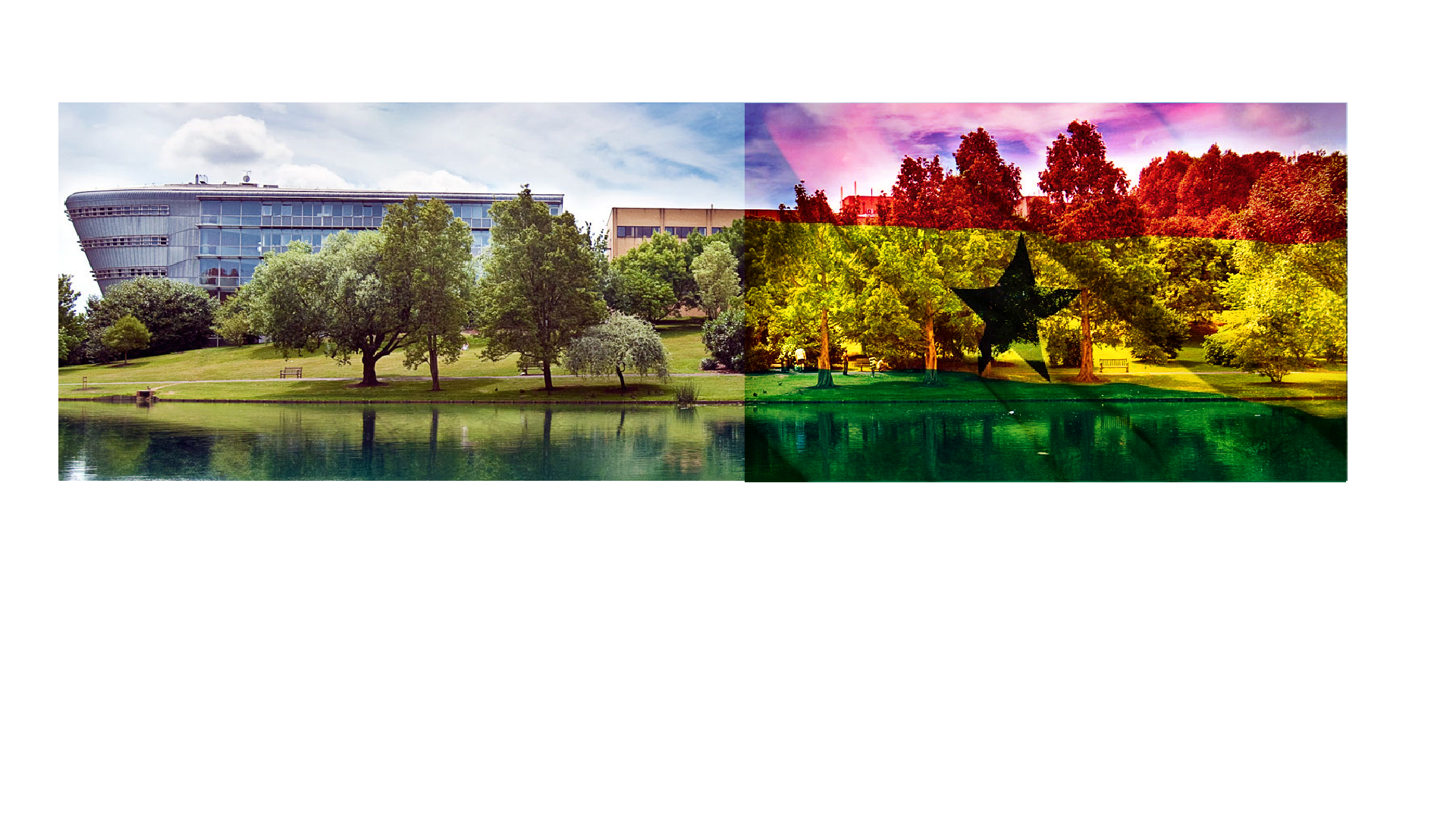 There are few Ghanaian stores
As of 2010, you would hardly come across a shop dedicated to selling Ghanaian products. This might be a bit of a surprise for people travelling from London or the more cosmopolitan areas like Birmingham, Coventry, and other cities. It should not be a surprise since Guildford is a small town and the Ghanaian population obviously is not large.
Student market would be a one-stop shop or nearest for your intercontinental ingredients
If you are missing home-made Kelewele & Jollof or your Okra, your best chance of getting these are at the University's Thursday market in Rubix. Every Thursday, all these foodstuffs are sold there. 'Foy's' African cuisine opens a stall on campus where you can get a bit more authentic cuisine like Jollof Rice etc. and Kelewele. To be honest, you would be better of recreating the cuisine from home.
Larger bus systems
You may be used to the smaller 'trotro' public buses in Ghana. In England and Guildford, the buses are owned by a company called 'Stagecoach'. They also house more passengers per our local buses in Ghana. Method of payment is by a contactless card meaning no problems with getting change.
Markets only open on the high street on certain days.
The high street opens a wonderful open market on the Tuesday occurs only on the Tuesday of every month in Guildford. In Ghana (especially in the capital), we are used to these markets open 24/7 in many parts. It just means a bit of planning must be done ahead to get the change to go to these markets as products are on average cheaper in grocery stores.
Phone minutes are bought online.
I struggled with this one initially. It is easier to buy airtime online for your mobile device. Although mini-grocery shops like your Tesco Express etc. sell telephone vouchers, they are not as conspicuous as the numerous pop-ups by the streets of say Osu, Kumasi etc.
Good active transport
While you might re-think deciding to cycle in your local neighbourhood back home, the roads here lend themselves to easier bike travel. You can get to anywhere on Guildford by bike and there are bike shelters to keep your bicycles safe in the University and town. I recommend getting a bike in Guildford if you live in areas like Burpham etc.  
And that is it for the moment, some relative pointers before you get to Guildford. E-mail / message the student ambassador team if you need more information on living as a Ghanaian student here. I'm Victor and pleased to be updating the blog sites with additional blog content.
These are just a few pointers from your survival guide and more parts would be coming out soon.