As part of an ongoing project undertaken by some of our incredible volunteers we have been looking through our large collection of student publications, and felt that it was about time we let you know just what the University Archives has in its collections and show you what has been discovered so far….
So what have we got?
A surprisingly large amount, which is fantastic.  Although we have a lot of 'official' records of the day-to-day running and functions of the University of Surrey, it is lovely to be able to see what it was like to be a student here throughout the years from the point of view of the students themselves!

We have a good collection of publications produced at Battersea Polytechnic, including Battersea Polytechnic Magazine, Polygon, Surrey Student Magazine, Gazet Magazine, Bat Chat, Polyfocus Magazine and Manor Farm Gazette.  From the University of Surrey we have both Bare Facts Magazine and the most recent student publication, The Stag.
These are just some of the collection of Student Publications we have within the University Archives
What's so special about them?
As mentioned above they provide an insight into the lives of students at Battersea Polytechnic and the University of Surrey.  Knowing how the students experienced their time at these institutions is invaluable, because at the end of the day that is what we are all about – the students. The University exists to inspire and help students grow and develop on their own journeys through academia.
These publications can be a witty and insightful read – the thing that resonates most with people is the realisation that our parents and grandparents generations experienced their time in education in exactly the same way as us – they all got up to antics and adventures that maybe they shouldn't of – and the student publications can really show us this.
They can also show us the things that were of most importance to the students at the time,  be this the more local issues like the relocation to Guildford in the late 1960s and early 1970s, Rag Week and student elections to wider events like the Rent Strike of the 1970s and the First and Second World Wars.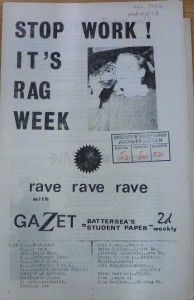 Example of a student publication produced for Rag Week
It's also fascinating to see the activities of the student union reflected in these publications – be they concerts and performances, themed evenings or dances and balls.  We can use these publications to find this information.  And there have been some fascinating discoveries, as covered in one of our previous blog posts "The Show Must Go On" – demonstrating how many performers who have gone on to great things started out gigging on the student circuit.
So what are we doing?
Put simply we are going through our collections and listing the contents of the publications to make a comprehensive database of the articles, photographs, pictures and events contained within these publications.
And for those of our volunteers who have studied here it has been fascinating for them to relive their time here through these publications and to give some of insider information into events!  And for some there has been an embarrassed admission that they have no recollection of ever having read (or even heard of) these magazines while they were studying here.
This project is very much in its early days and we have much more to do but we have already uncovered some lovely things:
Activities of the Harvest Camps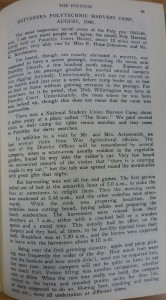 Witty stories about drinking (some things never change!!)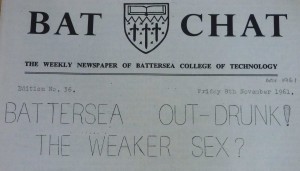 Food and Catering 'scandal'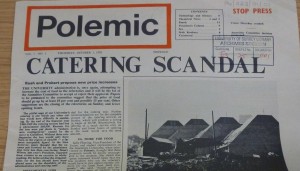 University Challenge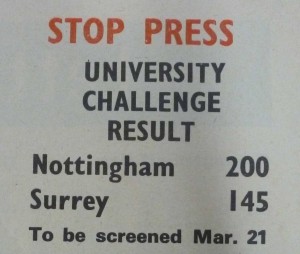 Head of the Lake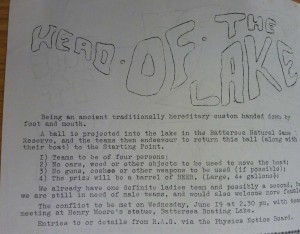 Would you like to help?
We would be delighted to hear your memories of your time at Battersea Polytechnic or the University of Surrey, or if would like to help us out.  We are always looking for volunteers to help us out on our many projects, and you can volunteer as much or as little as you like – we have some volunteers who come in several days a week, once a week or once a month – it really is completely up to you.  Please email us at archives@surrey.ac.uk
We would also love to hear from you if you have some magazines and publications squirrelled away somewhere and you are thinking of having a bit of a clean-up, we are always looking to fill gaps in our collection of student publications. If you have any of these that you would be willing to donate then contact us for more information.