Rapid advances in technology are creating significant pressure on businesses and individuals to work in new ways to adapt their practices.
While many of the changes in behaviour fit neatly into existing ways of working, some shifts are causing completely new paradigms and practices to emerge. The continual re-alignment of technology and business change is one of the greatest challenges facing organizations today.
Recognizing these issues, the CoDE Team recently hosted a very successful IBM Interconnect+ event on campus, with over 100 people in total, including over 70 of the top tech talent from IBM. 'Interconnect+' is IBM's periodic technical interchange at which established experts at IBM get together to discuss technical directions of relevance to their business. Recognizing CoDE's leadership in Digital Economy research, this sessions focused on cognitive computing and data analytics, and their implications on their business. Entitled "Watson, Wearables and Analytics", the day was hosted by Professor Alan Brown, Executive Director of CoDE, and Mandy Chessell, IBM Distinguished Engineer.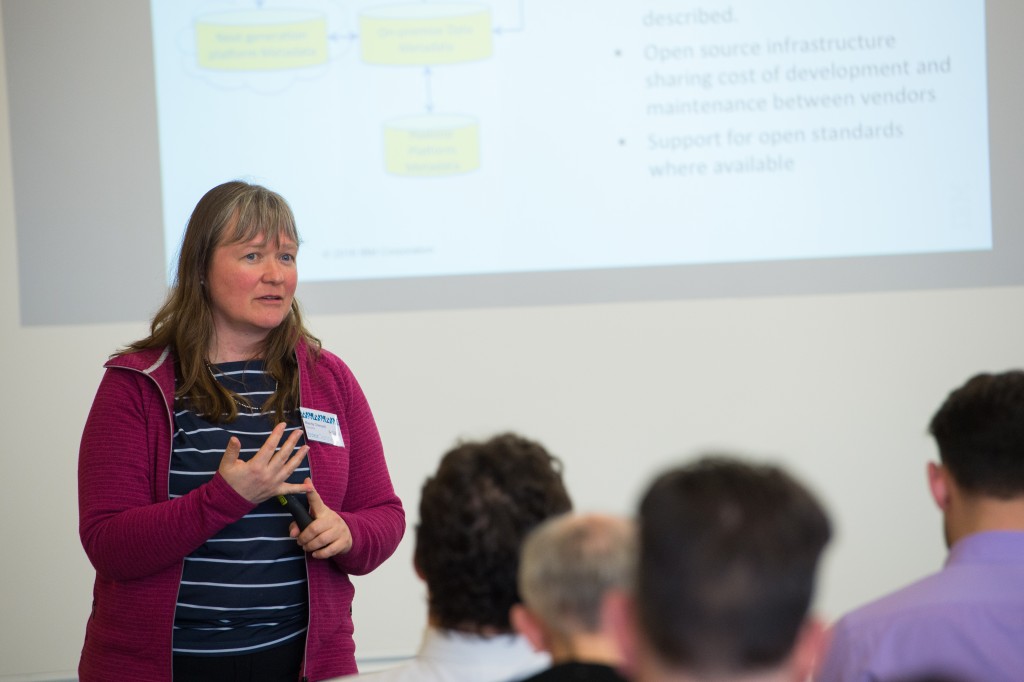 During the full-day event we heard from a great spectrum of speakers from across the University, and attendees included staff and students from all three faculties, Research & Enterprise Support, SMEs from the Surrey Research Park, local companies (such as McLaren), and others who just heard about the buzz and wanted to be involved! The 5G Innovation Centre here at Surrey was a great venue for the event, adding to the atmosphere of cutting edge technology delivering exciting new digital possibilities for the future.
We had some inspiring and incisive talks from:
As Mandy Chessell put it, 'We are trying to change the relationship between people and our IT communications systems. So, allowing this relationship to become more fluid and less precise, is important. This raises questions, too, of who bears responsibility, and for what? How will all this change the way we live?'
At CoDE, we believe that one of the biggest outcome of this event — and similar events – is getting more business people meeting with academic researchers on campus. Many from IBM commented over the course of the day about how much they enjoyed being on the Surrey campus, and hearing about the leading research work of CoDE and the rest of the University. Some existing links were reinforced, and some strong new connections were forged.
The ubiquity of digital technology today is leading to major disruption in nearly every sector. While the drivers here are primarily technological in nature, the real impact of this technological change is a revolution in business models, consumer expectations, and societal behaviours. CoDE combines research, education and co-development to enable companies large and small to benefit from the ubiquity of digital connectivity, computing and embedded technologies.
CoDE's ongoing dialogue with IBM over the past 2-3 years is an excellent example of our mission in practice. It has led to IBM's providing support on two major EPSRC awards in the areas of digital technology innovation in mobile telecommunications, and trust and privacy for online consumers. Our joint, periodic and wide-ranging knowledge sharing events also include workshops held with IBM's Emerging Technology Team at IBM Hursley.
This is a rich and growing relationship with many benefits for both IBM and CoDE – not to mention the Digital Economy at large. Please do get in touch to find out more, and to join us in our practice-led research activities.
Photograph of Mandy Chessell