At Surrey Business School our staff are proud of their connections with the local community. Each year every member of staff is granted one additional day of paid leave to take part in volunteering activities and recently Pina Stamp, Business Administrator took advantage of this by donating her time to support at the Emmanuel Church Cafe, a friendly community cafe located in Guildford.
Pina wasted no time in reaching for an apron and spent the day helping in the kitchen and welcoming customers. She's also donated her time to support with the cafe's Social Media accounts and is helping to plan a campaign, set to kick-off when they re-open after the summer break.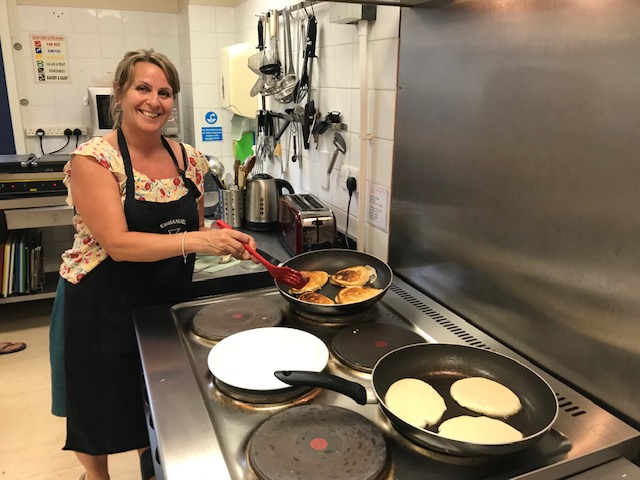 Cafe Manager Lynne Wright relies on the support of volunteers to run the cafe and it is staffed on a team who love to cook, bake and serve their community. One volunteer shares their experience; "I only help out alternate weeks and it has helped me get out of the house and stops me being home alone. It's such a friendly place to be." Another member of staff with learning difficulties shared his experience with Pina and credits the cafe for helping him to develop new skills.
Passionate and dedicated manager Lynne is proud of the team and the community hub they have created, "at Emmanuel Cafe we aim to be a friendly, community cafe offering delicious food at affordable prices with great coffee, light lunches, homemade soup and a tempting variety of cakes all baked on the premises."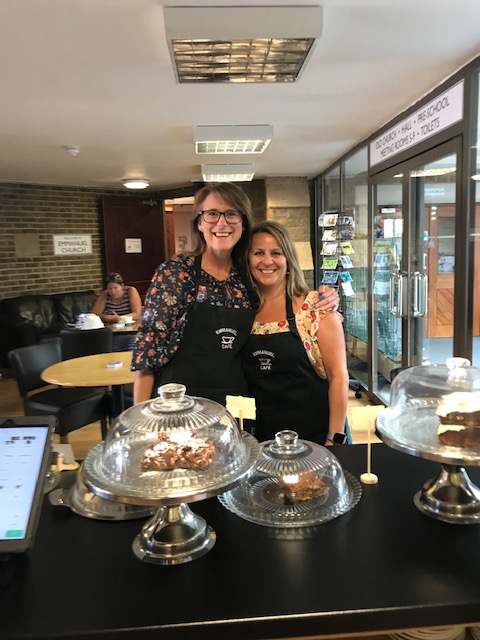 Pina reflects on her day:
"I'm so pleased that I had the opportunity to take up this volunteering initiative and that I chose to give something back to my local community. It was obvious to me that the cafe is an important focal meeting point for the whole community. We had such a mix of customers from the parents dropping and collecting from the onsite nursery, to a grandmother treating her two-year-old grandson to lunch, the builders from across the road coming in for takeaway bacon baps and coffee and an elderly lady who arrived when we had closed but was still warmly welcomed. I will definitely be volunteering there again!"
The cafe hosts several events including an International Support Group which runs on the third Sunday of every month from 1pm – 3pm.
For more information about the cafe and the event timetable visit their website or follow them on Facebook.