Over the next few months, we'll be shining a spotlight on our Professional Services Team and kicking off our series is Adrian Shanks, Business Development Officer, Surrey Business School.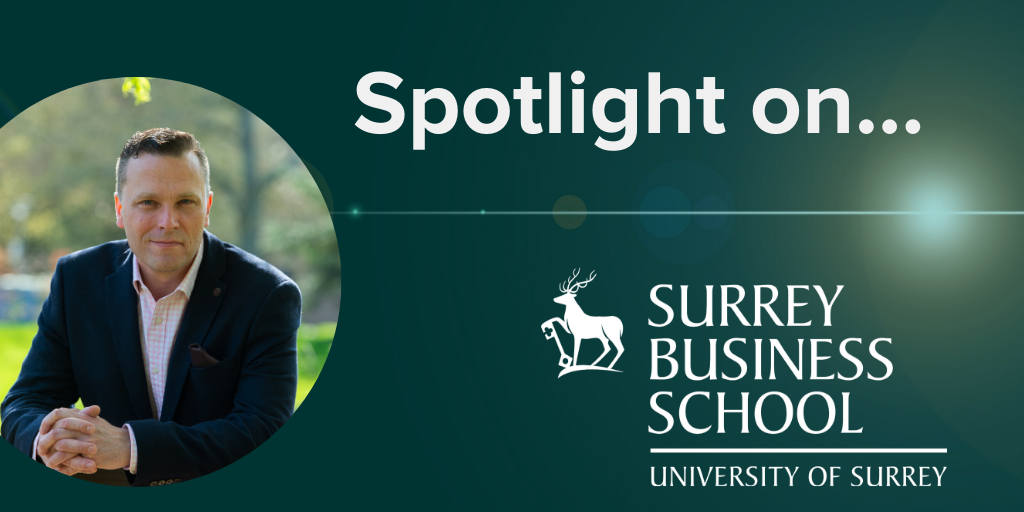 Please provide a short overview of your role at Surrey Business School.
"As Business Development Officer my role involves acting as the conduit between external businesses and the Business School. That can take many forms – from engaging businesses in our teaching and learning programmes, securing placement opportunities for students, introducing businesses to various student experience events, or seeking companies that could play an active role in our research. However, a conduit can obviously flow both ways, so my role is also to be the 'voice' for companies and businesses and to be their advocate in the day to day operations of the Business School."
What were you doing before you joined the SBS team?
"Prior to joining SBS, I had worked in the professional and academic publishing industry for almost 20 years – with a variety of experience at Non-Executive Director level in areas such as International Marketing, Sales, Editorial and Digital Publishing. Immediately prior to becoming part of the SBS team, I was a Residential Property Surveyor and part of a start-up business in this field."
What's the best thing about working at SBS?
"Being able to engage with such a wide range of businesses; from sole-trader consultancies, boutique agencies and SMEs right up to multinational corporates – the diversity of sectors, their business issues and their interests in the Business School is fascinating."
Tell us a bit more about yourself, what do you enjoy doing in your spare time (hobbies, passion, something we might not know)?
"My spare time since joining SBS has often been taken up by being put forward for SBS charity fundraising activities – last year it was a cycle around the Isle of Wight and this year I took part in a 100k endurance trail-walk. I look forward to a time when I can put my feet up! Outside of the office, I'm mostly at home in country pursuits."
Favourite inspirational quote/piece of advice?
"In a previous life I spent a good deal of time with senior commercial airline pilots, one particular Training Captain at British Airways always signed off his career planning talks with 'The higher you fly, the more you see', which always seemed like great advice!"
Find out more about how you can collaborate with us, visit our website or contact Adrian Shanks.