Recently our Management MSc students were joined by Mr Sudeep Dasbiswas former VP & Head of Strategy and Transformation at Ericsson. Sudeep presented a guest lecture and shared fascinating insights around the shifts and trends taking place in business, technology and operational models; particularly surrounding the amalgamation of emerging software technologies, such as AI, IoT, Big Data and cloud based technology.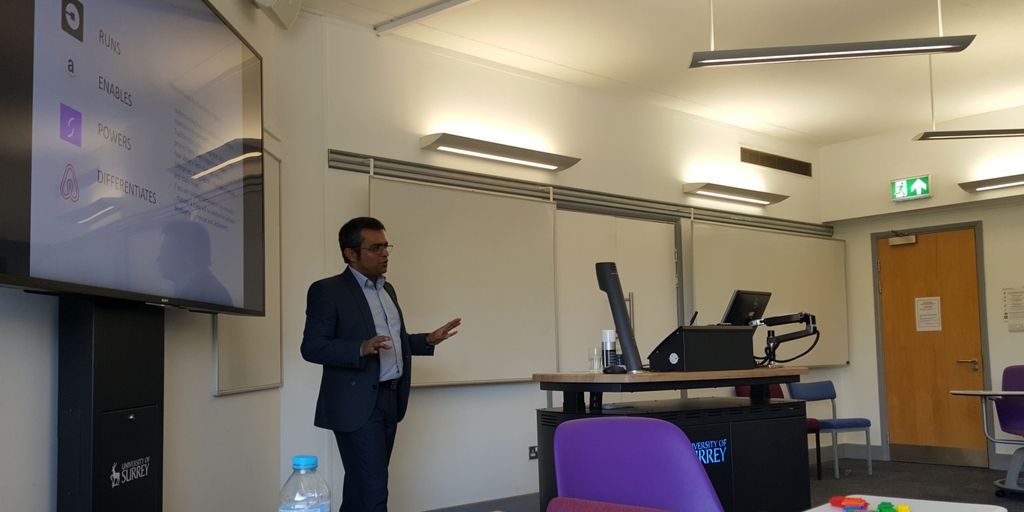 Industries and companies are increasingly using software as their engine, enabler and execution model to build, sustain and grow to the next level. Technology is now the fabric of running any future business. Therefore, an understanding of software and technology becomes very important for the next generation of business leaders who will need to know how to leverage software engineering principles, commercial and operational models, in order to build sustainable businesses of the future.
Our students shared comments after the session:
Aya Asali
"Sudeep brought a lot of passion to the classroom and opened our minds to technological aspects of business, stressing the importance of understanding software development as any other key concept in management.
By drawing from his experiences as well as renowned examples, Sudeep inspired us to carry an entrepreneurial attitude in any job, not just in the case of initiating our own start-up.
What I found most interesting was the shift in the industry from product-based companies to service-based companies, demonstrating the prominence of software development both today and in the future. Moreover, his teachings on service delivery strategy, commercial models and software development processes was multi-layered as he also outlined the risks, costs, and drawbacks on sustainability. This encouraged us to be adaptable and forward-looking individuals in the workforce.
Lastly, this exposure to the changes in technology influencing various sectors and the circular economy is very relevant to our assignment and was directly linked to the concepts of the module."
Yun-Fang Shen
"Before the lecture, I did not notice how strongly technology has impacted the business world. I always thought of IT as just an independent department in a company, but technology has changed the whole way in which business works. As Sudeep said, there are now many online banks, which no longer even need physical branches to serve customers. He prompted us to rethink, reflect and ask who is the boss nowadays? From the self-service in fast food restaurants to the applications to buy train tickets, physical things and products are decreasing. Maybe one day, we won't need physical currency or physical mobile phones, maybe we'll be controlling everything with our minds. I got a very useful insight into how this advanced technology is not far from us, it is around us. Software and technology require us to throw away our old view towards business as the world is changing with high speed, and we need to be prepared for even more changes to come in this new world."
Tanu Malik
"The guest lecture by Mr Sudeep Dasbiswas was very insightful and gave us a better understanding about the real industry circumstances which we will be a part of in the future. His lecture began by uncovering the future directions of business but at the same time it gave us an idea of the history and the workings of giant corporations.
During his lecture Sudeep drew an interesting comparison between the difference in speed of services offered by e.g. Barclays and the up and coming Sterling Bank. On one hand Barclays offers a trusted and established name in the market, but its dependence on systems which have accumulated layers of complexity over the years impacts its ability to innovate and solve problems as quickly as its up-to-date counterparts, who have the benefit of using fresh systems which only use the latest emerging technology.
Overall it was a very informative and interesting lecture with a number of relative references which will help us in our future researches and study."

Find out more about the Management MSc and Postgraduate study at Surrey Business School.