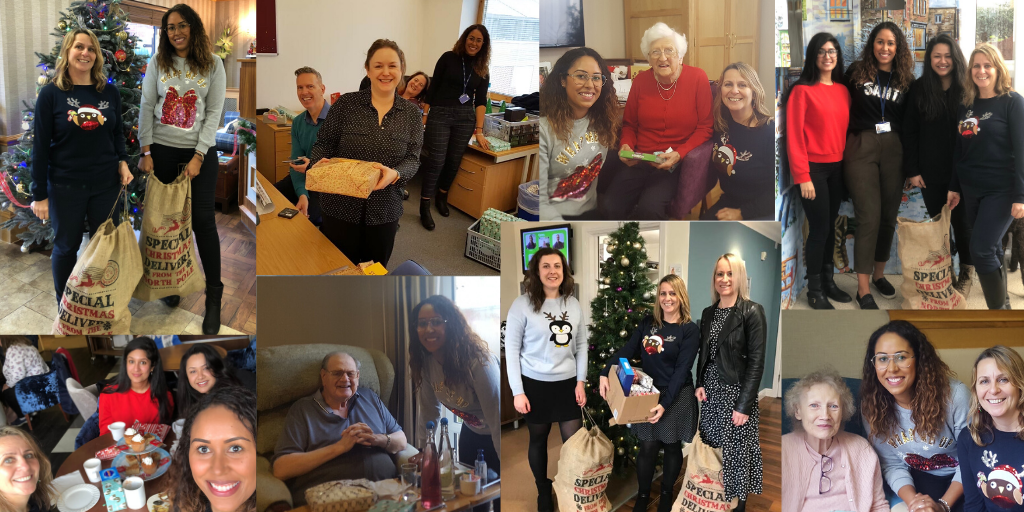 As we settle into the New Year, I'd like to take the opportunity to say thank you for the overwhelming generosity we received during the Christmas period.
Following a successful 2018, a present collection was launched by the SBS team, to gather and deliver presents to local Care Home residents. Christmas is a time for giving and the focus as before was to deliver to residents with little or no visitors.
The Professional Services team rallied around to spread the word of the initiative, helping to gather and wrap just under 200 items!

All of the gifts were hand-delivered to local care homes; Claremont Court, Queen Elizabeth Park, Camberley Manor, Kingsley Care Home, Kettlewell House and Woking Homes, as well as additional presents that were shared with the Surrey Heath Council to gift on Christmas Day to Meals on Wheels recipients at home.
The team enjoyed meeting the residents and there were many smiles, lots of laughter and some tears, all which added to the worthwhile experience!
A big thank you to everyone for their support and a special thank you to Pina Stamp, Aimee Savage, Lakshmi Mohindra, Donna Shanks and the rest of the SBS team, PhD student Reema Naik, the Lakeside Restaurant team, the School of Law, County Care and my network of family and friends.
A final reflection: " I was overwhelmed by the generosity of others in the traditionally expensive month of December and felt so proud to head up such a worthwhile project. Visiting the residents and delivering gifts really is an amazing (and not to mention emotional) experience. The Professional Services team and I met so many lovely and appreciative residents as well as dedicated staff members. This is such a great way to give back to your local community and I would encourage everyone and anyone to do something similar in the future."
Best wishes, Codie