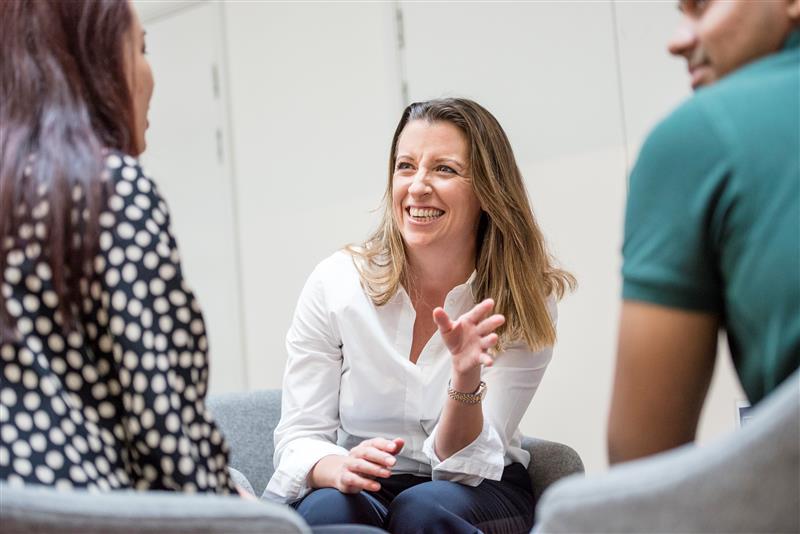 Congratulations to MBA student Fiona Sweny who's been awarded a Foundership from Student Enterprise and Santander to fund work on her fem tech business, Femora.
Congratulations on your award win! What does this mean for you and your business?
I was delighted to be awarded the foundership as it allows me to commit to Femora full-time for three months at the end of my MBA. In addition, it adds some validation to my concept which in turns gives me access to some of the fantastic resources that I can access through the University's Student Enterprise.
Tell us a little bit about Femora
Femora is a femtech company which I have started whilst undertaking my MBA. It is my vision to create evidenced based and trustworthy products and/or services for women to assist our navigation through life.
This was born from my experiences in the British Army and subsequent career in healthcare working in elite sport and performance both with England Rugby and at the Royal Ballet School and also through my own experiences, thus far both as an individual and as a mother.
What encouraged you to start up your own business?
Prior to embarking upon the MBA programme, I had a couple of potential business ideas, but I didn't know how to execute them particularly as my background is within the public and not for profit sectors and, as a result of this, I anticipated that I would end up in a more traditional role post-MBA, likely within corporate healthcare. However, as I progressed through the MBA, with some guidance from the excellent career development programme, I gained a great deal of clarity about where my skills lie.
Complementing this, the Surrey MBA equips you with an extensive toolkit of skills and knowledge both from a business knowledge and soft skill perspective.
I realised quite early in the course that I did not want to silo myself into a specific role such as 'marketing' or 'project management', I wanted to apply the leadership and management skills that I developed within the army and apply these in a broader sense. The final push was the 'Problem Solving and Innovation' module which guided us through the process of creativity, ideation and problem solving through to pitch day in front of two Venture Capitalists, and it was then that I realised that I was well equipped to start my own business.
Who are your influences?
The MBA has brought me into contact with several entrepreneurs, one of which has become a mentor to me. And notably we had an inspiring lecture from Erika Brodnock, a Surrey MBA Alumnus and very successful entrepreneur who demonstrated to me that it is possible to simultaneously meet the demands of motherhood whilst founding your own business. What is humbling about Erika, and the other visiting lectures on the MBA course is that they are very willing, despite the numerous time pressures they have, to support the MBA students and to offer advise based upon their experiences.
I have a good network of successful women, many of whom I served with in the British Army. They inspire me to continue to push and develop myself and to demonstrate that female founders can be successful.
What encouraged you to study an MBA?
I had reached a ceiling within my previous career and I was keen to explore a move away from the public and non-profit sector. I found that my skills and experience were not well acknowledged outside of healthcare and so to secure a sustainable career that matched my aspirations, I realised that I needed to arm myself with the appropriate knowledge at a level that is well regarded by most sectors.
Have you been able to put any of your learning into practise with Femora yet?
Absolutely, each time I begin a new MBA module there are direct learnings that I can translate into Femora and for some modules I am able to use Femora as a case study for the assignments which is a fantastic opportunity for me.
From finance and accounting through to marketing and strategy, each module delivers applicable content as well as exposes me to numerous resources that I can utilise. I have also been able to choose elective modules which complement my entrepreneurial aspirations.
Find out more about Student Enterprise and their funding programmes here.
Find out more about Surrey's MBA course here.