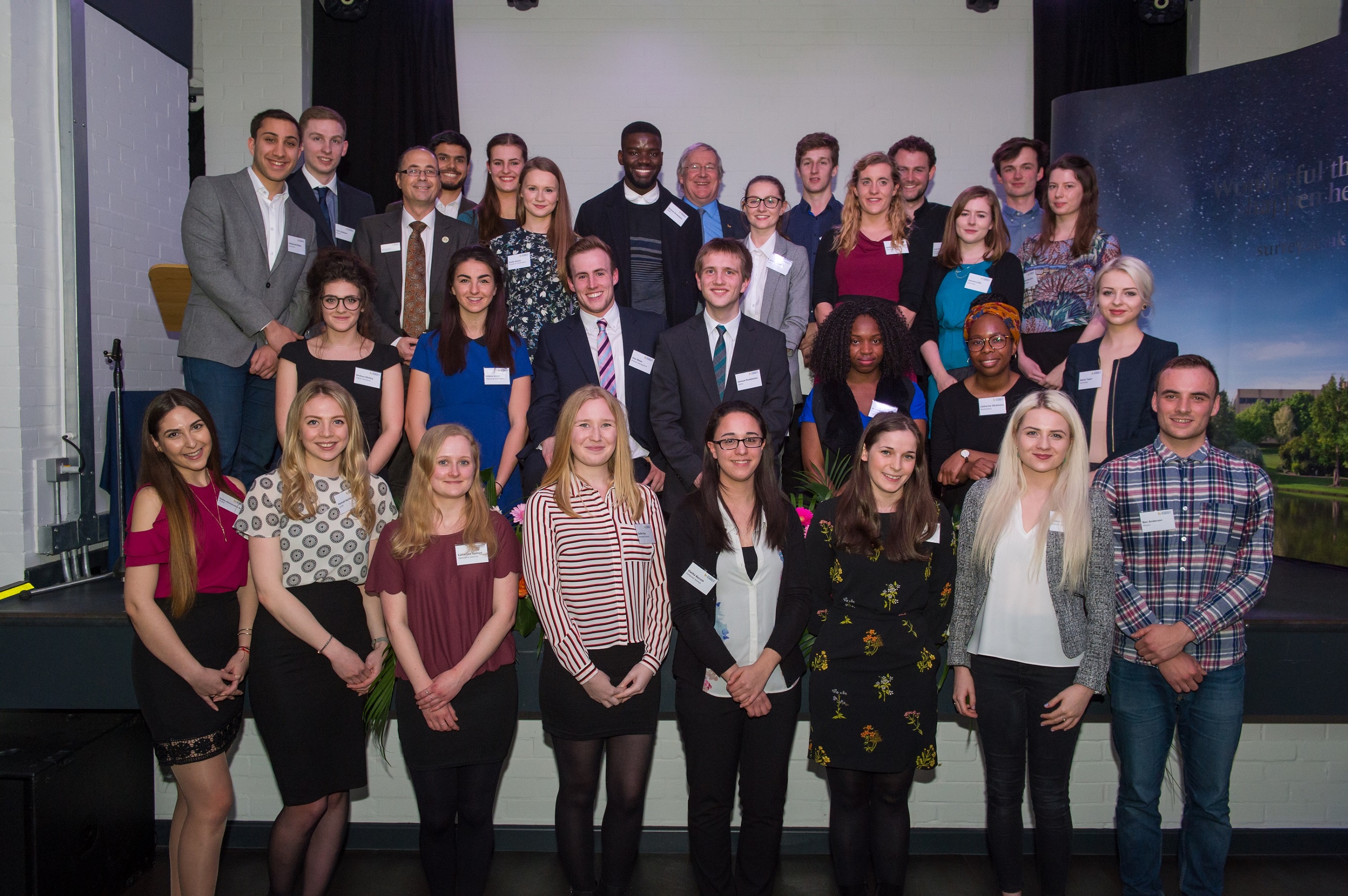 On 28th March 2017, the Employability and Careers Centre hosted the Professional Training (PT) Student of the Year Awards to recognise and celebrate the outstanding contributions of our students during their placement year in industry.
The experiences our PTY students have had while out on placement have been quite remarkable. Their impact has ranged from working in Peter Gabriel's personal studio, to designing skyscrapers, working in the legal justice system, carrying out research on airline pilots, organising trade shows, and working in the arts, creative and charity sectors. The list goes on.
The calibre of nominations was fantastic, and it was a major challenge for the panel to select the winners out of 28 very impressive nominations.
Keith Herrmann, the Director of Employability and Careers would like to pay a special tribute to the Senior PT Tutors and the Visiting PT Tutors as well as the PTY admin team and colleagues in the Employability and Careers Centre who work tirelessly to help Surrey students secure the best placements.
Special thanks to the panel members, Tom Pease and Hilary Placito, whose support was invaluable with the difficult selection process.
Click the link below for a short video that profiles the 28 finalists for the PTY Student of the Year Awards.
Below we put a spotlight on the award winners, including the main 'Student of the Year', and 'Overall Runner-up', as well as the three Faculty winners. A huge congratulations to all the finalists nominated for the awards!
And the "Student of the Year" 2017 Winner was….!
Benjamin Karkera, Mechanical Engineering
Industrial Placement at BAE Systems (Submarines)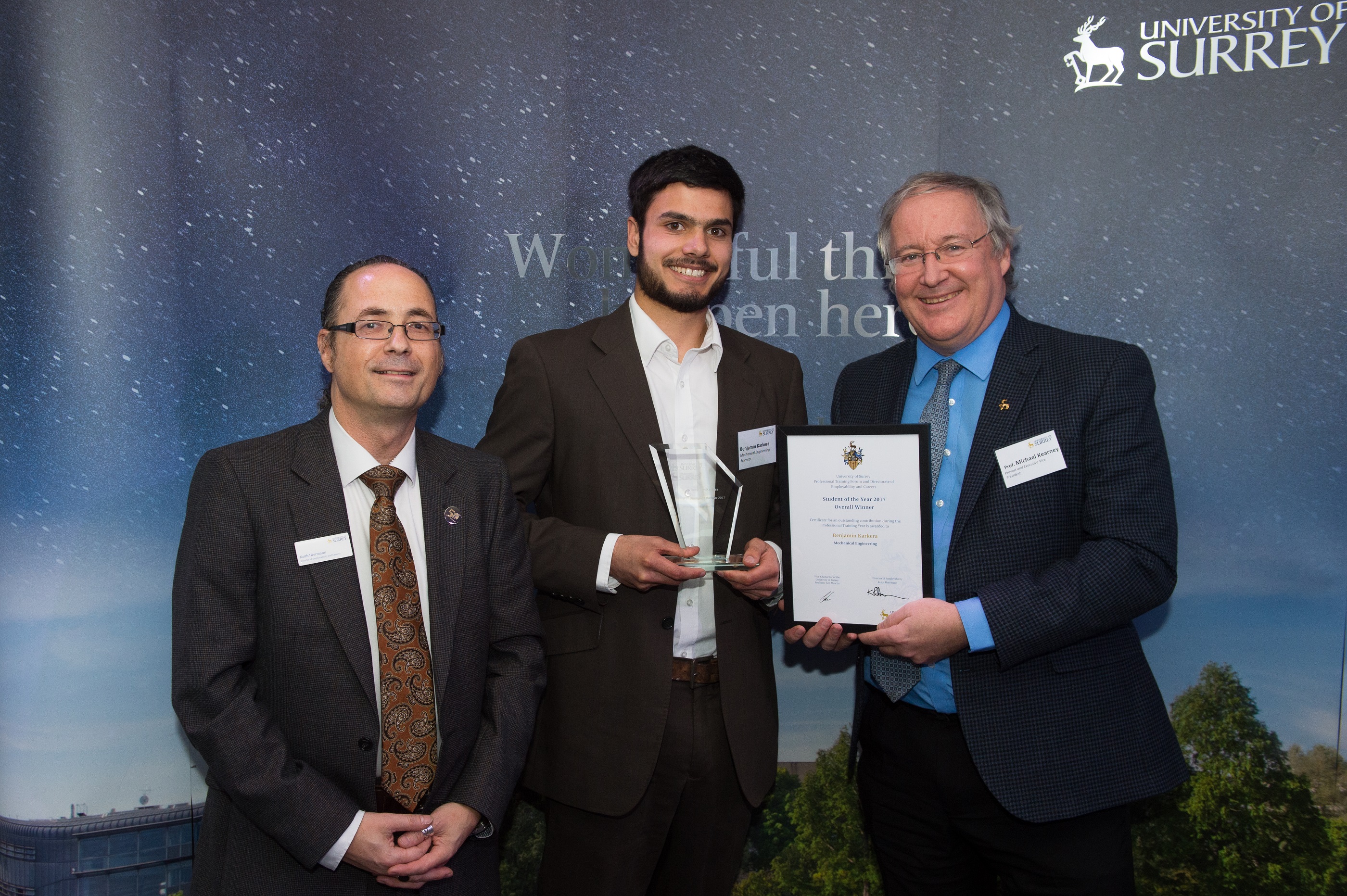 Ben performed exceptionally well in the three groups he worked in at the Submarine Engineering base in Barrow-in-Furness. His experience in Mechanical Engineering, Non-Destructive Evaluation (NDE), and Materials Technology covered an impressive range of engineering skills. This included responding to in-service issues, engineering design, experimental design and testing, and software development supporting research in NDE. Accolades from Ben's managers and colleagues include notes of appreciation from two Principal Buyers in the Supply organisation and from the Welding Training Assessor at BAE Systems.
One of his supervisors said "Ben has been an excellent addition to the team… he picked up issues and requirements from previous engineers and continued their work, as well as adding his own value in solving the problems and moving us forward in a prompt fashion.  As his knowledge of specific systems increases, and with his enthusiasm, he would undoubtedly be a good member of any engineering team he joins in his career."
Ben established links between BAE Systems (Submarines) and academic researchers in the Materials Research Group at the University. This has led to a collaborative research project with Surrey as well as the subject matter for Ben's final-year research project for his degree.
Ben achieved the top mark for his placement amongst all BEng and MEng Mechanical, Aerospace, Medical and Automotive Engineering PTY students.  He was unanimously selected by the Examination Board as a highly worthy winner of the main PTY prize in the Department of Mechanical Engineering Sciences, and the Department's nominee for the PTY student of the year award.
PTY Student of the Year 2017 Overall Runner Up
Elodie Lafosse, Dance and Culture
Projects and Social Media Assistant at One Dance UK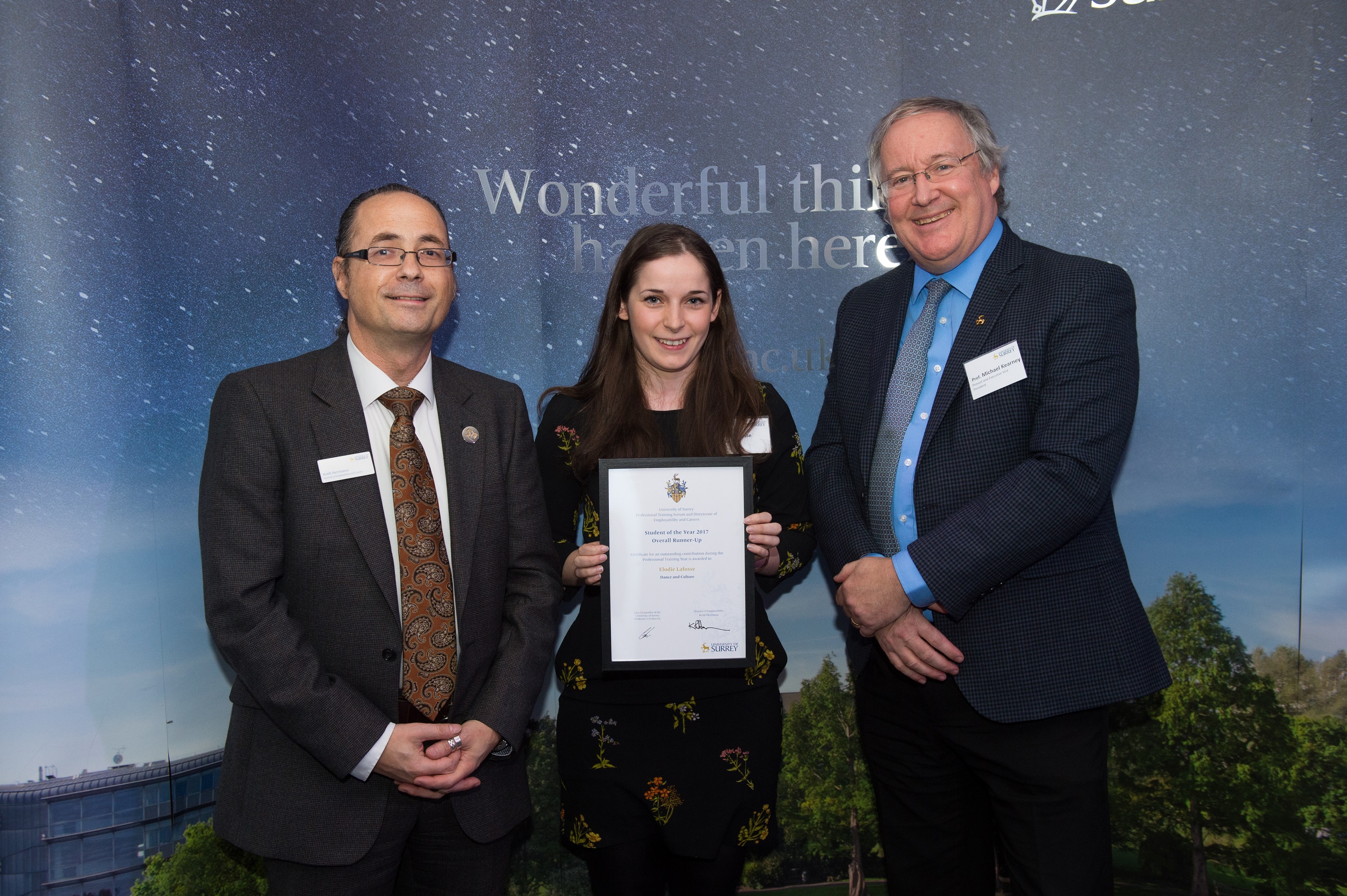 Elodie completed her placement at One Dance UK, where she received the highest level of recognition by the host institution for her year. Her biggest highlight from the whole placement was organising a professional development conference for students wanting to find out more about different dance career options. Dr. Hannah McClure, Senior PT Tutor in Dance said "Elodie has grown immensely over the placement year.  While at the start she was soft spoken and quiet, she now holds her own professionally and engages with excellent communication skills and confidence.  She earned the trust of the entire office at Dance UK, who will be proud to speak of her growth and development while with them and of her lasting legacy to the company."
Faculty Winner: Faculty of Arts & Social Sciences (FASS)
Mohamad Wazzi, Economics
Research Assistant at the Bank of England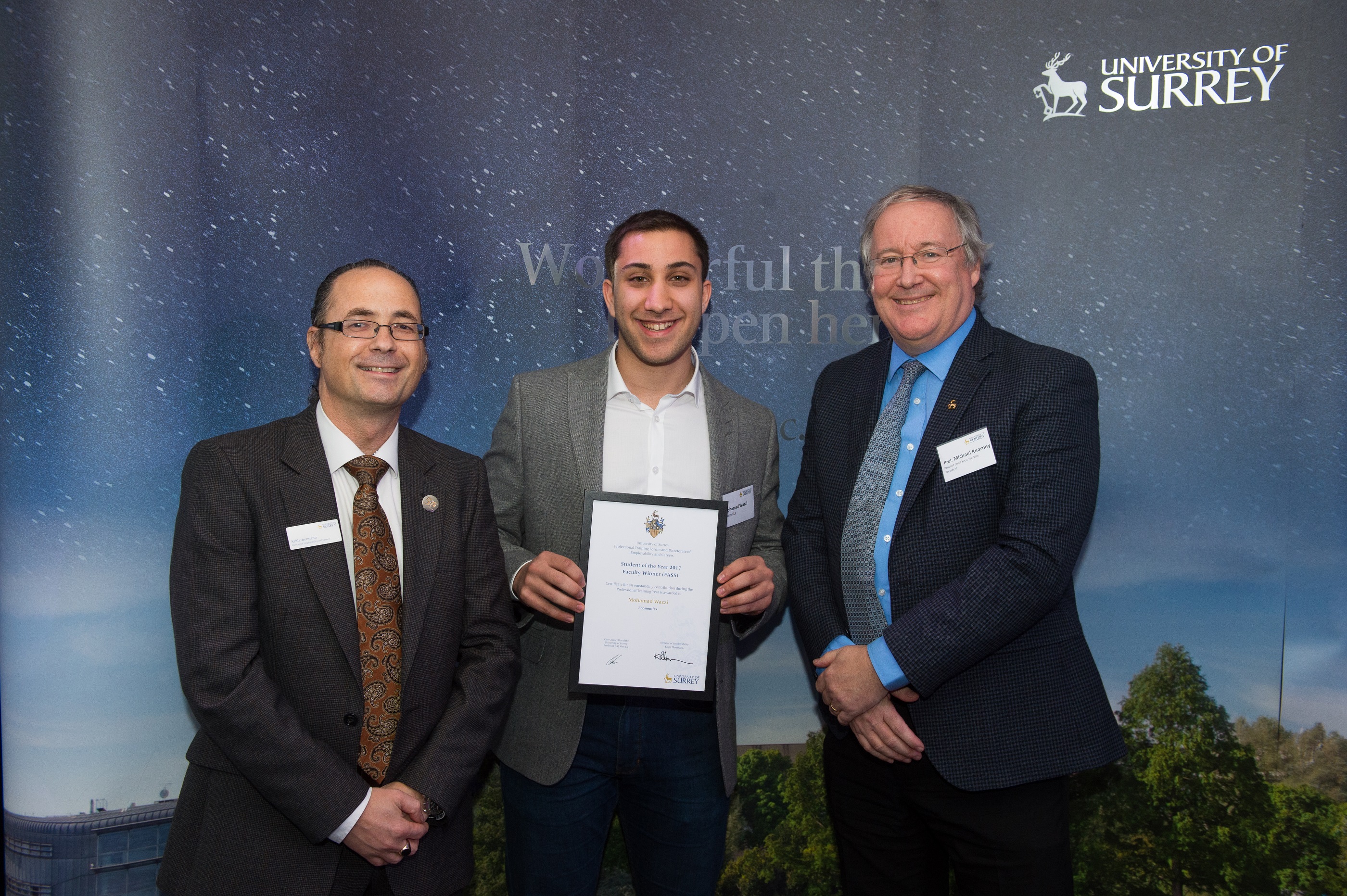 Mohamad worked for the Bank of England where he was placed in the Macro Financial Analysis Division, whose main aim was to extract policy-relevant information from financial markets and assess their macroeconomic implications with a view to informing the Monetary Policy Committee.
Dr. Miguel Flores Sandoval, Senior PT Tutor in Economics said "Mohamad was involved in the UK-focused FTSE equity index (FTSE All-Share that contains only firms that generate 70% of more of their revenue in the UK). His contribution to this indicator was requested directly from the Governor of the Bank of England. Mohamad's contribution became one of the division's key outputs and he repeatedly sent updates of these series to the Monetary Policy Committee (MPC) following the Referendum and the announcement of the Bank's policy package."
Faculty Winner: Faculty of Engineering & Physical Sciences (FEPS)
Ben Anderson, Physics
Atmospheric Plasma Development Engineer at Fourth State Medicine Ltd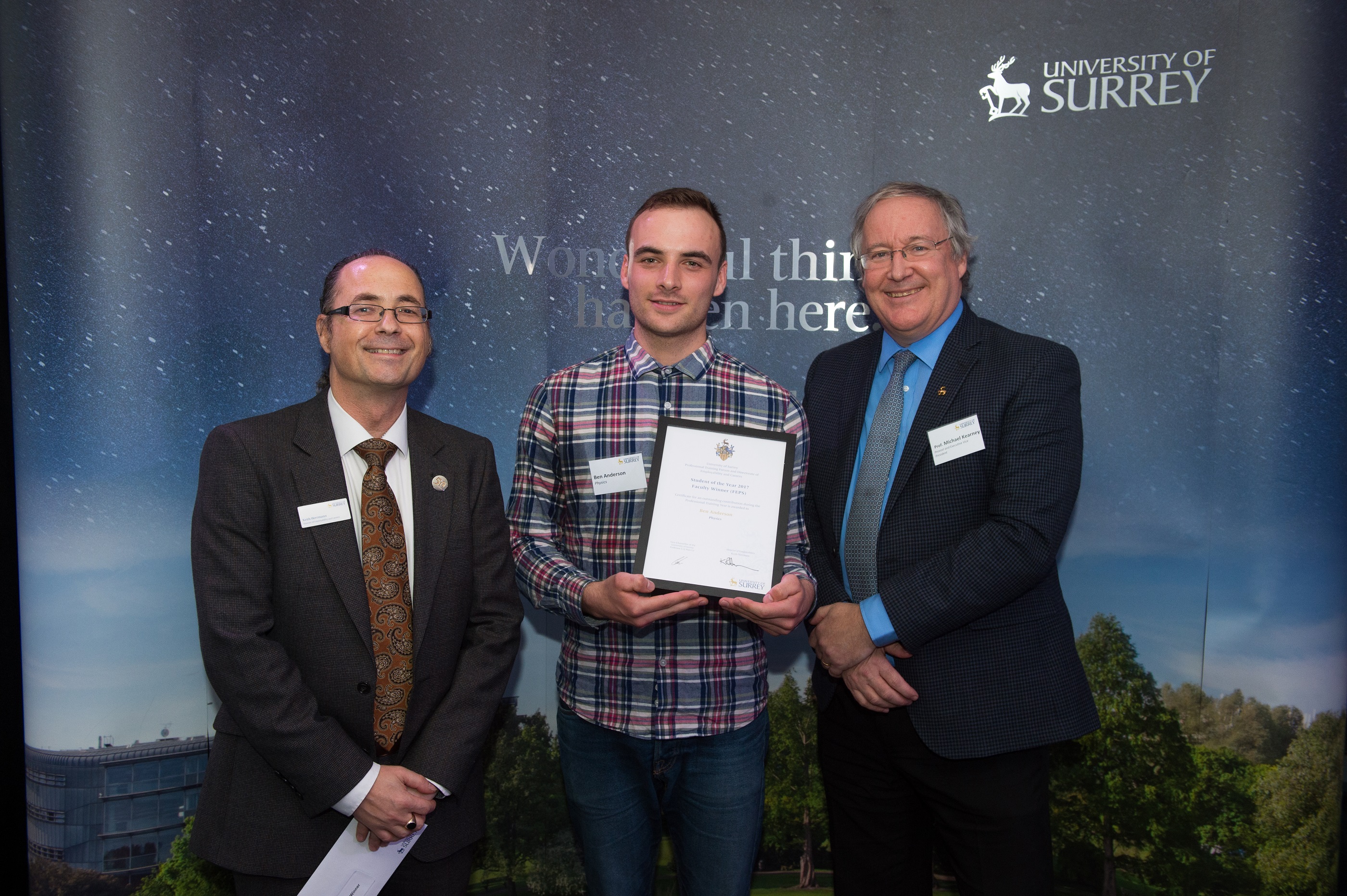 Ben completed his placement at Fourth State Medicine (4SM), where he worked on a series of outstanding projects. Ben designed and prototyped an ergonomic handgrip that is the basis for the launch of 4SM's new product. According to the website of 4SM, Ben's enthusiasm for medical physics and emerging technologies ensured that he became an integral part of the team. He generated a range of new applications and developed future plasma technologies.
Prof. Joseph Keddie, Senior PT Tutor in Physics said "Ben has been highly commended by Dr Thomas Frame, the founder and Chief Executive Officer of 4SM. Specifically, Dr Frame has credited Ben with being one of the main reasons for the company's continued successful operation."
Faculty Winner: Faculty of Health & Medical Sciences (FHMS)
Kaitlin Day, Biomedical Sciences
Research Assistant at the BASE Facility at Monash University, Australia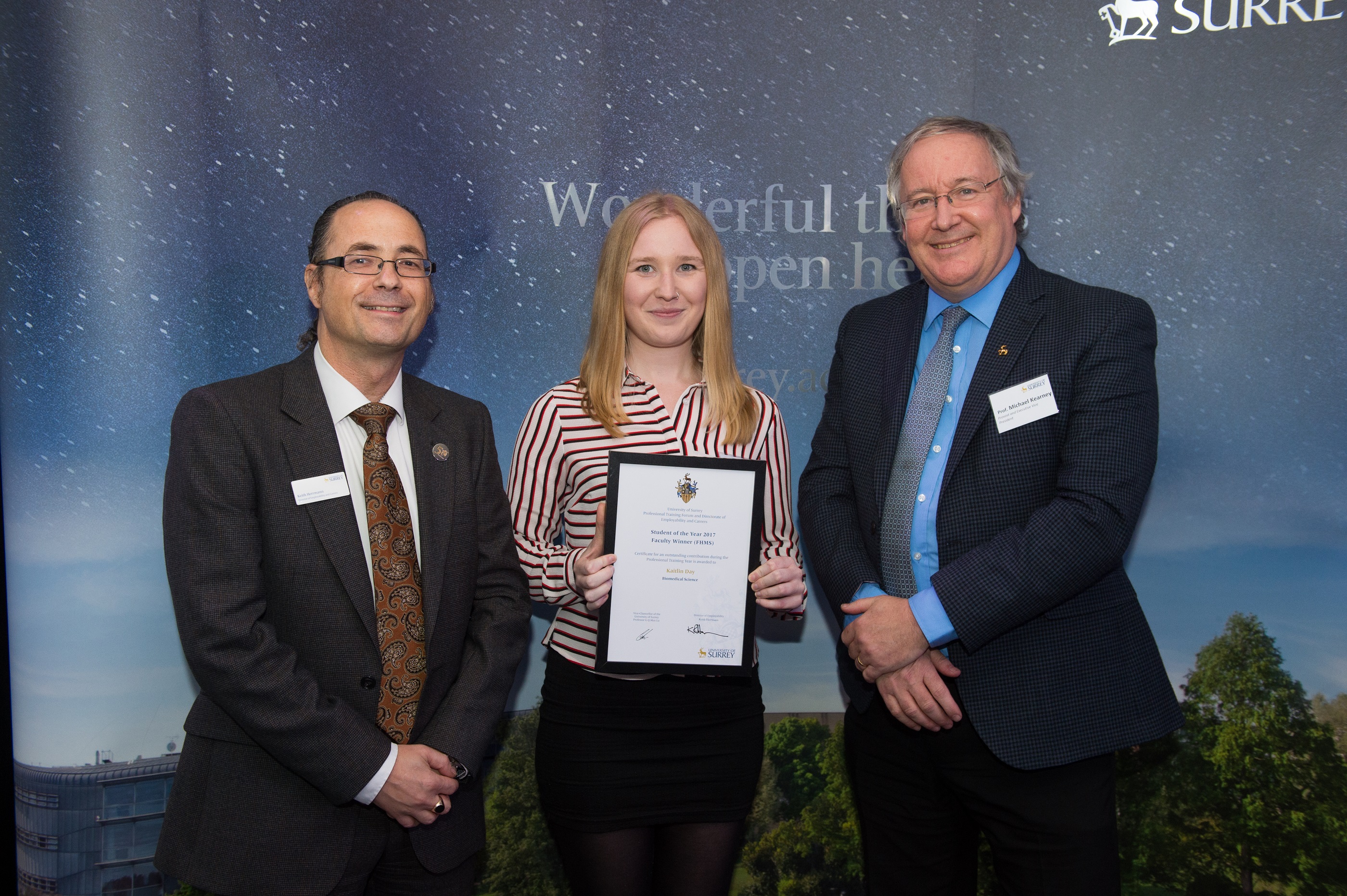 Kaitlin completed her placement at the (BASE) facility at Monash University, where she worked on a huge range of projects, having real impact within the team and showing herself to be a real asset to the group, including driving an extremely complicated and laborious systematic review forward to the point where it has been submitted for journal publication. The work she undertook was as diverse as it was extensive. This included assisting with a human clinical trial assessing the effectiveness of a current sleep apnoea treatment, undertaking a systematic review (Do polymorphisms in zinc transporters lead to a change in dietary requirements of zinc?) and validating a piece of lab equipment (DXA for measurement of visceral fat) evidencing her extensive skill set and also her open and enquiring approach.
Dr. Kathryn Hart, Lecturer in Nutrition and Dietetics said "Kaitlin totally embraced everything about the experience, taking every opportunity offered to her to create an amazing placement and a unique experience."
Winners in the category Highly Commended
Aoife Luscombe, Chemistry
Placement at Home Office, Centre for Applied Science and Technology (CAST)
Special congratulations to Aoife Luscombe. Her name is now on a published research paper "Fingermark visualisation on uncirculated £5 (Bank of England) polymer notes: Initial process comparison studies", based on her PTY work.
Catherine Okuboyejo, Biochemistry
Placement at the Occupational Sleep Medicine Group at Washington State University
Catherine Troman, Biomedical Sciences
Placement at the Natural History Museum (Life Sciences department)
Emma Ledger, Business Management
Part of the Server Sales Team at Hewlett Packard Enterprise
George Butler, Civil Engineering
Engineer Assistant at Arup (multidisciplinary engineering consultancy)
Jack Mills, Music and Sound Recording
Assistant Sound Engineer for Peter Gabriel Ltd
Jessica Green, Theatre and Performance
Arts Events & Operations Assistant at the University of Surrey (Faculty of Arts and Social Sciences)
Lauren Hebditch, Law
Placement at Woods Solicitors and Guildford Chambers
Sam Pemberton, Maths
Data Scientist at Thames Water
Congratulations to all the students nominated for the PTY Student of the Year Awards!
We would like to thank all the nominated students for their contributions to their placement organisation, and as a representative of the University of Surrey. The 28 finalists for the PTY SOTYs were nominated from a cohort of 1,075 students who were on placement in 2015-16. Congratulations to the other finalists:
George Collins, Floating Earth Ltd.
Hannah Barnbrook, Specialist Holidays Group (TUI Group)
 Hannah Collis, Hays
Marta Topor, Tics and Neurodevelopmental Movement (TANDeM) Service, Children's Neurosciences, St Thomas' Hospital
Delia-Alexandra Bute, The Club at Admirals Cove
Sam Jackson, Quality Assurance, Zebra
Alex Nixon, Marketing Assistant at 3M
Emily Jeeves, Producing Intern at Fuel, Theatre Intern at Camden People's Theatre
Melissa Molloy, Public Relations, SONY
Vanita Barrett, Software Developer, IDBS
Emma Legg, EDF
Victoria Horrocks, Rebio Technologies
Olutuyi Arowojolu, Sales Support Specialist, IBM
Ayooluwapo Akinfenwa, Process Engineering Intern JDE Coffee Banbury. U.K
Thinking about completing a Professional Training Year?
If you are interested in undertaking the Professional Training Year or need additional support in securing your placement, please find more information on our website here: