As your summer progresses the last thing you want to think about is the pressures of coming back in October. However, a little preparation now will save you time and worry later on.
How can I start preparing for placement over the summer?
Our step-by-step online placement module is on Surrey Pathfinder. It takes you through every step of the placement process. You can use your computer or get the smartphone app (see resources section at the end) to dip into the module at a time convenient for you.
Make the most of your summer by going through the module. And this will put you ahead of the curve when applying for the placement year of your dreams.  Many of the large companies open their applications in September, so ahead is where you want to be.
Discover, Develop, Dive in, Deliver
The module has four sections. You can choose which ones you want to spend more time on depending on what you feel you need more practice on.
Discover

This section takes you through the basics of what a placement year is. It has plenty of helpful information and resources that will help you assess
what jobs will suit your personality
the kind of roles and companies you are looking for
what transferable skills you have
You can also take extra optional tasks and watch videos to guide you.
Develop
This is where you get into the nitty gritty of selling yourself. This section will take you through the job seeking process. It includes sections on
writing a relevant cover letter
writing a targeted CV
creating a LinkedIn profile
Dive In
This section takes you through how to apply and secure your placement. There are resources explaining
where to look for placement opportunities
how to apply for jobs
preparing for interviews
practising exercises for assessment centres
practising psychometric tests
All this means you can feel confident throughout the application process.
Deliver
When you have secured the placement of your dreams the Deliver section will tell you
how to get your placement approved
extra steps to take if your placement is overseas
how your year will be assessed
It will also give you some hints and tips to make the most of your placement year.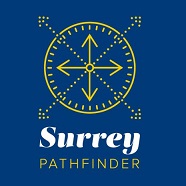 Surrey Pathfinder App
Get the app on your smart phone and you can do the placement module anywhere.
The module is broken up into bite size chunks. Spend 5 minutes a day on it, and you will find that you start next year well ahead of the game.
Don't delay, Discover, Develop, Dive in and Deliver today!
Placement module resources
Written by Alix Gould, Professional Training and Employability Administrator at the University of Surrey