The Scientist Training Programme (STP) opens for applications on 18 December. This programme – which starts in September 2020 – is one of the ways that NHS scientists and engineers get their foot in the door.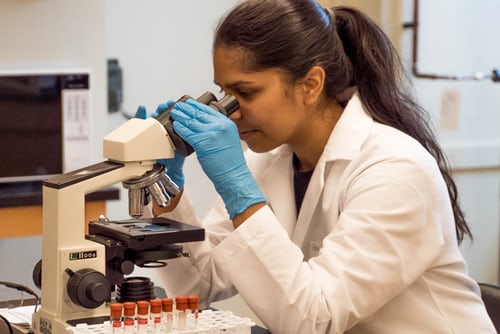 What is the Scientist Training Programme?
It's a national training programme designed to develop scientists to work across the NHS. There are over 30 specialisms to apply for including clinical biochemistry, neurophysiology, clinical bioinformatics and radiotherapy physics.
Trainees work for a hospital trust whilst studying for a part-time masters degree on an accredited programme. Upon completion, graduates can work as Clinical Scientists and can progress to consultant level positions.
Is the Scientist Training Programme hard to get onto?
The STP is a very competitive programme; in 2018 there were 20 applicants for every place. It is quite unusual to get onto the STP straight from university. Although it is possible to get onto it straight from your undergraduate degree, most successful applicants have relevant experience or a masters degree.
Former University of Surrey Biomedical Science student, Jack, is currently training to be a Clinical Biochemist. He recommends a professional training year as good preparation for applying to the STP:
"Do a work placement in a clinical laboratory, it gives you an edge over other students. A lot of other candidates already have an MSc or PhD. Clinical labs are very different to academic labs".
There are open days for some of the employers on the programme to help you decide if the specialism is right for you. Open days are advertised here.
What is the application process?
The application form includes questions about your motivation for applying to the programme and aptitude tests, which you can practice beforehand.
The interview is usually a Mini Multi Interview format (MMI) where you visit several stations and are asked questions and given tasks by different interviewers at each.
You can book a guidance interview on Surrey Pathfinder to get your application looked over or to prepare for an interview.
More information about the programme can be found on the STP website and on the NHS website.
Written by Emma Baker, careers adviser for Biosciences.