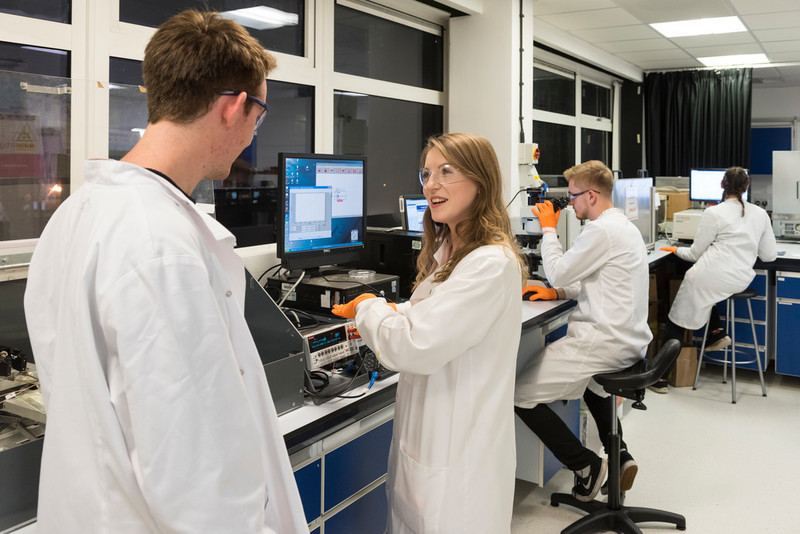 If you are a Physics student wondering how to start thinking about your future career you are not alone. With such a diverse number of career options out there it can be difficult to know where to begin. Previous physics graduates at Surrey have been successful in securing jobs as research physicists, cyber security consultants, data analysts, trainee clinical scientists, robotic developers, software engineers, teachers and bankers in organisations ranging from the BBC, BAE Systems, NHS, Airbus, DSTL to KPMG to name just a few.
Your skills are in demand
Encouragingly, Physics graduates are sought after by a wide variety of employers. With an understanding of scientific principles and technology, strong analytical and reasoning skills, mathematical and modelling ability, research and data analysis skills and the ability to communicate complex ideas, your degree course will prepare you for a wide range of professional roles.
Before exploring these options though, it's important to clarify your own individual strengths, motivations and interests first, so that you can seek roles that are a good fit for you.
Identify your strengths and career needs
Reflect on what you have learnt about yourself from your degree, placement, work experience and extra-curricular activities. What have been the highlights? Where have you excelled and felt energised? And think about what you'd like in a future role, for example are you interested in research? Do you see yourself working in a lab or in an office-based team? Are you more at home in the public sector or a commercial setting? Consider talking to a Careers Adviser at this stage to help you get started.
Explore what's out there
When you ready to research specific jobs and sectors start with Graduate Prospects What can I do with a Physics degree? – an excellent resource for learning more about degree relevant jobs.  In addition, the Institute of Physics has a helpful careers section and offers a variety of videos and interesting case studies to explore in Physics World Careers 2021.   
You can get ideas for specific sectors and employers from Gradcracker and BrightRecruits such as working in defence, energy, construction, transport, engineering, utilities or the environmental sector.
Research Roles: Many Physics students consider research scientist roles in academia or industry in sectors ranging from astrophysics, aerospace dynamics, particle physics, robotics, nanotechnology, meteorology to solar physics.   Careers in research require an MSc, MPhys and/or PhD qualifications and researchers can work towards the title of 'Chartered Physicist' from the Institute of Physics (IOP).
Healthcare Roles: If working in healthcare appeals, you can apply for the NHS Scientist Training Programme (STP) which is open to physics graduates for medical physics roles in areas such as nuclear medicine, radiography physics and radiation physics.
Communication and Teaching: Communicating your love of Physics to others could lead you to a job in Scientific Communication or a career in teaching. Teaching Training Scholarships worth £28,000 are available and government bursaries of £26,000 to entice physics graduates to enter the profession.
Widen your horizons further
Technical Roles: You may wish to transfer your technical understanding and programming skills to IT and software firms, for example in software developer and cybersecurity roles or in data analyst roles in Operational Research or the rapidly growing area of Data Science.
Business and Banking Roles: Or if you are interested in using your mathematical and data analysis skills within a business setting look into accountancy, finance, management consultancy and the actuarial profession. In particular, hedge funds and the banking industry are keen to employ graduates with advanced mathematical modelling skills in quantitative analyst and risk management roles.
Patent Attorney Roles: Similarly, physics graduates can combine their technical knowledge with legal training to work as a patent attorney and commercial law firms are keen to recruit STEM graduates as commercial solicitors capitalising on their valuable scientific training and understanding of technology.
Consider postgraduate study carefully
A substantial 37% of UK Physics graduates progressed into further postgraduate study in 2017*. If this interests you, passion for your subject is important but do check the value of postgraduate study and clarify your employment prospects after completion. Talk to course leaders, Masters graduates or PhD students within University departments to ask questions about the course or research and the types of graduate jobs secured by alumni.
How do I narrow down my options?
Talk to people working in the careers that interest you to reality check your ideas. Attend relevant career events, network with professionals and aim to secure some job shadowing and work experience to help you gain real insight into which option is best for you.
Book an appointment with a Careers Consultant via MySurrey to help you get started with your next steps. 
Useful Career Resources
This blog has been written by Helen Plummer, careers consultant for physics