My journey with LinkedIn began a year and a half ago, as I attended a LinkedIn workshop in my first year at Surrey and became intrigued by all of the features of this online network. That evening I set up my LinkedIn profile and completed the various sections that essentially make up your online resume. It may take a while at first to complete your profile, but once it is done it is much easier to update as you progress through university. A completed profile will also increase your visibility in relevant searches and in suggesting connections you may know.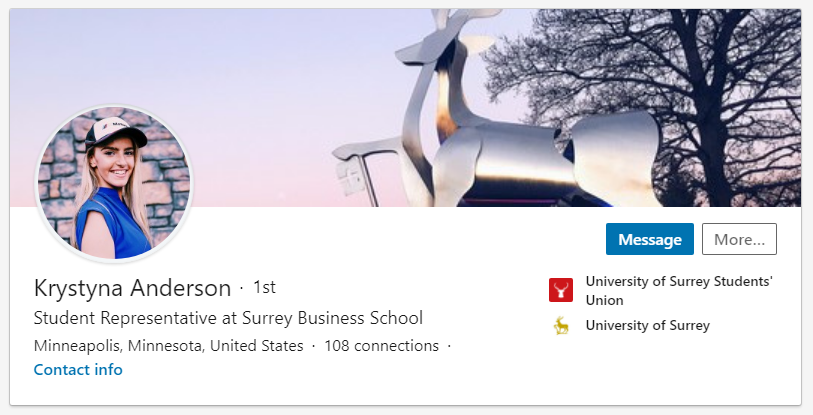 You will discover that there are many purposes of the platform, and each person may use it differently. My primary reasons for creating a LinkedIn profile are detailed below.
1) To build an online network with my course mates, colleagues, and other people I know or have met through events
When first starting on LinkedIn, it is easy to build your network with people you already know. During your time at university, you will meet many more people through your course, career fairs, workshops, work experience or other instances where you can add these contacts as well.
2) To share and keep up to date with career related content
Your feed is diverse as it shows the activity of companies you follow and of your connections and the content they engage with.
3) To use in my job search
Last but definitely not least, LinkedIn has many benefits for job searching. There is a 'Jobs' tab which has thousands of listings from employers that you can further filter according to your location, experience level, job type, etc. I have used this personally to source jobs from my placement to part-time work. You can also turn on a feature on your profile to let recruiters know you are available.
Whether you have found a job on LinkedIn or not, you can use the platform to research a company. Organisations frequently post news and this is a good way to stay updated on what is happening within your industry of interest and can also serve as some talking points during an interview!
My top LinkedIn tip
Grow your network with a purpose. Keep in mind your feed will reflect the connections and interests you have.
Do make sure that you reach more than 50 connections and follow companies you are interested in so that you will appear in searches, but do not add users randomly. If it is someone you do not know personally, send them a message explaining why you would like to connect.
When you connect with company representatives you meet at events or other people you interact with, follow up with a message thanking them individually to add a personal touch and help you stand out.
Building your network and engaging with the content and people that will help shape your future career is highly beneficial and I encourage you to make the most of your LinkedIn experience!
Thank you Krystyna for writing this blog!