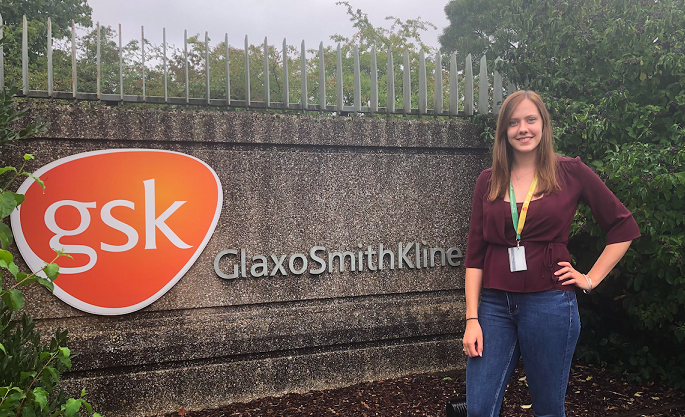 Since September 2019 I have been on an Industrial Placement with GlaxoSmithKline (GSK) working in Clinical Operations. Completing a degree in Biomedical Science sometimes comes with the expectation of working in a lab, which was not the career path I wanted to take. I saw the placement year as an opportunity to explore career options outside of the lab.
I wanted to find out what career I might enjoy and gain fantastic experience along the way.
Throughout the year I worked on the study team of multiple clinical trials assisting in their operational delivery and conduct. Through various opportunities; such as managing third-party vendors and aiding in the creation of study related documents, I grew in both my professional and personal development.
Skills I developed on placement
I established strong oral communication skills by presenting to colleagues and senior leadership on project work and advanced management and relationship building skills as working as part of team. I developed strong written communication and analytical skills in the creation of specific sections of the protocol and study related documents and gained great timekeeping and organisational skills when assisting with the planning and tracking of study timelines and budgets.
Challenges and highlights from my year in industry
Starting out as a university student can be daunting and so one of my biggest challenges was the transition from student to employee. I learnt on the job, and although there was an expectance of independency, it was the situations where I was put out of my comfort zone where I learnt and progressed the most.
For example, a highlight of my year was developing patient engagement materials to enhance participant clinical trial experience and organising their review by global patient advocacy groups. I presented my project work to senior leadership and presented proposals to CEOs of external companies. This was a standout moment for me and really defined how much I had grown throughout the year. As a result, my confidence has grown 10-fold and that I am ready to enter the workforce when I graduate.
Adapting to the changes caused by the pandemic
The COVID-19 pandemic impacted our ways of working at GSK, but I was able to adapt and continue the rest of my placement through to its completion. I continued my role with relative ease as for the most part my role was office based. Meetings were moved from coffee catchups to Microsoft Teams, and aside from not being in the office my entire team carried on working together and catching up every day, but instead virtually!
I can say without doubt a placement year was one of the best things I could have done and I wouldn't change a thing, except maybe the impact of the pandemic!
Read the second part of my blog with my tips for applying for placement at GSK here.