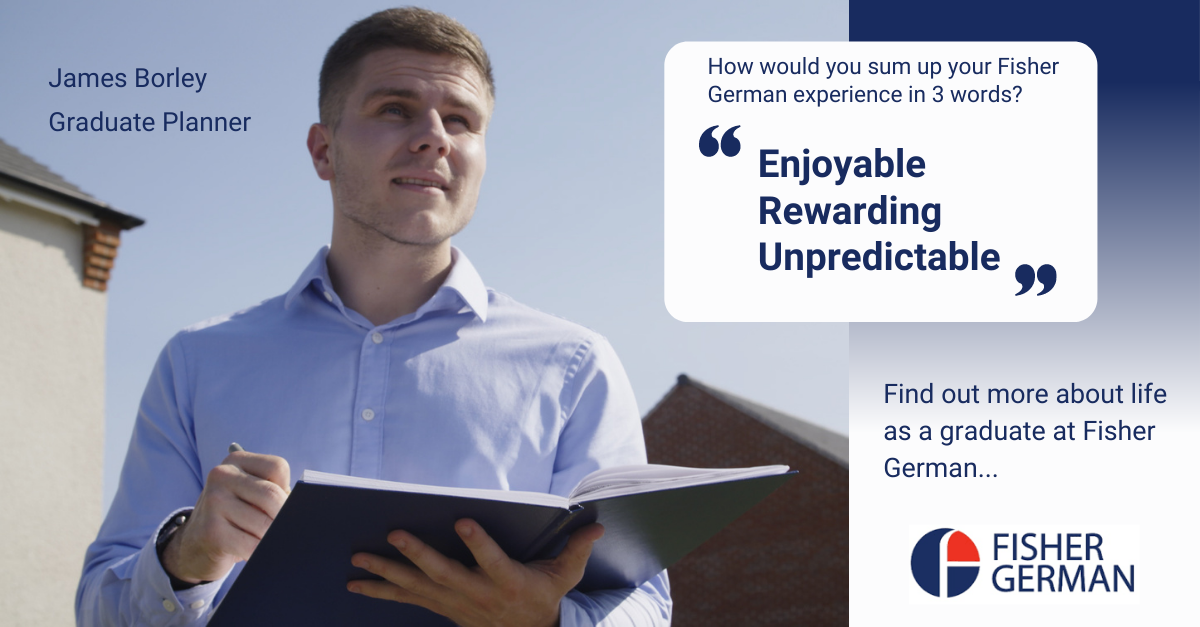 Find out more from Ed, current Graduate at Fisher German, about why he choose this route after studying Politics at University.
Interested? Below are some FAQs to help you find out more;
What is a Chartered Surveyor?
A Chartered Surveyor works in all fields of property and building consultancy, influencing the rural and urban environments in which we live. Surveyors work closely with a range of stakeholders: landowners, occupiers, engineers, bankers, architects, ecologists, planners and property developers. Governed by the Royal Institution of Chartered Surveyors (RICS), members work in one of the three main sectors: construction and infrastructure; property; and land.
I don't have an RICS accredited degree, does it matter?
In short, no! Fisher German welcomes applications from any degree discipline, and if you do not have an RICS accredited degree then we will sponsor you through a part time MSc, which you can complete at the same time as your APC training period.
What is the APC?
The Assessment of Professional Competence, essentially your golden ticket to becoming a Chartered Surveyor. It is a two year on the job training period, working across a range of different mandatory and technical competencies. There is a requirement for a paperwork submission and it is concluded with a one hour panel interview. Fisher German has an enviable track record of APC success – a long term 98+% first time pass rate.
What will my day to day role entail?
No two days are the same as a Graduate Surveyor, your role will be based both in the office and on site, on approximately a 50/50 split. You can expect to be attending meetings, inspecting property and providing advice via a multitude of different forms of communication, alongside undertaking structured training to fulfil the requirements of your Assessment of Professional Competence (APC).
Where will I be based?
Building trusted relationships with clients and becoming a key member of your team is critical to being a Surveyor, you will be located in a specific office and team but will have the ability to work with other sectors and offices to ensure your breadth of experience and exposure to the wider business.
What responsibilities will I have?
Recurring feedback from Graduate Surveyors in Fisher German is that they are surprised with the degree of responsibility that they are given from the onset, whether that be assisting with the sale of a property or overseeing the installation of a utility asset. While our aim is for Graduate Surveyors to feel empowered and to take responsibility, your team will be there to be support you along the way.
What type of clients will I work with?
You can expect to work with a range of clients including both private and corporate clients and blue chip companies.
What are the highlights of the role?
Being able to get out and about – it's great to be out of the office and have that direct client responsibility, alongside full supervision. The workload is diverse and there is always the opportunity to learn new things and develop my skills further. The team and the people in Fisher German are also a huge highlight of the role – even at 600 people, it's like one big family.
What support will there be?
Each graduate has a dedicated supervisor and counsellor who are there to support them with their APC. We also provide an in-house APC doctor who will be someone unconnected with your day to day work, but provides further APC guidance. We have a dedicated Graduate Team who run three bespoke graduate training days a year, and are a fountain of knowledge regarding the APC. We also run a full mock APC process which mirrors the RICS process and is run internally by colleagues who are RICS assessors. Upon qualification a mentor is provided to give further career guidance and support.
Why Fisher German?
It is a genuinely people focused organisation; with excellent APC support and then defined career progression upon qualification. The only barrier to success here is you!
Fisher German are advertising their graduate roles on Surrey Pathfinder
– Graduate Surveyor
– Graduate Commercial Surveyor