Ellise, Programme Support Officer at the NGDP has written this blog about the well-respected graduate scheme at the National Graduate Development Programme within local government. In this blog you can find out
what the scheme is,
the variety of placement the scheme encompasses,
how you can make a difference to your community while on the scheme,
and the postgraduate qualification in leadership that you will take on the scheme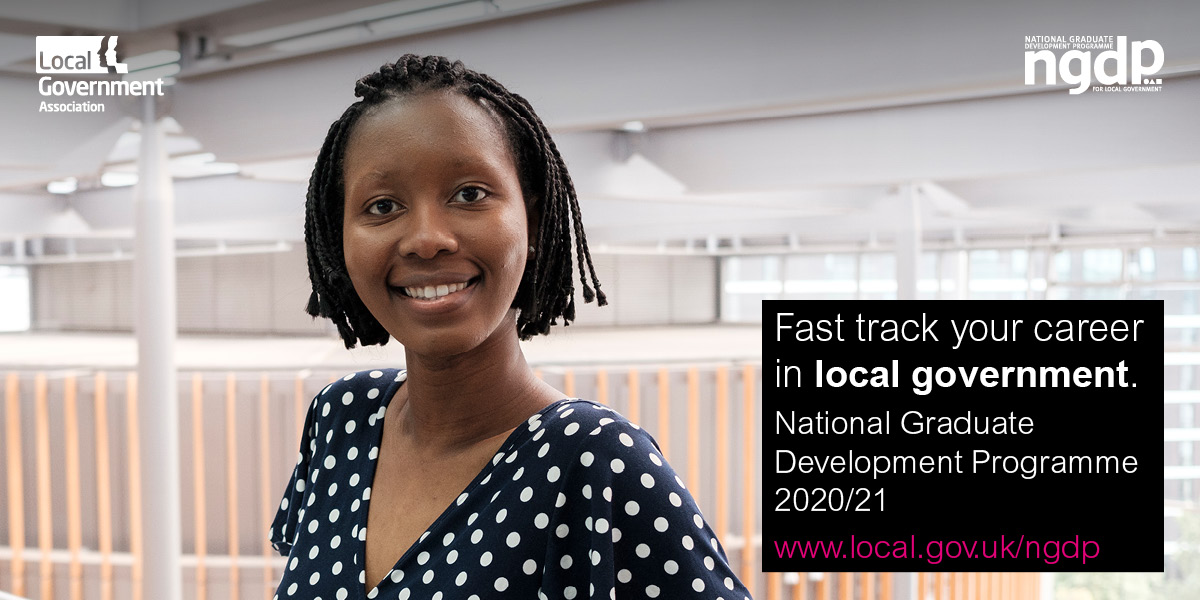 Education, housing, fire and rescue, social care, community safety, culture – just a few of the essential services councils provide. Many people think of councils and they think 'bin collection', but in fact they are the backbone of our country, affecting all our lives every day, and supporting the most vulnerable.
The National Graduate Development Programme
Every year, our team co-ordinates and organises the National Graduate Development Programme (NGDP). The NGDP is one of the best graduate schemes that you've probably never heard of – it gives you two years at a local council (we partner with over 50 councils every year), and the chance to create impactful change – something many graduate opportunities don't offer.
Whilst on the scheme, grads move through a minimum of 3 placements. These can be in departments as varied as adult social care, children's services, public health, regeneration, environment, finance and legal, and more. Many have been redeployed to aid their council's Covid relief efforts, supporting stretched departments during a difficult time. Although, many find themselves on teams working on ingrained social issues, such as one grad who is currently working to combat modern slavery and domestic abuse.
The NGDP is a Times Top 100 employer
As the scheme is so well-respected in local government and beyond – we ranked in The Times Top 100 Graduate Employers and Guardian UK 300 – as a National Management Trainee (NMT) on the NGDP, you have the opportunity to share your ideas on how to improve the community, and watch them take flight.
Putting to work the data analysis experience they gained at university, a recent graduate on the programme saw one of their ideas take off recently. Seeing the shift Covid-19 caused in local councils, they asked to undertake a research project forecasting the impact of Covid on regions in England.
With this information, local authorities can consider opportunities for reskilling the workforce in sectors particularly at threat, and also think about future opportunities in new and developing sectors such as in the green economy. They were also able to present the final paper to two boards comprised of councillors from across the country – the sort of incredible opportunity afforded to NGDP trainees who put their minds to work.
Postgraduate Qualification in Leadership and Management
Grads are also often given exposure to high-level execs and colleagues, sitting in on meetings where key decisions are made, allowing them to understand the inner workings of councils and fast-tracking their leadership careers. Alongside this, NMTs complete a postgraduate qualification in leadership and management – all while earning a graduate salary of at least £25,991. Our grads go on to exciting careers in local government and beyond, rising through the ranks quickly.
How can I apply?
Local councils are looking for the next generation of leaders – passionate, committed people who have the potential to become the future leaders in local government. All you need to do to apply is to click here
Find out more and engage with NGDP. You can email us on ngdp.support@local.gov.uk or have a look at our website