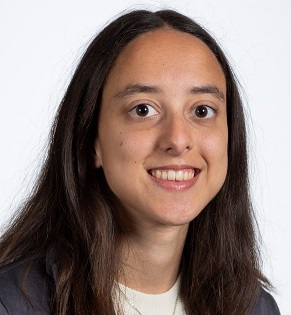 Hello, my name is Rebecca and I am a Software Engineering graduate in the Applied Intelligence Division of BAE Systems. To tell you a bit about how I have got to where I am today, I am going to take you back to my college days.
About Me
I went to Farnborough Sixth Form College in 2013 and I studied A-level Computing, Maths and Law and AS Electronics. From 2015, I studied BSc Computer Science (Information Security) followed by MSc Information Security at Royal Holloway University. After graduating with an MSc in 2019 I joined BAE Systems as a Software Engineer.
Typical stereotypes of Engineers and Computer Scientists are that they are men, have limited interests, play computer games, lack interpersonal skills and their work is boring and dull. However, I'm proof that these stereotypes aren't always true!
I love playing sport- throughout my life I have participated in many sports from ballet and gymnastics in my younger days, to golf, tennis and swimming in my school days and now I play cricket. I have been playing cricket since secondary school- in the girl's league when I was younger and now in the women's league for my local cricket club.
Why Engineering is Inspiring
Besides, inspirational women have been making leaps in engineering for hundreds of years.
Ada Lovelace became the first computer programmer back in the 19th Century. And since then we've had the likes of –
Dr. Ellen Ochoa, the first Hispanic female astronaut to reach space;
Marissa Mayer, the first female engineer to join Google;
Dr Anne-Marie Imafidon who was the youngest girl to pass A-level computing and graduated with an MSc in Mathematics and Computer Science from Oxford aged 20. She went on to co-found Stemettes, a social initiative dedicated to inspiring and promoting the next generation of young women in the STEM sectors.
Finally, engineering is a very exciting and important job. Engineers get to work on high-profile and heavily invested projects that will have a big impact on society now and in the future. We can see this with the driverless cars and ventilators that are being built for the NHS.
BAE Systems is delivering incredible programmes at the leading edge of technology: from Tempest, the RAF's future, optionally manned combat aircraft; to the latest generation of stealth submarine; to cyber products being used to protect children from abuse.
Tips for applying for jobs in STEM companies
Be yourself, it does not matter what background or experience you have. Many programmes don't require you to have a STEM background with roles including engineering, consultancy and project management available.
Although I have a background in computer science, many others do not. One graduate has a background in bioscience and another has a background in law. So do not be afraid to apply for a STEM job – many different experiences and educational backgrounds are beneficial for a job in STEM.