Police Now's mission is to transform communities by recruiting, developing and inspiring diverse leaders in policing. We recruit graduates who go on to play a crucial role in creating safer communities, working proactively to tackle some of society's most complex challenges so that even the most vulnerable can thrive.
Diversity and inclusion is at the heart of everything that we do. We believe that to truly transform communities, we need police officers as diverse as the communities that they serve. Of those who started on both our national graduate programmes in 2020, 25% are of black, Asian or minority ethnic heritage compared to 12% in standard national police recruitment. In this intake as well, 11% identify as LGBTQ+ and participants graduated from 115 different universities across a range of disciplines.
Anokhi Chouhan, neighbourhood police officer, tells us a bit about her journey into policing through Police Now.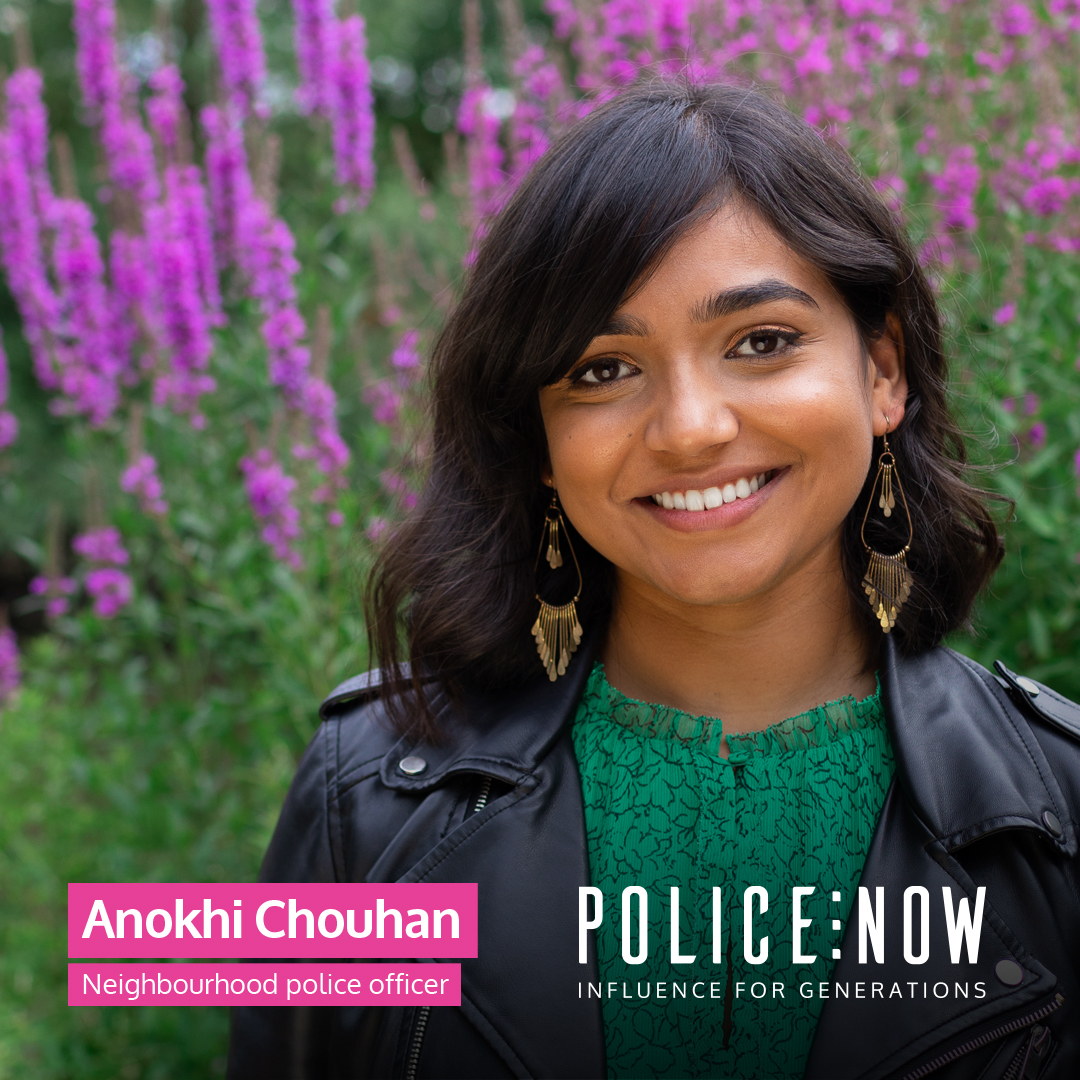 What did you study at university and how do you think it might apply to policing?
I studied Mathematics at the University of Southampton, a four-year integrated degree, first my Bachelors, then my Masters, and then I came straight into policing. I chose policing because I could see how I could apply my mathematical knowledge to it, both statistical knowledge such as crime mapping and hotspots, I could really see that as an area that could be developed. Also, things like serious road collisions, calculating angles and speeds which cars were going, investigating how that goes and bringing the results to court, that's also a route that could be taken down.
Was there a specific moment that made you decide to go into policing?
My degree, although I loved it, wasn't taking me down the routes that I found that exciting. I started looking at what I was doing outside university, and that ended up being a lot of charity and society work. I started searching around looking for charity jobs, and I stumbled on Police Now, and thought, 'yeah, this is for me'.
Why did you choose Police Now, and not the usual route into policing?
Throughout my time at university, I spent a lot of time working with charities, specifically student charities that created mini projects that helped the local community. I realised that something I was really interested in, and that's what attracted me to Police Now, because it was community policing as opposed to the usual style of policing that was originally advertised and I was just really attracted to the fact that I could have a positive impact in the community.
Tell us about how you've made an impact since joining Police Now
When looking at how to make an impact in the police force, I ended up being more pulled towards how I could improve them from the inside. I started working with things like unconscious bias, diversity, and women's leadership.
How have you had an impact in the community?
I noticed that Essex Police do a lot of work with religious leaders, but they're all from Church of England backgrounds, and that doesn't accurately represent the diversity of the people in our area. I thought that we could have a network of religious leaders from different religious backgrounds, and have them talking to each other, engaging with each other, sharing ideas, and then bringing those back to the police. We're not there to control the conversation at all, we just want to take in that information, and therefore learn how to better police their communities.