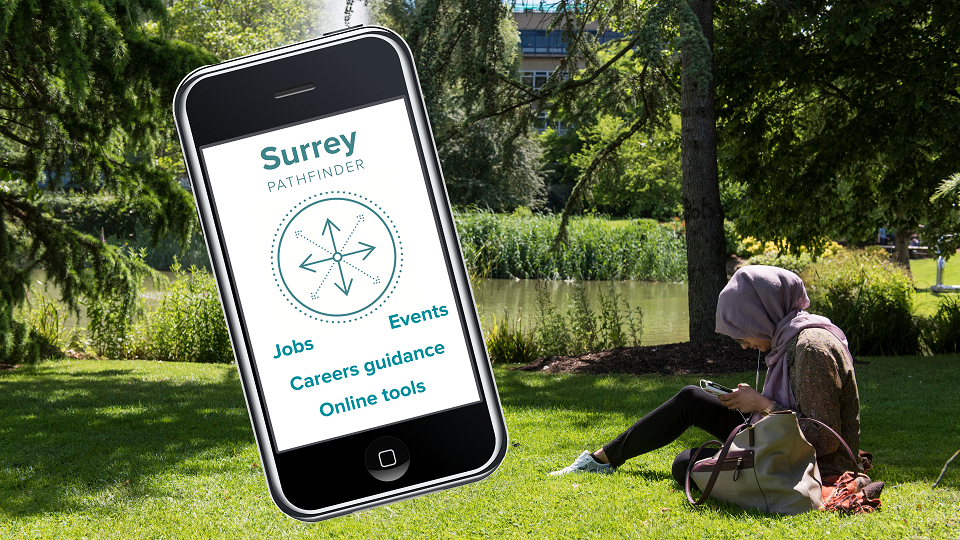 For students soon to graduate from Surrey – the careers team are here to support you for three more years. This includes 1:1 careers guidance and attending our careers events. You also have lifetime access to the Surrey Pathfinder's career development tools and jobs search engine.
Find out about creating your graduate Surrey Pathfinder account, careers appointments, careers events, using our jobs search engine, and our excellent package of career development tools.
Creating your graduate account
Towards the end of your degree, you can create a Surrey Pathfinder graduate account. It gives you access to the same tools on Surrey Pathfinder as when you were a student. Find the graduate access on this page surrey.ac.uk/pathfinder and scroll down to the Access for graduates section.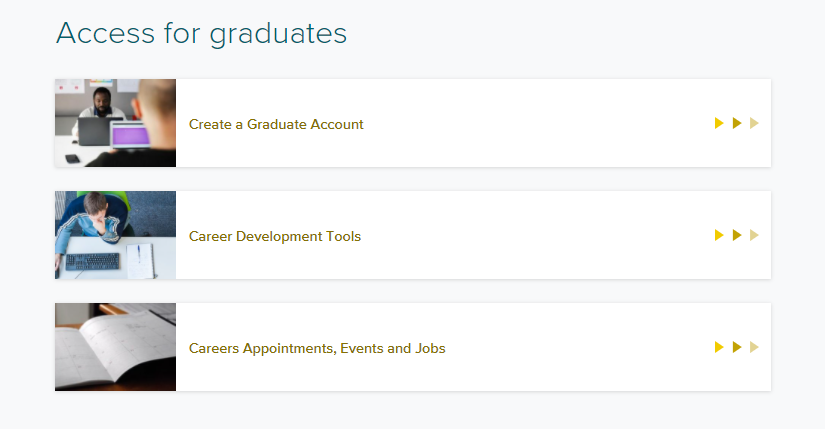 Careers appointments
Our online or face-to-face Careers Appointments are suitable for students and graduates. Led by your needs, some of the things they can be booked for are –
I don't know what I want to do, can you help me find some direction?
I have an idea what I would like to do, but I am not sure how to get there.
Can you check my job application, CV or covering letter?
Can you give me job interview or assessment centre advice and a mock interview?
Where can I look for graduate opportunities?
Can I discuss whether to do a Masters, and if it will help with any careers plans I have?
Whilst still at Surrey, continue to book appointments using your student account. Once you have left, book your appointments via your graduate account.
Careers events
Every year we run an events series where leading employers and our careers consultants run skills sessions to help with things like –
CVs and cover letters
Strengths based applications and interviews
Assessment centres
Job interviews
Personal branding and LinkedIn
Psychometric tests
You can book onto all these events via Surrey Pathfinder using your student account. When you have left, book via your graduate account.
Jobs search engine
We advertise graduate jobs and schemes and graduate internships. You can also search for part-time work, volunteering, vacation jobs and funded PhDs. You can also search for jobs with an immediate start date.
Surrey Pathfinder's career development tools
Surrey Pathfinder is made up of two separate careers packages, and once you have graduated you will need to have two accounts –
Careers appointments, events and jobs
Career development tools
What are career development tools?
The development tools include content to help you with all aspects of job hunting, interview preparation, industry and company research, self-development, practice psychometric tests, learning IT packages and personal branding.
Some of the popular items include –
CV360 – This scores your CV against Applicant Tracking System's (ATS) 50 common checks.
Interview 360 – You can practise your interview technique with a simulator and get instant feedback
Assessment Centre Tool – this tool explains assessment centres, the common activities you may be assessed on, and how to perform. Students can find these resources here, and graduates here.

How do I get my career development tools account?
Once you have created your Surrey Pathfinder graduate account, we will create a separate account for you to use the development tools. You'll get an email with the subject 'Welcome to Surrey Pathfinder's interactive development tools'. Create a password for this account. Log in and start using!
We are looking forward to continuing to support you on your next steps after university. Click below to get started with your graduate account.