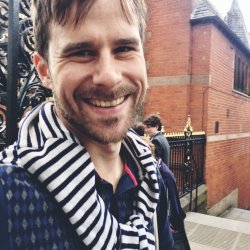 Dr Marton Ribary works at the interaction between law and AI seeking to understand whether and how the latter can support the former. Together with the Alan Turing Institute, he has created one of the most advanced relational databases for Roman law, which allows Romanists to identify patterns in Justinian's Digest. He is presently working on whether and how counterfactual reasoning, most common in Roman law, can be embedded into legal software.
He is the first-ever Leverhulme Early Career Scholar of the Law School and this year he has won the Surrey Open Research Case Study Award. He teaches Contract Law I and II. Further, he plays a significant role in the Law and Technology programme.
Finally, he has been always ready to help doctoral students with their work – notably Giuseppe Di Donato, who writes a Ph.D. in Roman Law. He has published three publications since joining Surrey in November 2019: "Rabbinic literature and Roman-Byzantine legal compilations," in The Routledge Handbook of Jews and Judaism in Late Antiquity (2022); "A corpus-approach to Roman law based on Justinian's Digest," Informatics – Digital Humanities 7(4), 44. [with Barbara McGillivray]; and "A relational database of Roman law based on Justinian's Digest," in Journal of Open Humanities Data 6.