One of the highlights of the 'Making the Invisible Visible' conference was the culmination of the Three-Minute thesis (3MT) competition. Our amazing six finalists each addressed the public, who were able to vote for the 'People's Choice Winner'. The judging panel, consisting of Dr Allan Kilner-Johnson, Prof Nicholas Hills, Dr Femi Adeyemi-Ejeye and last year's 3MT winner, Sara Healy, chose the overall competition winner.
Finalists were Faith Howard (Health Sciences), with her project on capturing what matters to older people with frailty; Jake Cumber (CVSSP), with his research on computer modelling of breeding related malformities in dogs; Ayse Aslan (Health Sciences), with her study on digital inequalities among older adults; and Irene Ray (Biosciences), with her research on obesity and endometrial cancer.
Dr Hanna Groothuizen, Researcher Development Officer, who organised this year's competition said:
"The quality of 3MT submissions was exceptionally high this year, and it's been a real privilege to learn about all the great research that's being conducted by our Postgraduate Researchers (PGRs). Condensing your research in three minutes only is not an easy task, and I'm hugely impressed with all the finalists." 
The People's Choice winner was Claire Gregory (Psychology), who creatively linked her research on the psychology of decision-making to the classic 'Tortoise and hare' story.
Joy Schmeer (Mechanical Engineering Sciences) was crowned as the overall winner, and will go on to represent the University of Surrey in the national 3MT competition. We're keeping our fingers crossed for her!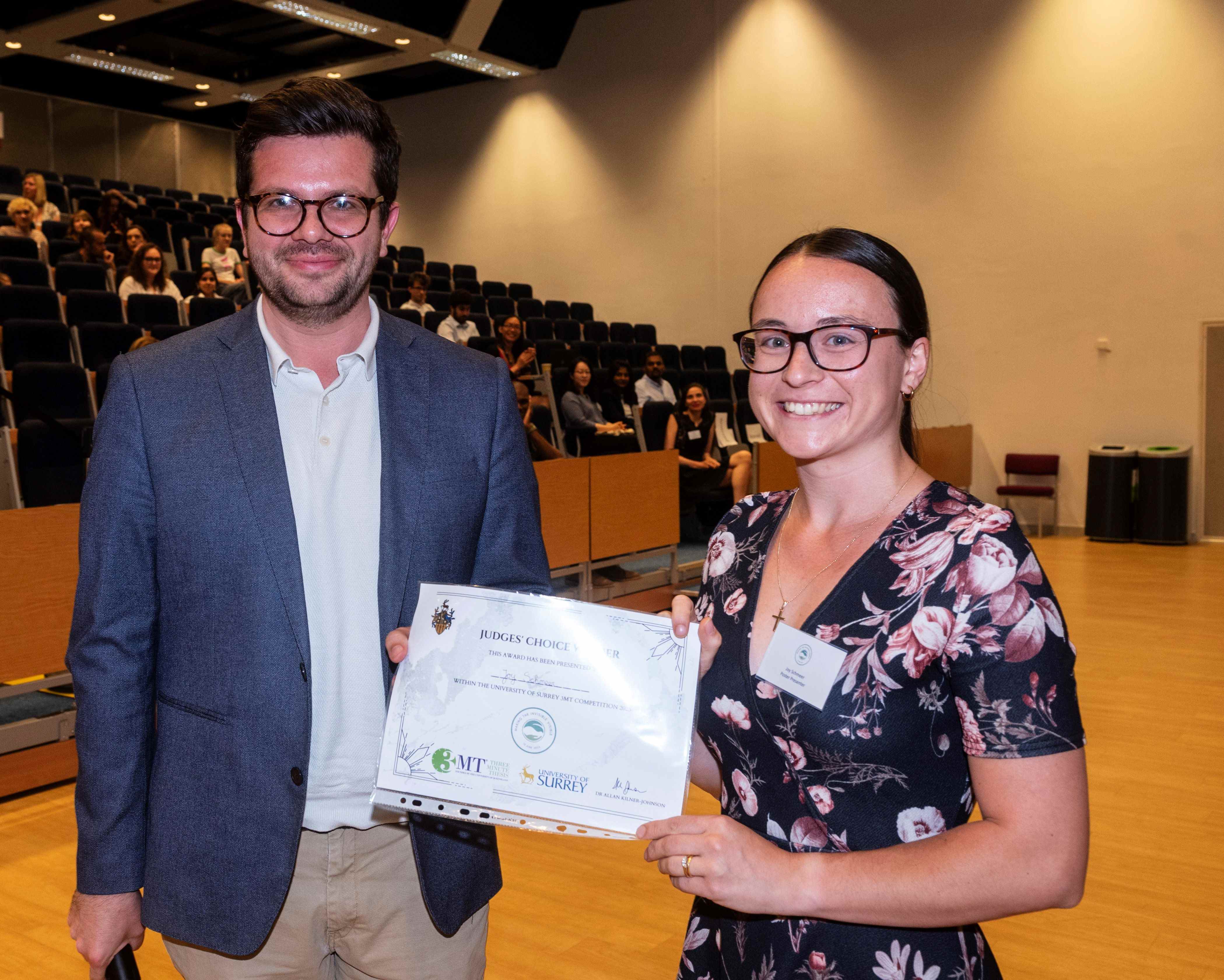 All the finalists' videos can be watched on the Doctoral College YouTube channel. We hope they will inspire you to participate in the competition next year!