Hi! I am Affaf and I study Biomedical Science and I attended the Spanish Language and Culture Summer
School at the Universidad de Santiago de Compostela in north-western Spain in the summer after my first year. I am also one of the International Mobility Peer Advisers for this year.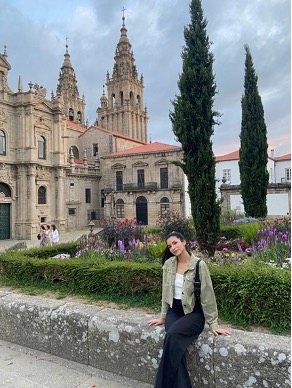 When I joined Surrey, I wanted to make the most of the opportunities available and make up for lost time during my gap year that coincided with the pandemic . The summer programme in Spain stood out to me as it was entirely out of my comfort zone; I was not familiar with Spanish nor the region, Galicia. Immediately, I was drawn to spending two weeks in a country I have never travelled to before and a region I did not know about prior to the summer programme. It was a real leap of faith, and I am glad that I took it! The summer programme was the most suitable option for me to study and live abroad as I did not choose a placement year as part of my degree, so the opportunity to go abroad, even for a short amount of time, was one that I did not want to miss.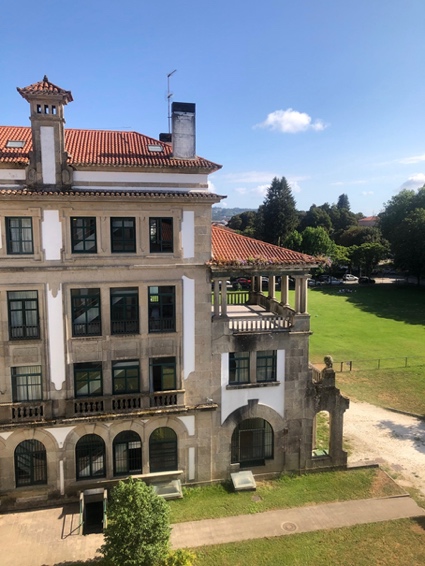 About the Programme

The summer programme included classes from Monday to Friday from 9am to 2pm at the University with breaks in between. I stayed in university accommodation which was a beautiful 500-years old building surrounded by beautiful gardens, only a 5- minute away from campus. In my Spanish classes, my professors taught me more than just Spanish – they shared their favourite music artists, their favourite films, regional customs and traditions and many other lessons one can only learn from locals which made the experience entirely unique and one of a kind. After class, there were extracurricular activities planned for us in the afternoon, such as salsa and bachata lessons, and also the opportunity to take weekend trips to nearby cities, including A Coruna and even Porto in Portugal.
At first, the cultural shock and language barrier was daunting as expected but as I started my classes I saw
myself grow more confident in speaking Spanish, even if it was grammatically incorrect or broken. It was very beneficial to be able to apply what I was learning in class in practice outside of class when ordering at restaurants or communicating with the locals to completely immerse in the language and culture to complement my learning. I also learnt to independently problem solve, navigate the city and most of all, meet other people from around the world, from places as far as Taiwan, and Japan, where I also learnt about their cultures alongside Spanish culture.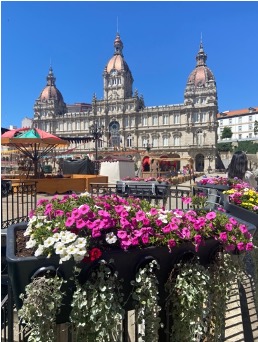 Highlights
There were so many great things about this trip that I would love to share! Santiago de Compostela is a very walkable city, which makes it easy to explore at your own pace and every day there was something new to discover. The city holds religious significance for Christians, and many pilgrims come to the city to complete 'Camino de Santiago' each year, and we were fortunate enough to attend Galicia's biggest festival, the Apostle Festival held in Santiago de Compostela. The weeklong celebrations held at the end of July were extravagant and such a unique, special experience to end my programme with.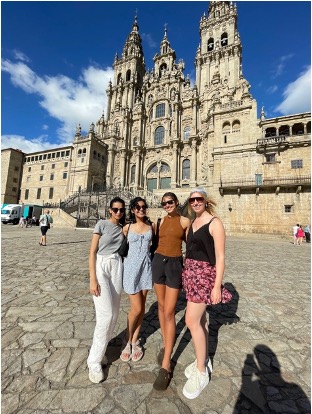 At the risk of sounding cliché, the summer programme opened me up to experiences that elevated me in my personal life as well as professionally. You learn so much about yourself when you are in a foreign country, away from your comfort zones and at first it may be unsettling, but then it is exciting and inviting. I made lifelong friends, and it is comforting to know there are people scattered around the world that have shared this one, singular experience together. Since finishing the programme, I have travelled with my friends from the programme and also hosted some of them in London, which was so
special. I gained many skills to guide me as I progress in my career, especially an increase in self-confidence and faith in my own abilities to overcome challenges optimistically, and to work with people from different backgrounds in different contexts, most of all learning an additional language has so
many benefits.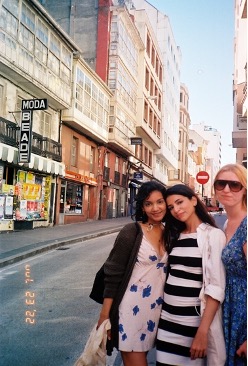 My biggest takeaway is to be more open-minded and say yes to many more opportunities going forward in life because no matter how daunting they may appear at first, at the end of it, you grow in many unexpected ways as a person and leave with invaluable experiences. I hope to encourage others to be brave and curious because there are many lifechanging experiences waiting for you on the other side!