Pheww exams are finally over! Should definitely celebrate by eating at somewhere good! To continue my "surviving" series, let's talk about any other food available that you don't have to cook or prepare anything at ALL!
Ordering take away is one of the best things on earth when you are lazily lying on your bed and starving at the same time. Wide range of food deliveries is available in Guildford, pizza and Chinese food is definitely students' favourite. You can easily order food online and restaurants will send them to your door (or reception…)! Also, you need not search for restaurants one by one, website such as "Hungry House" or "Just Eat" will direct you to all available restaurants with your postcode.

Also, there are a few restaurants on campus at reasonable price at around 5. Besides, meal deal and quick food are available at Surrey Shop in the library building and Union Shop. These choices are ideal for those who have a tight schedule and need a quick meal between lecutures. However, most restaurants on campus close are around 5pm-6pm so you might have to go to town for dinner!
You can find most chain restaurant in the UK in Guildford. For example, Nandos (Chicken), GBK (Burger) and Kokoro (Japanese Food) are popular among students like us!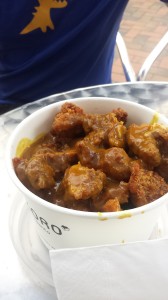 There are also decent western restaurants at around £10 for a two- course meal. Cafes, fast food, quick meal are also available. Kebab is also on the must-eat category while you're staying in UK. It might not be the best food you can find in UK but as it is cheap, filling and easy to find, that must be one of the foods I'll miss when I leave university.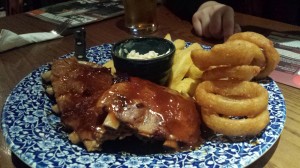 And of cause- English Afternoon Tea! You can spend 3 hours enjoying it and it is more filling than what you thought about "tea".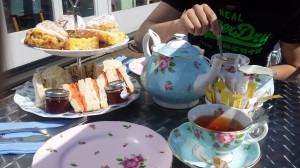 *Apologies if this post made you hungry:D
(Surviving? Food (1) at https://blogs.surrey.ac.uk/hongkong-blog/2015/01/08/surviving-food-1-cooking/)