Hello everyone, nice to meet you all! I'm Lok Kwan from Hong Kong and I will be starting to blog here together with Diana! This is my first year studying in Surrey as well as in the UK and I'm now doing a master programme in International Hospitality Management, so, I am more than happy to answer any questions you may have regarding euromasters programme. Before studying in the UK, I did my bachelor programme in Vienna, Austria.
Since my university in Vienna is a partner school with Surrey, I was able to meet some exchange students from here and that's how I got to know Surrey. Therefore, when I decided to continue my academic studies by doing a master programme, studying in Surrey immediately came into my mind. Surrey is famous of its hospitality and tourism programmes and this was another main reason why I chose Surrey.
My programme (MSc in International Hospitality Management (Euromasters)) is different from the majority master programmes here in the UK. One of its biggest characteristics is that the duration of the programme is two years. Between these two years of study, working on a placement in the industry is highly encouraged, since this would be a great opportunity for us to gain an advantage in terms of employability upon graduation. After doing a half-year internship in a hotel in Macau, I still believe that gaining more knowledge, skills and practical experience would equip myself to work in a real challenging and professional environment.
Currently, I am living on campus so I am familiar with the accommodation application process and I can always share my moments of my accommodation if you are interested. My flatmates come from all over the world and they are nice and friendly. We do gather together for meals once in a while, sometimes by cooking some traditional food of our own country and sharing with each other. Below is a photo taken from our Christmas dinner gathering!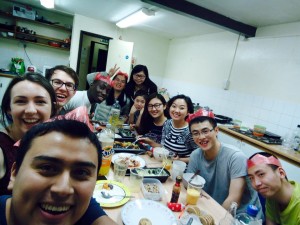 So far, I have been enjoying a fascinating life here in Surrey and I am already looking forward to start off my next semester here! Feel free to ask me any questions you may have or add any comments. I would always love to share my moments and experience in here!