I cannot believe it is already week 5, it seems like yesterday when I was dreading the first day of the second semester :P.  For most students, the assignments are starting whether that is a formative (an assessment that does not count towards your final grade and does not go to your transcript) or a summative (an assessment that COUNTS!) so I thought it will be nice to write about something fun instead of something academic related.
Last week I went to London for an exhibition but not just any exhibition, a hair exhibition!!  It was the Hair by Sam McKnight at the Somerset House Embankment Galleries and it was absolutely amazing!
Do you recognize them?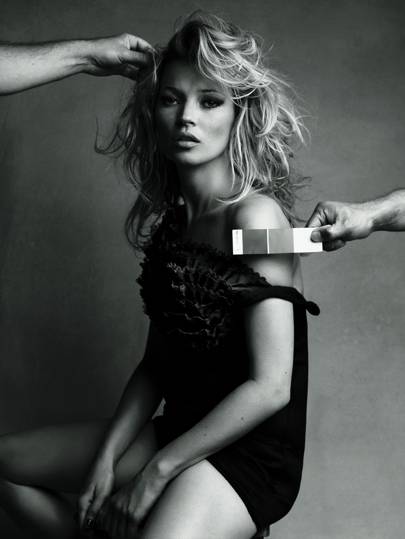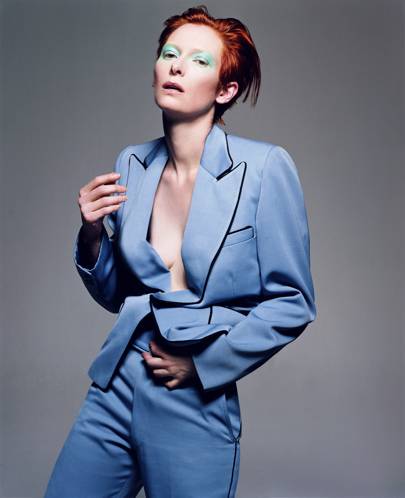 See that voluminous flawless hair?  While they are born with a beautiful complexion, that gorgeous hair was not an accident.  Same McKnight is the genius behind it all and the exhibition was basically reveals the creative process of different hair styles, the transformation over the years and most importantly his legacy.
I do not know where to begin because there is just so much to love about the whole idea.  <3
First Look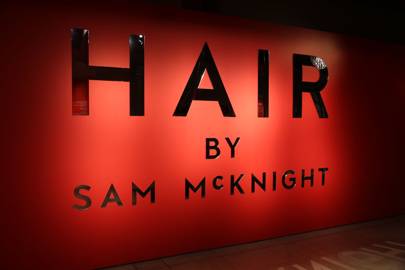 Then we step into this world where the phrase 'I'm having a bad hair day' just does not apply.
This is where they showcased some of the tools and hair products that they used, along with some clips of Sam styling different models' hair.
Brace yourselves, here comes the collaboration with Vivienne Westwood!!
Thinking he is just a hair stylist? Here is a picture that will put that idea into perspective.
These are all the covers Sam did for Vogue, of which he has done around 100 for British Vogue alone and over 180 in total.  That is something most photographer cannot say about themselves.  He created over 40,000 images in his career and they had trouble condensing them!
The whole exhibition was an eye-opener, the amount of creativity and determination a person needs to have in order to create such an impressive track record is just beyond me.  You might not be into fashion or art but his attitude is definitely something to aspire to.  He stayed in the industry for forty years and he wasn't just in it, he was vital to fashion image making.  To be in an industry where trends, girls, photographers and stylists are always changing, he remains true to what he believes fashion is and proved it with his talents.
I was surprised at how 'oblivious/ignorant' I used to be, I knew that models have their hair stylist and make-up artists but to be completely honest, I always thought it was an easy job.  I had not realise how much work is required for just one show/shoot…You must have encountered 'artistic' people that simply live in their own world and with a bit of success gets a bit too confident for most people's taste.  In the back of my head, I kind of expected Sam McKnight to be that way because he, in a way, has earned the right to do so.  In the exhibition, there are quotes from him on the wall and he is very grounded!  All the people he's worked with really likes him, he seemed to genuinely enjoy his job and does not do it for money.  I was just so impressed!
When it comes to fashion, I am no expert. I cannot even name all the clothing items properly or pronounce brand names..  At first, I was a bit hesitant to go because I thought I would not understand it but I went anyways because I wanted to go to London.  I am so glad I went! This again goes back to what I said before, always keep an open mind, try new things and if you are a Surrey student, aren't you glad London is only 40 mins away?
If you are interested in this exhibition, it is actually opened until 12th of March!  I'll link some information here 🙂
Dates:  2 November 2016 – 12 March 2017
Open: Monday, Tuesday, Saturday and Sundays 10am-6pm, Wednesdays, Thursdays and Fridays 11am – 8pm* check website for occasional early closures
Tickets: £13, £10.50 concessions (including 50p booking fee)
Address:  Embankment Galleries, Somerset House, Strand, London, WC2R 1LA
Transport:  Underground: Temple, Embankment / Rail: Charing Cross, Waterloo, Blackfriars
Website:  www.somersethouse.org.uk
Other's thought on the exhibition: https://www.timeout.com/london/things-to-do/hair-by-sam-mcknight
Have a fabulous week!