Semester 1 exams and reading week are over now and we're four weeks into semester 2, but it's been busy still, in a good way. It's less busy than during exam season, with at least enough free time to blog, I think one way to stay on top of things these days is to stay pre-occupied. After months of revising and one month of very intense exam preparation 'Reading week' was a very welcome break. Reading week: is a week during term where students have a week off lectures and seminars to catch up on reading or take a break. I did some reading (albeit recreational) but mostly my week consisted mostly of the latter.
During the term break I went up to see my friend in Nottingham and we had a really good time. She started term the day I after I arrived so I got to see her uni and attend her lectures as well. It was interesting to see what Sociology students learn about in their course. We went to her lecture on quantitative research study methods together and learnt how they can be applied to Sociology. Her lecturer explained how quantitative studies and statistical analysis can be used to reflect data on a population level and implemented to translate results into more relevant and applicable findings and conclusions. Such research aims to understand society and social infrastructures better, initiate interventions and evoke social change.  Sometimes, I wish she did Sociology at Surrey and didn't live so North so I could see her more often and we could hang out more. However, seeing her life was a refreshing change and I guess it's good to have friends everywhere, bros in different area codes.
When I was there I got to meet all her friends, go to her lectures, explore the town and generally see what her life was like up north. We went to a cool burger place notoriously good at catering for vegans and vegetarians, 'Annie's Burger Shack'. To be honest it's a reputation well deserved because our burgers were amazing. When I was in Nottingham I found it was interesting, drawing similarities in student life, and seeing the little differences. Also, getting out of campus was a nice breather from uni life and helped me clear my mind following exams. Being far removed from the uni library and my life here for a couple days was a good way to clear my mental cache. It was a sense of relief and relaxation which felt much like closing tabs after working on a piece of coursework or a lab report. One of my favourite parts of the trip was going out seeing Nottingham at night with her friends and meeting new people. It was an interesting taste to see how it would be if I went somewhere else for uni. However, having seen it and lived it for 4 days, I know I wouldn't switch for anything. Surrey is where it's at, for me at least.
Now 4 weeks back into uni I've trying to get back into the swing of things, revision, Nutrition society committee and everything. We had our first nutrition society event on the 13th of Feb which was in collaboration with the University's Get Fit Feb campaign. We had guest speakers talk about popular themes in nutrition and free pizza as well as a trivia quiz with prizes for the winners at the end. We'd never really done an event of the sort before, however, we were excited to host a new low-key educational event to increase engagement and promote our Society. It also gave us an opportunity to promote our upcoming events and activities.
This is a poster I made for the event: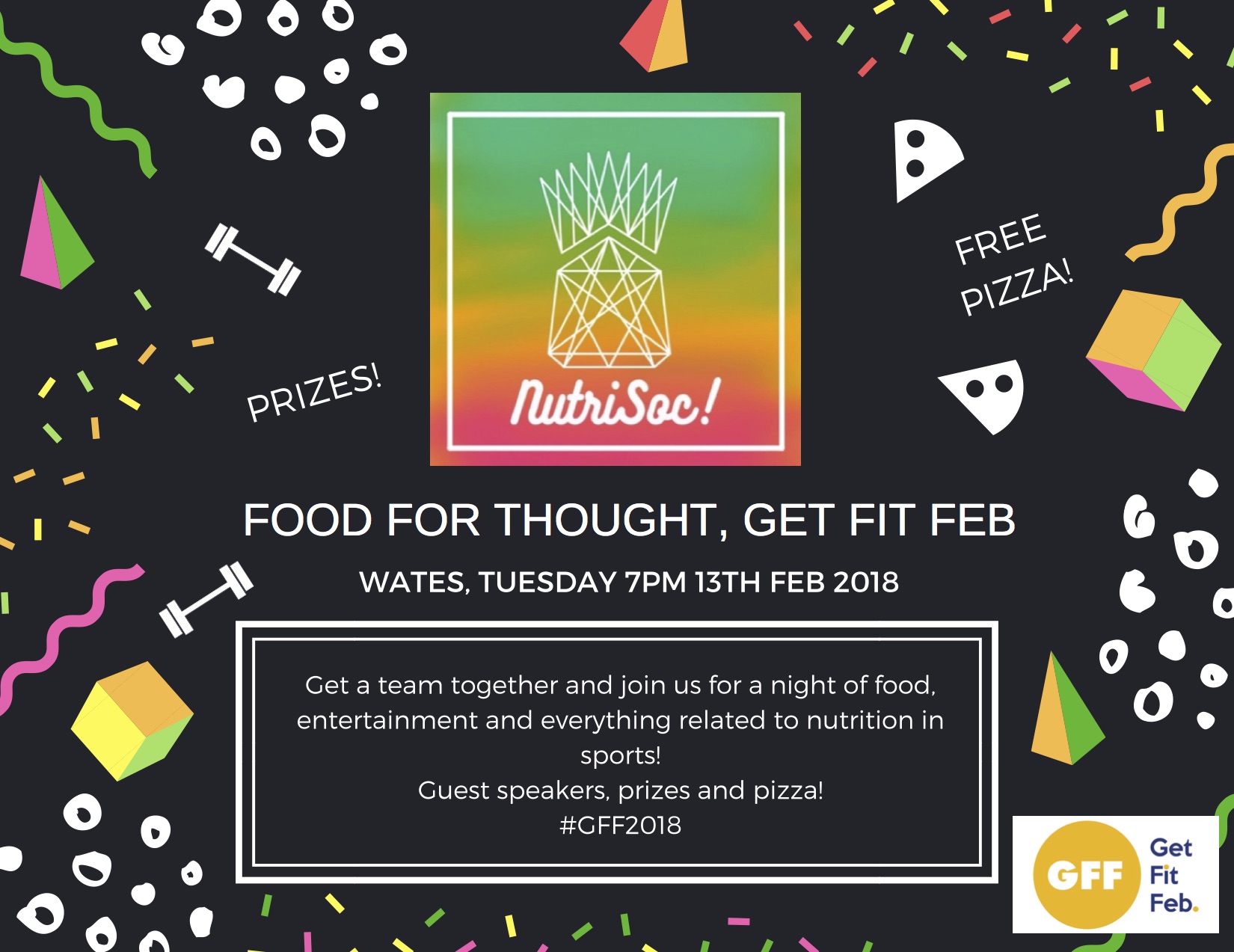 With the society, we've been busy hosting or representing our society at an event almost every week since being back. During the first week back, we had our Nutrition stall handing out refreshments at Refresher's Fayre, the Food for Thought event followed by our second collaboration with Get Fit Feb. For the most recent collaboration we made 'Protein Power balls' out of oats, dates, peanut butter and some other ingredients to give out for free by the library. At our Food for Thought event we were expecting maybe 30 people to turn up, but we were pleasantly surprised when around 100 people came.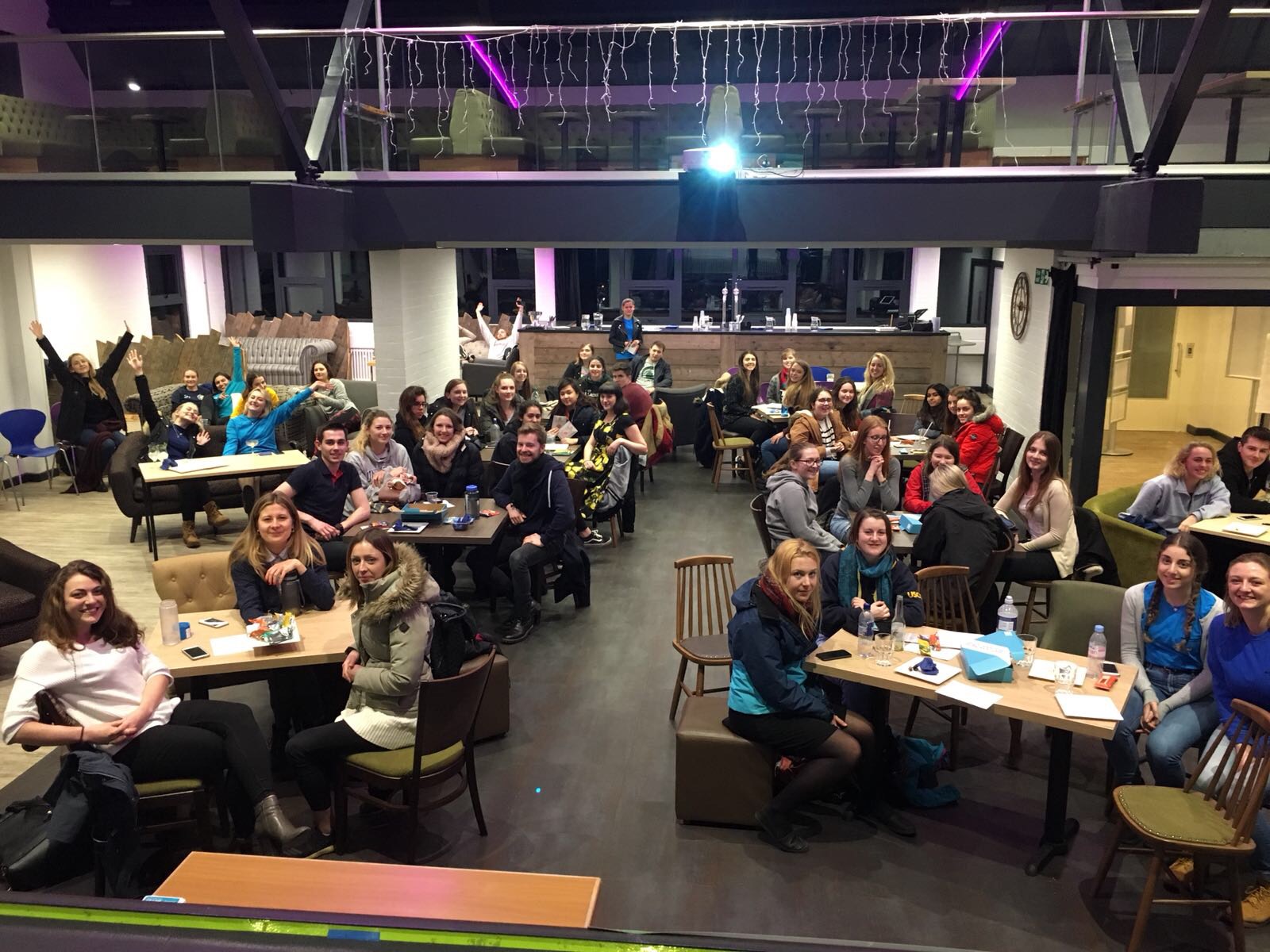 I think the free pizza must have helped.
Yesterday, the nutrition society also held a Vegan bake sale! It went really well and we sold out of everything!
This is a photo of the double chocolate banana bread and banana bread we made for the stall: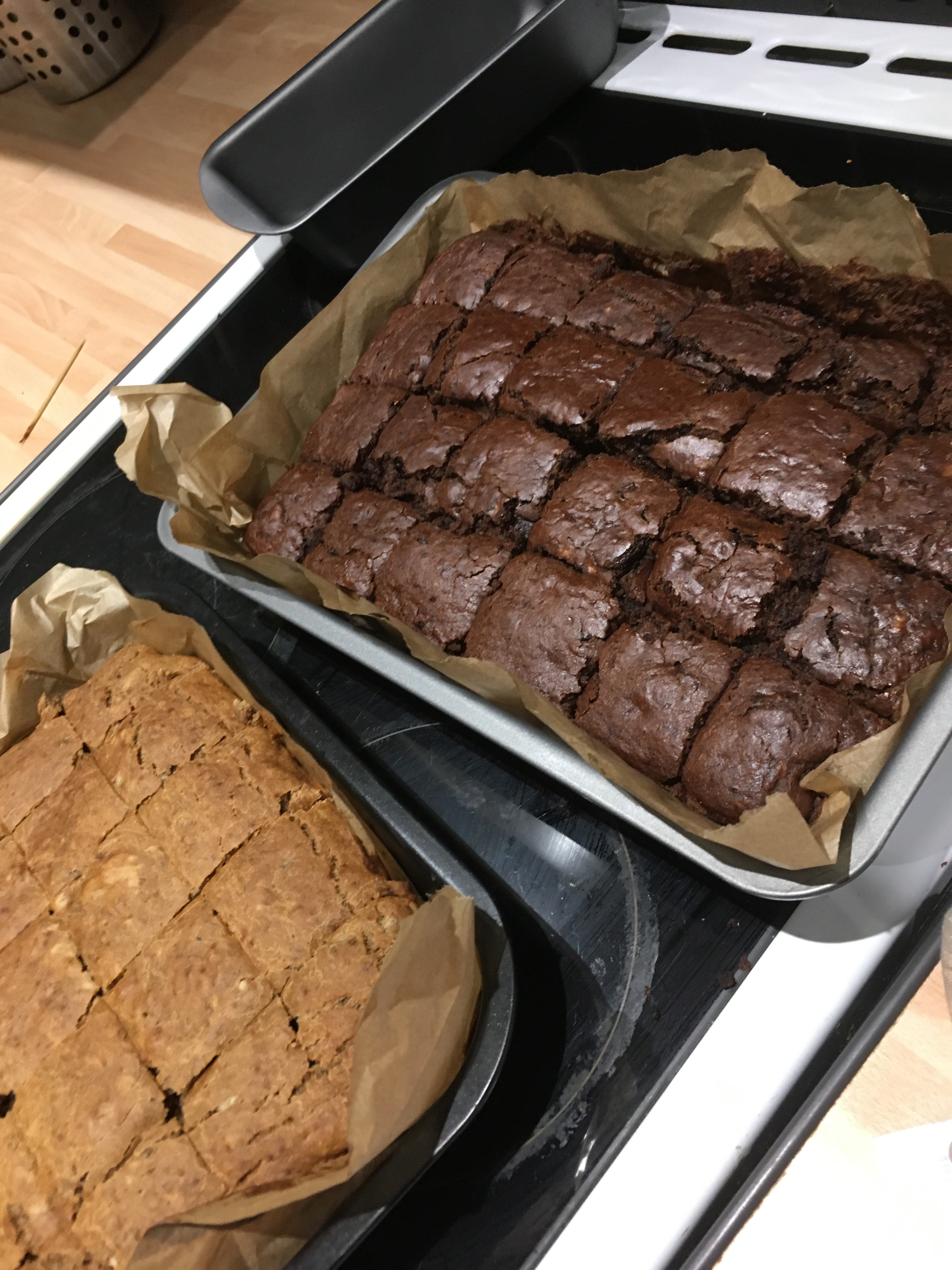 Now, on the academic side of things, in semester 2 of my course, I get to choose more optional modules (3 out of 4 modules) and tailor my course more to my interests. This semester I'm taking: Introduction to Immunology, Pathology: A Metabolic Perspective, Nutrition: Health and Behaviour and Food Analysis and Quality control (Compulsory). It's all been very interesting, I especially like the health psychology part of the Nutrition: Health and Behaviour module. One of our lecturers actually came to speak at our Food For Thought event. I haven't done psychology since IB Higher level psychology so it's nice to learn about it again.
Having said that I'm determined to make the most of my second semester, the last one before I go on placement. That means I'm going to work hard to stay on top of things, meeting new friends, staying in touch with old/existing ones and getting enough sleep will have to be integrated into that.
Also on the topic of goals, (and in no particular order), these are my New Year resolutions:
Stay conscious/in the moment
Expand my social circle
Get decent grades
Improve my Spanish and Cantonese
Find a place to live for placement
Hope the new year is treating everyone well! 🙂
xoxo
Gossip Gab
N.B. I've also included a playlist of songs I've found this semester that I think are really good:
Girls Like you- Toro y Moi
Pineapple skies-Miguel
Prune, you talk funny- Gus Dapperton
Way cool baby love- DAISY
Body Talk- 1st Vows
Freakin' out-SAFIA
Best Friend -Rex Orange County
Wake me -Bleachers
Goodmorning- Bleachers
YouThatINeed -DJ Grumble
Subway Car Marc E.Bassy
Easy Marc Ayres
Heat-HOMESHAKE
Loving Is Easy – Rex Orange County
leaves-Miguel
Idle town-Conan Gray
Cherry Cola-Kuwada