Hi there! It has been quite some time since my last blog! It is nice seeing that Hilary and Stephanie enjoyed their trips! 😆
How did you guys find your holidays? I had so much fun travelling around Germany and Belgium! Please stay tuned with my next post about my trip😉 we all know that exam time is here… Are you finding some quiet area to study? Getting sick of your usual study place? Then let me share some favourite spots for revision on the campus.
I believe the library is always the first place that comes to your mind! Our 5-floors school library is opened 24/7. There are various group and quiet study areas located on different floors. PC is available everywhere and you can always borrow laptop on the first floor to facilitate your study. Get some refreshments at the convenient store Simply Fresh which is located on the ground floor of the library.
School Library
No worries if you can't find space at the library! You can try going to the Hive, which is located next to the Lecture theatre within Phillip Marchant Building, opposite to the old student services building. It is designated for students to socialize and study in the open seating areas. Kitchenette with microwave and water tab can also be found there. It opens every day from 8:30am-11:30pm.
The Surrey Hive
Fancy to get a coffee break? Take a seat at the coffee shops on campus!
The Hide Out
The Hide Out
It is located opposite to the PATS field, next to the International House. It is a cosy environment where you can chill on the beanbags and revise on a bookable student space. You can get 50% discount for the coffee happy hour between 8:30am and 9:30am!
Opening hour: Monday to Friday 8:30am-5pm
2.Lakeside Coffee shop
The Lakeside Coffee Shop
It is a coffee shop which is mainly run by students, and it offers a wide variety of drinks and refreshments. All food like cakes and sandwiches are handmade by the Lakeside restaurant chefs.
Term-time – Monday to Friday: 8am – 6pm
Outside of term-time – Monday to Friday: 8am - 4pm
Saturday and Sunday: Closed.
3.Starbucks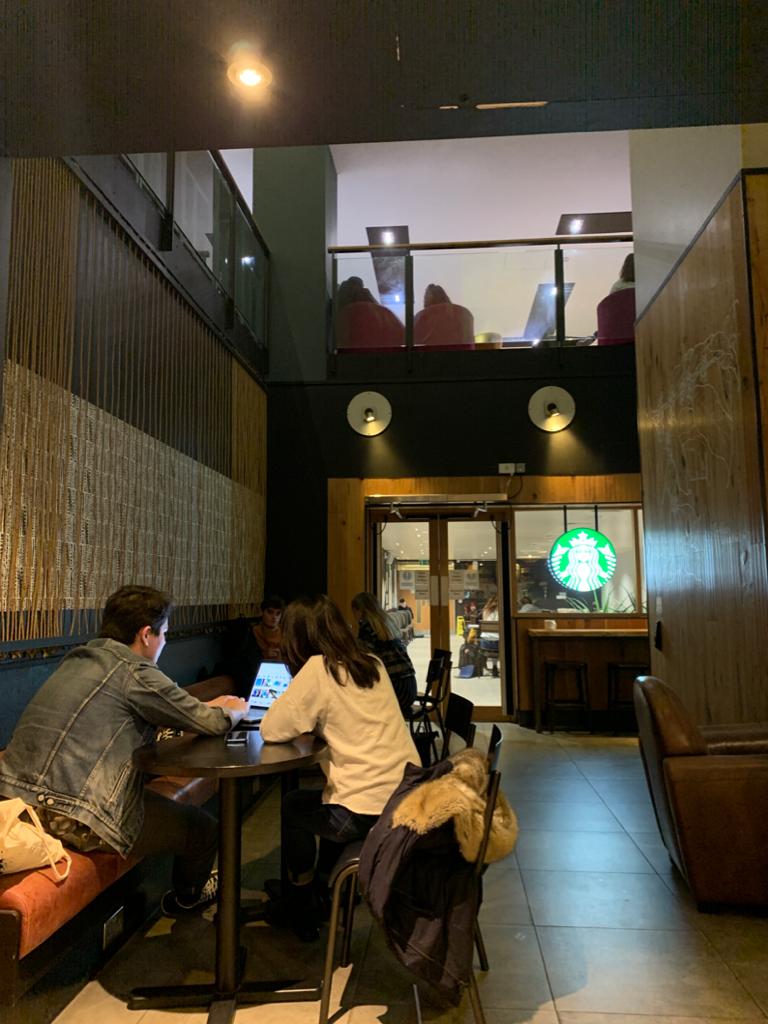 If you prefer coffee from a known brand, you can always go to our uni's Starbucks. It can be found next to Rubix and inside there are plenty of seats where you can study while sipping your favourite drink.
Monday to Friday: 7:30am- 7pm
Saturday and Sunday: 10am-7pm
4.Heart + soul
If you are living at Manor Park and don't want to walk all the way to Stag Hill campus, you can always visit the Heart + soul at Manor Park. It is a café and restaurant in Manor Park that offers a wide range of artisan coffee and food.
Monday to Friday: 8am – 10pm
Saturday and Sunday: 10am – 6pm
Feel free to check them out! Good luck to everyone's exam!💪🏻 If you are feeling stressed about your exam, samaritans at Hive and staffs from Centre for Wellbeing are always here to look after you over the exam period. Nightline is a confidential,non-judgemental listening service run by students. Call them on 0800 1644 646 from 7pm- 7am Monday to Friday.