'Is there somewhere nice for a meal after lectures?' Yes of course! In this blog, I am going to introduce couple of most popular shops or restaurants on Stag Hill main campus.
Young's Kitchen
Young's Kitchen is located at the bottom of the Students' Union. It is the 'Basement' at night – one of the bars on campus. However, during daytime, it turns to the schools' canteen, serving good quality Asian cuisines. This is also my favourite and my almost every-day to go canteen back in Year 1 xd The Korean menus are always my to-go option!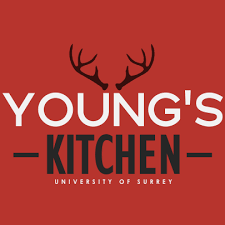 Lakeside restaurant and coffee shop
I have not dined in the restaurant. The restaurant itself is run by the School of Hospitality and Tourism. It has a good vibe and environment which makes it a popular place for fine dining on campus! At the very end of the same floor, you would be able to find the lakeside coffee shop, where you would be able to grab a coffee or cake and have a light lunch on the lakeside!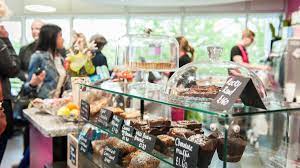 Thursday Market
Every Thursday, the Rubix is transformed into a foodie's paradise! Thursday Market is composed of two main parts – the produce and hot food stalls. You would be able to get some fresh fruit and veg with competitive price. You could also find Chinese veg e.g. choisum, pakchoi here as well. During your visit, don't forget to check out the hot food stalls! They are located outside Rubix entrance as well as outside the Front Room! The hot food stalls provide a wide range of cuisines, ranging from African food, Asian street food, katsu burgers and noodles, to Indian, Syrian falafel street wraps or Spanish paella!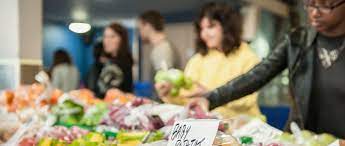 Hillside restaurant and coffee shop
Another popular lunchtime destination on campus is the Hillside restaurant! You would be able to find freshly made soups, jacket potatoes, salads from the deli bar… which is perfect for a light lunch! Fresh vegan dishes and raw salads are also available at the plant-based street food counter. With more than 400 seats, making it a perfect place for meet up! Takeaways are also available as well! And this year, the new coffeeshop is replacing the old Starbucks. You could find amazing hot drinks, pastry and cakes which is fantastic for a study break:)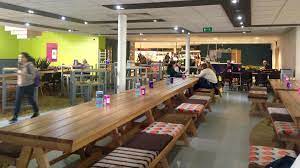 Make sure you check them out during your stay at Surrey! And if you have got some other recommendations, do comment below and let us know!