Apa khabar semua!
Hope everyone's been having a good week; thank goodness for the weekend eh?
Today I thought I'd share some insight into one of the main reasons students choose Surrey University; Placement!
There are many wonderful reasons to come to Surrey University but personally I felt that the sandwich programme, which is usually between your 2nd and 3rd year, was the deciding factor. Most undergraduate degrees offer a sandwich or industrial placement year where students work full-time in a professional setting. The best part? It's usually a paid placement ranging from £15000 up to £25000 a year, depending on the job role and specification.

To be completely honest, the process can be quite stressful and tedious when having to juggle classes, revision and a part-time job and still finding time to fill up countless application forms and revising your CV and cover letter for the many placement opportunities advertised. But before I scare you into not wanting to take this year out of education, let me say as a student who has secured her placement, it's an amazing opportunity to work in an actual working environment for a year; not to mention graduating with a year's working experience.
When applying to Surrey University, you will have the option of selecting a 3 or 4-year course. I would recommend signing up to the 4-year course because you can always opt out along the way but it can be quite difficult the other way around. Most first year  results do not count towards your overall degree; all that's required is a pass to continue to 2nd year. However, as I was determined to go on placement, slacking off in first year wasn't much of a choice. Most companies require a minimum of a 2.1(60% average) or above in first year to be considered. This can vary amongst different degrees and companies though. Once I entered 2nd year, having secured the grades I needed, I was automatically enrolled into the Professional Training module for Economics students. Now came the real work.
The first thing I had to do was to ensure my CV was up to date. The Career Services on campus was every so helpful with helping perfect my CV.The Career Services organises CV checking sessions with placement companies such as IBM and Allianz as well as one-on-one sessions with students who have secured interview opportunities and require practice sessions. We also have compulsory weekly placement sessions where briefings are given on various topics such as employer presentations from companies such as Hilton and Enterprise-Rent A Car, the dos and don'ts of interviews and assessments centres as well as how to get the most out of your CV. Besides that, there are also optional group sessions involving mock interviews and assessment centre days. Assessment centres are part of the application process where selected candidates spend a day completing individual and group exercises; all the while being closely observed by the placement company.
As a student on the placement programme, I have access to all the placement companies advertising vacancies on SurreyLearn which is an online portal which always access to all one's course modules as well as all the information needed regarding placements. Most companies require a CV and cover letter at the first stage of applications. Once screened, the selected candidates are usually invited to attend an assessment centre day or an interview held at either the university itself or the company's headquarters.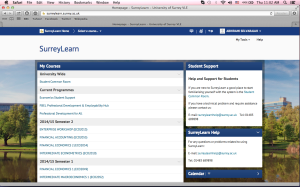 All departments have placement tutors to offer advice and support whenever needed. Whether it's which companies to apply to or clarification with contracts, placement tutors are ever willing to lend a helping hand and smoothen the process for us.
I begin my placement year in July 2015 & though it is quite daunting to be working full-time in a company for a year, I am extremely excited for the priceless experiences and knowledge I will gain. Therefore, I strongly encourage everyone to apply for placements!
Till next time; Selamat tinggal!