Hello there! We're in our last week of classes before Easter Break which is approximately a month long. I'm flying home on the 25th of March & am eagerly counting down the days till I can have all the Nasi Lemak & Milo Ais in the world!
Today I want to share with you my experiences of being a Student Ambassador at the University of Surrey. The Student Ambassador Scheme is a paid role that gives you the chance to get involved with events on and off campus. There are two main branches within the scheme; Student Recruitment (Home/International) & Marketing as well as Widening Participation and Outreach.

Applications for The Student Ambassador Scheme begin in September and all students are welcome to join! Sadly, I missed the deadline for applications in my first year. This time around though, I made sure to apply well and early. There were two stages in the application process; an online application form as well as an interview & team building exercises. I was very pleased to hear back with the good news that I had been successful & was now part of the Student Ambassadors family! I am part of the Student Recruitment International as well as the Marketing team.
Being a Student Ambassador is such a rewarding experience. I absolutely love the University of Surrey so naturally I enjoy providing information to future students & parents about the university! Being part of the Marketing team, we are trained to give tours, presentations, attend HE Fairs (these are run by individual schools and collages for their students) as well as UCAS fairs. I particularly enjoy the campus tour which is where we, the Student Ambassadors provide guided tours to all potential students as well as visitors to the University of Surrey.
Being an International Student Ambassador means I represent my country, Malaysia & provide support to the team in terms of responding to enquiries from Malaysian applicants. The best part; I get to blog about my experiences at Surrey as part of my job as well as manage our Malaysia Facebook page; https://www.facebook.com/#!/pages/University-of-Surrey-Malaysia/686633194795413
Recently, I helped out at the Surrey UCAS Event which was held at Surrey Sports Park, our very own state-of-the-art sports complex. UCAS Events are run by the University and Colleges Admissions Service and like HE Fairs, both have representatives from different universities; giving students a chance to engage with these representatives and obtain information regarding courses available, funding and accommodation.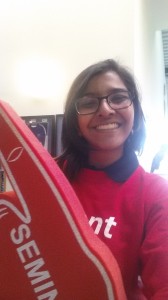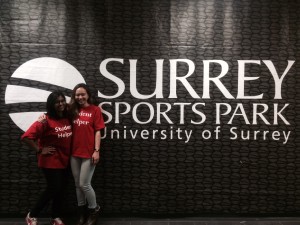 It was quite good fun to work at this event. Granted, by the end of the day my feet were aching from all the running around but it was nice to meet speak to lots of students from schools and colleges across England about Surrey University. That's another good thing about being a Student Ambassador at Surrey; you get to meet lots of new people as well as get to know other Student Ambassadors.
I would highly recommend all students to apply to become a Student Ambassadors. There aren't many part-time jobs that are this flexible around your academic timetable and such good fun at the same time!
Till next time; Selamat tinggal!