Hi there!
I'm blogging from sunny Malaysia at the moment & absolutely enjoying the weather! Granted, it is really warm but after 8 months of wearing 4 layers constantly, this is a welcomed change.
Today's blog is a throwback to my Easter holidays in 2014. Surrey University has almost a month of Easter break; usually during April. Last year, my course mates & I planned a trip to Spain for 10 days, which was definitely one of the highlights of my first year at university.
Being university students, money was definitely a concern. We wanted to really experience Spain but at an affordable price & thus decided to backpack across Barcelona, Granada, Malaga and Madrid. This ended up being relatively easy to organize and finance, what with RyanAir offering £40 return flights to Spain as well as youth hostels offering accommodation for as low as £8 per night! After a few days of through research, we had booked our flights and accommodation & were eagerly counting down the days to our trip.

We flew from London Stansted to Barcelona El-Prat airport and being the adventurous bunch we are, decided to spend the night at the airport itself! It was quite comfortable and definitely an experience I'll never forget.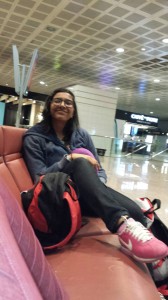 We had a checklist of the places we wanted to see, things to do & most importantly food to eat at each city that we visited. In Barcelona, we went to Camp Nou, which is home to FC Barcelona as well as La Sagrada Familia, an unfinished work-of-art by the famous Catalan architect Antoni Gaudi.
After three days, we were off to Malaga by airplane. With temperatures of 29°C, we spent most of our time at the beach in Malaga. We also had some of the finest food Spain Malaga had to offer. Tapas are a wide variety of appetizers, or snacks in Spanish cuisine and be cold or hot. We had a selection of 10 dishes of tapas for €10 (Euro) which was a steal!
We were then off to Granada by coach. The public transport in Spain is absolutely amazing and maps very user friendly. Granada is famous for the Flamenco show and we were fortunate enough to catch one on the second night in Granada. Flamenco is a form of Spanish folk music and dance from the region of Andalusia in southern Spain.
Our last stop in our trip was to Madrid. Madrid was very much like Barcelona, a bustling city with many tourists; all the while preserving its authentic feel. One of the must visits was to Santiago Bernabéu Stadium, home to Real Madrid C.F. I had what could be the best gelato (ice-cream) as well. We were very fortunate to spend a day with a friend who resides in Spain. Being able to see a city through the eyes of a local is a priceless experience.
Before we knew it, our 10 days were up and we were at Adolfo Suárez Madrid–Barajas Airport waiting for our return flight back to London. All in all, it was an amazing experience. The best part, being able to share these unforgettable experiences with friends!
To anyone who's planning a trip for this Easter, don't allow money to stop you from travelling the world. With good budgeting, you can have an amazing holiday without burning a hole in your wallet!
Till next time; Selamat tinggal!