Hiiii everyone! How's everyone doing this week? I've been very busy again on my dissertation as usual, and also stressing out trying to look for jobs and accommodation as I'm trying to stay here until April'17 when it's our postgraduate graduation ceremony. Finding an internship or proper job here is really tough, especially for international students like us and thus I really advise those of you that intends to secure an internship or job here to apply as early as you can. I've been really frustrated the last few days trying to sort everything out but still fail to. So guys, if you're reading this please please please pray for me so that I would have found a place to stay by next week. Thank you in advance 🙂
Anyways, back to the main topic today. For those who have managed to secured an unconditional offer to come to Surrey for this coming September'16 intake, a big CONGRATULATIONS to you all! Trust me, the time spent in the university will definitely be the one of the best times in your life as you get to explore the world, study in a great environment and of course knowing and meeting the most amazing people in the world which might be your best friends for life!
And of course, I understand that after getting your offer, everyone will be so excited and can't wait to come. As the International Orientation Week starts on 22/9, I guess most of you will be here by then, which is less than 3 weeks to go! Throwing back to one year ago, I'm already all excited to start of my new journey in UK and was anxious on what should I do or prepare before coming at the same time. I have already secured my Tier 4 Student Visa by then and was just buying my flight tickets, packing my bags (bring more curry packs, sambal packs and soup packs as you will definitely miss home cook food!) and starting to attend farewell parties almost everyday to bid goodbye with friends and family. For those who are still stuck in the visa application process, to read my previous blog here to have an idea on how I applied mine. By this time, you should already secured your university accommodation as well by paying the £250 pre-payment and complete the online acceptance process.
The University has been really kind to prepared an international pre departure guide here which I found it really useful to act as a reference on what should we prepare before departure. So before I explain more on what is in the guide, there is a few key dates that you should remember:
Meet and Greet for Orientation International (non-EU) students 20–21 September 2016
International Orientation for international (non-EU) students 22–23 September 2016
Meet and Greet for Welcome Week International and EU students – Moving in weekend 24 September 2016
Welcome Week for all new students 26–30 September 2016
Very last date for registration 30 September 2016 – MSc Advanced Materials and MSc Environmental Strategy
14 October 2016 – all other degree courses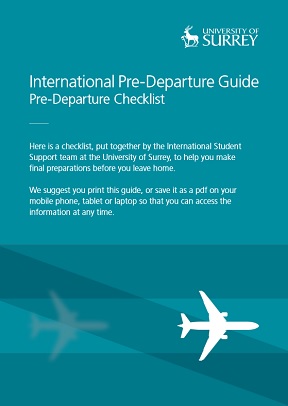 For convenience, the University has arranged meet and greet teams to welcome new students in Heathrow Airport and Gatwick Airport on the 20,21 and 24/09/2016 from 7am-9pm. You will need to reserve your space here for 20 or 21/9 and here for 24/9 and the meet and greet team will pick you up from the airport and transport you back to campus FREE OF CHARGE, which is really convenient and you get to save money! If you have your family members with you, they could also get on the transportation together just by paying a small fees of £25 only!
Besides, you should also register here for the International Orientation Program which is specially only for international students! This is a really good time as you get to meet international friends from all over the world while explore the university and also Guildford town before other UK/EU students arrive on the campus. I remembered I chose a day trip to Loseley Park and Dapdune Wharf last year for the International Orientation Program which was really amazing as we get to visit the places which is really English, especially having an afternoon tea in Loseley Park and both of the visits are paid by the university, which is really wonderful!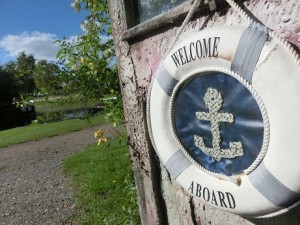 In addition, for those of you that would like to be paired up with a current student in Surrey to know more about the university or any questions that you might have about student life, you can do so by joining the Buddy Scheme here. I was paired up with a Canadian student previously for the buddy scheme and we ended up became best friends and travel Europe and UK together! 🙂 I miss you so much Jerusha! 😛
After being transported back to the university campus by the meet and greet team, you will collect your keys and then move into your new accommodation that you will spend the next year! There will be Freshers Angels all around the campus to help you out with your luggage. After settling down, you can walk or take the bus to the nearby Tesco to get your groceries and prepare to start your new life here! 🙂
The next thing after settling down is to register yourself with the university and NHS and also collect your BRP card (something like residence visa/card) from the post office in town. After that, you will need to open up a UK bank account. There is a Santanders bank on campus which is really convenient, however there will be small monthly charge. And thus, I applied my bank account with Natwest bank which I think is quite convenient as well and it doesn't have monthly charges and also gave you a free coach card! Some of my friends uses Barclays bank as well and they say it was convenient as well. My advise will be doing your own research on the different banks and then choose a bank that best suits your need. Most of the major banks such as Santanders, Barclays, Natwest, HSBC, Lyodds etc all have branches in town and thus is quite convenient as well. To apply a bank account, you will need to bring your passport, BRP card, Student ID and a 'Confirmation of Registration' letter available from the Student Services Centre after you have completed the registration process at the University.
After that, you're all good to start off your adventure in the university! There will be a series of activities during the orientation week such as the famous Freshers Fayre which is held at PATS field where there will be more than 100 clubs and societies participating and you could register yourself on any clubs that you think is interesting and join their free trial classes! By end the day you should have received tons of pens and freebies as well that could sustain you for the whole year! 😛
In a nutshell, I believe your time in Surrey will be the best in life and you will never regret coming to Surrey! Do start packing for those who haven't and start saying your good byes cause in a blink of an eye its time to leave for UK! Hope to see you all in Surrey soon and come say HI if you ever saw me on campus! 😛
Till then, selamat tinggal and take care!
Love,
Adeline xx
p/s: some pictures taken from University of Surrey's official website.