Hello hello 😀
I am now free of assignments and over the moon! I'll be flying back on Saturday and the first stop will be to the local mamak for Nasi Lemak and Milo Ais ♥
Since everyone is in the holiday mood, I thought I'd blog about my AMAZING trip to LOS ANGELES!!! Placement year meant I had quite a bit in savings and decided to visit a really good friend (fellow Malaysian :D) who was studying at University of Southern California (She graduated in June this year so we planned it such that I would visit whilst she was still there). We began planning for this trip 6 months ahead whereby I booked my flight tickets and began putting aside money for expenses (food, souvenirs, DISNEYLAND, etc) whilst in L.A. My entire trip which lasted 10 days (flights included) costs £900. I was pretty lucky as my friend had her own one-bedroom apartment and a car so accommodation + public transport was sorted.
I arrived at LAX international airport on the 12th of March 2016 around 2pm and after a surprisingly hassle-free immigration check, my friend met me at the arrival hall. I must say, jetlag was horrible but I was determined to not let it ruin my trip. We spent our first evening just relaxing and having a nice dinner with some of her university friends. Los Angeles is a melting pot, a lot like London whereby there are people from all walks of life. That means there's food from all over the world and all super delicious. I was determined to eat, see and visit everything LA had to over 🙂 After dinner, I went to bed at 9pm and had a good 10 hours sleep and was then ready to take on LA!
We had an idea of all the plans for the week but definitely played it by ear. We visited so many places and ate all kinds of cuisines. Here are some of the definite highlights of my trip. First stop: Hollywood Walk of Fame!  I definitely was being a proper tourist: stopping to admire the Hollywood walk of fame. Being an absolute nutter for Harry Potter/ Daniel Radcliffe, I was beyond thrilled to find his star!! Every meal was a different cuisine and we opted for Mexican for lunch. It was super yummy and the view amazing as well. Seeing things such as the famous Hollywood sign was just a dream come true. It was surreal to just there J As she had a car, it was great that we could go back to chill at her apartment before heading back out in the evening. We visited the Griffith Observatory, an amazing facility with an array of space and science-related displays. The view outside was amazing as well. I'm a city girl at heart and absolutely loved seeing all the lights and skyscrapers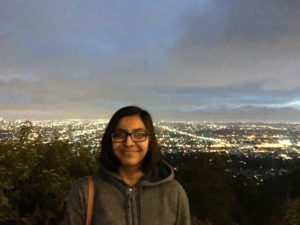 Our next day was to Disneyland! We spent 11 hours there; basically from the time it opened till it closed at 11pm :p In Los Angeles, the Disney theme park is actually two parts: The Disneyland Park and The Disney California Adventure Park. We opted for the latter and got into the Disney spirit! It was so nostalgic to see all the Disney characters and go on lots of Disney-themed rides. The food was amazing as well: I had a corn dog which is so American, churros and a chocolate sundae, to name a few. The park actually shut at 8pm whereby after, there was a light show which was so colourful and extravagant. I honestly couldn't have been happier at that moment 😀
After such an exciting day, we were both pretty exhausted and slept in. We had brunch at a really trendy restaurant before visiting Beverly Hills. It was lovely to just drive around and see the famous neighbourhoods: LA is full of palm trees!  We spent an afternoon at the famous Rodeo Drive which is full of super expensive shops. It was thrilling to just walk into the Vera Wang shop, a really famous wedding designer in America.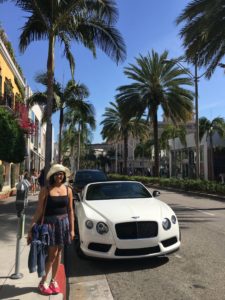 Everyone in LA seemed to be super healthy. We decided to join in and spent an afternoon hiking up Runyon Canyon. It took about 2 hours to reach the top but it was worth all the sweat and lack of breath. The view was spectacular! We spent a good half hour just taking lots of selfies :p We then went to Santa Monica pier for the evening. What was surreal to me was seeing all these places in real life instead of in movies for once. We went on the famous Santa Monica Ferris wheel and had a delicious LA-style hot dog.
Determined to enjoy every second of the wonderfully warm weather, we spent a day at Malibu beach! I spent hours just sunbathing and walking by the seashore. We had dessert by this really cool restaurant that was located above the sea. Malibu is famous for its seafood and so I treated us to a really fancy meal for dinner, cocktails and everything!
On my last night before my flight back to England, we embraced our Malaysian side and had dinner at Pappa Rich! Even though it definitely didn't taste exactly the same, the Nasi Lemak and Milo Ais was pretty darn good and the best way to end my trip with my Malaysian friend ♥ My flight back on the 21st of March at 2pm. Saying that I couldn't leave before having a proper American breakfast, we went to a famous 24/7 American diner. It's so famous that the queues are usually 1+ hour just to be seated. The wait was so worth it though as you can see!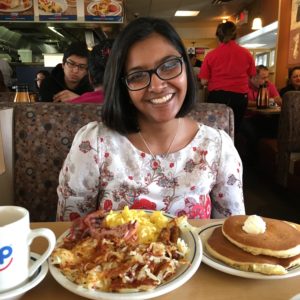 It was then time to bid farewell to my friend and this amazing city! I definitely can see myself living in LA in the future. It's such a lovely city and together with its glorious weather, what's not to love 🙂
Till next time; Selamat tinggal x