Hey everyoneeee! How's everyone doing? Christmas is just one week away and everywhere is just so Christmas-sy now! 🙂 Before we start I would really like to say hello to our 2 new Malaysian ambassadors- Catherine and Iman! Everyone let's welcome them with a big round of applause! 😛 So in the coming days hopefully you all will hear more from them as I'll be finally graduating in April'17 and head back to Malaysia after that. Hopefully I'll have the chance to meet them in person before going home as they sound really friendly and nice by reading their blogs 😛 So for all freshers and anyone that is interested in coming to Surrey Uni or UK, feel free to contact anyone of us at our FB page, leave a comment down here or email us at our inbox at malaysia@surrey.ac.uk which is specially for us Malaysians and one of us will definitely reply you promptly! 🙂
Okay so now let's talk about life in London. For those that has been following me closely on the blogs will know that I've basically completed my degree and is currently staying and working in Harrow, which is a town part of Greater London while waiting for my convocation in April'17. I used to blog really regularly every week to keep this blog alive and also share my life stories with you guys but I know I kind of miss out some weeks nowadays and I'm really sorry. 🙁 Work life is really tough and tiring and by the time I reach home I'm already exhausted and the only thing that I want to do is just lie on my bed and snuggle under my warm and cozy blanket especially it's so cold now. 😛 But fear not, as I mention above we have 2 new ambassadors joining us and plus existing Abhi, there's a total of 4 of us now so I'm really glad to have them to backup as well 🙂
So back to the main topic today. Christmas is just a few days away and the spirit of Christmas season is currently is at peak. It just feels so Christmas everywhere, which really makes me feel homesick a lot. 🙁 Nonetheless, I still try to cheer myself up by enjoying everything the festive has to give us. 🙂 Ohh, I remember I said I'll show more of the Christmas deco's  on Oxford Street in my previous post so here you go. 🙂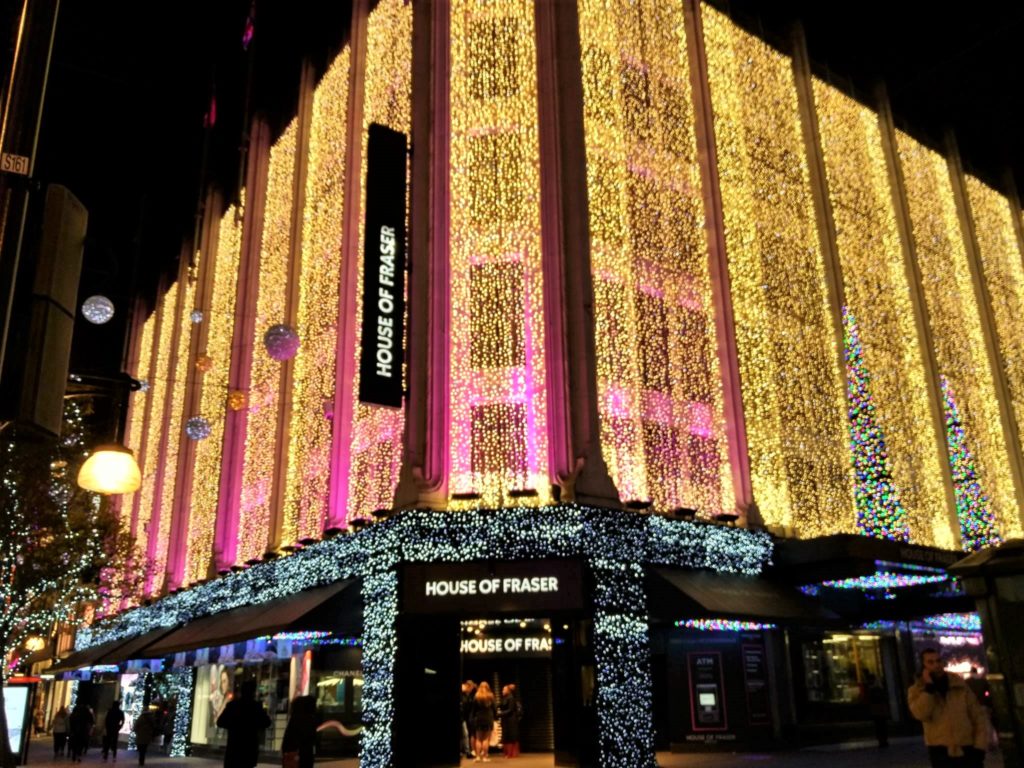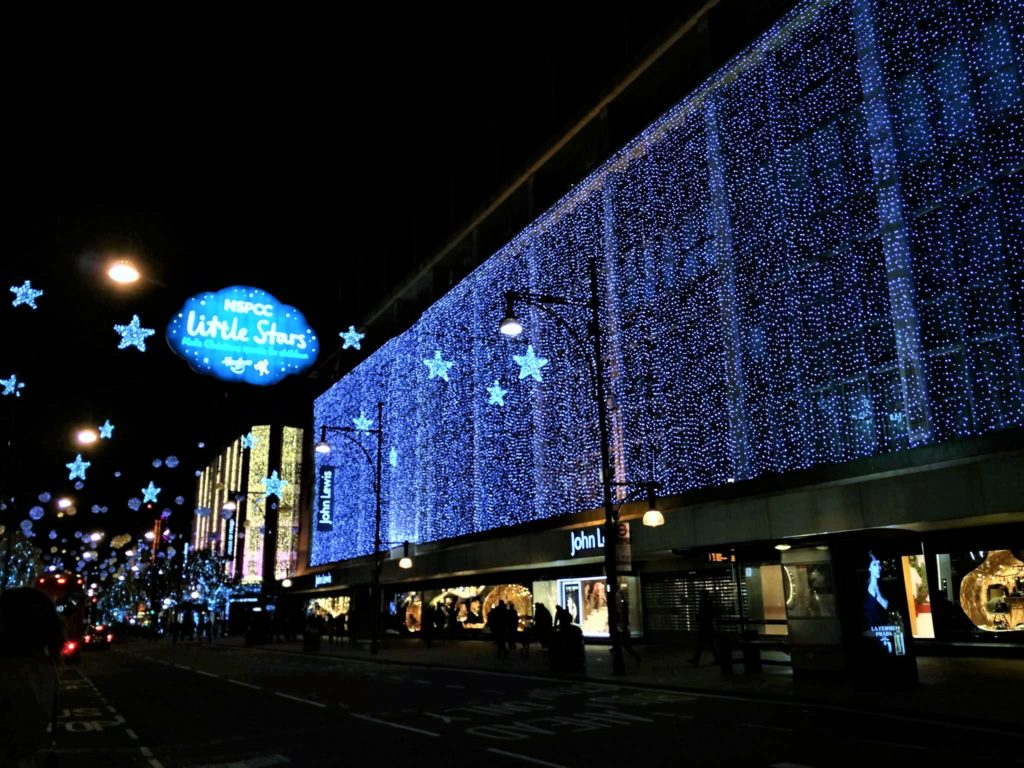 Wasn't that lovely. And oh, I would really like to recommend all of you to go for a visit at the Sky Garden! The Sky Garden a.k.a the walkie talkie building due to its unique shape is one of the very few skyscraper building in Central London which gives you a perfect view of London's skyline. It's located at 20 Fenchurch Street and is very easily accessible by all modes of transport. The nearest tube station is Monument but some other tube stations such as Tower Hill, Tower Gate, Aldgate, Bank and Mansion House are less than a 10-minute walk. Its open from Monday – Friday
10am – 6pm and Weekends during 11am – 9pm so you can be very flexible with the time of visit. 
So when I first heard of this place, there's an OS going on inside my mind: this must be one of those touristy place which needs a huge amount of entrance fee and when you're inside you'll find nothing special but just tourist taking selfies everywhere and you can't get a view of anything because of the crowd. But the truth is, I'm absolutely wrong. Firstly, fear not cause the entrance fee to the Sky Garden is FOC! Do you get me? FREE OF CHARGE! Besides, as it has a booking system whereby you need to book the time slot that you intend to visit prior the actual visit, there is actually a limited number of people allowed in at a time and thus it wasn't really crowded. The only thing is it's actually quite popular so you will need to book at least 2 weeks ahead. 😛 For more information on the Sky Garden and booking, please click here for their official website. 🙂
And thus, I decided to go for a night view of London's skyline during my visit a few weeks ago as I heard that night skylines are usually nicer with the lights 😛 When I first stepped into the glass dome, I was really amazed by the view it offered and also the atmosphere. Its a really relaxing place whereby there's a few bars in the middle of the garden and jazzy music playing with Londoners (or maybe not :P) having a sip of their favourite liquor after a whole day work. I couldn't help myself and started snapping pictures away and promised I'll be back again during day time for a different view (well its FOC so why not? 😛 ) Let the pictures do the talking!
Okay back to our main topic of the day. I attended Hillsong London's Carol Service at SSE Arena Wembley last Sunday and it's amazing! 🙂 I've always been attending Hillsong since arriving in UK and their services are really amazing with their anointed praise and worship team and also powerful messages from world class speakers. Hillsong Carols is their annual Christmas celebration and I attended last years one with my brother and it was really good so I was really looking forward for this year's one! And also, this year's carol celebration is also special as I was accompanied by my pretty air stewardess friend- Sze Shuen which is also from Malaysia and was visiting in town just at the perfect timing! And of course there's Eva (my only Surrey Uni coursemate that is still here) and her friend which was really nice as well and I'm really glad we get to attend the carols together.
As the event has a free seating plan, we decided to go to the arena earlier to get good seats. And thank God, He was really good and we were really surprised when we get into the hall as we get to seat right infront of the stage. Like literally right INFRONT. I still remember last year me and my brother sat really high up there as we arrive only on time and I could only look at the screen to see the face of the performers but this year was different! It was like the VVVVVIP seat and I can see the stage and everything clearly! And not to forget, the whole carol service WAS AMAZING! Me and my friends just couldn't stop cheering and clapping our hands and snapping pictures away as all the performance are really world class (in my opinion :P) The performances was based on a drama with a storyline of the three wise Magi and their journey to meet the brightest star- baby Jesus! It includes a mixture of a wide genre of performances such as modern robotic locking dance, beat-boxing and acapella, Hawaiian theme dance, choir and even a whole orchestra band! All the performers are really good and it was just amazing to be able to be there and be part of the celebration!
In short, Hillsong Carols is a really amazing production and I strongly recommend everyone to go experience the love and joy during the Christmas season next year even though you might not be a christian. It's only GBP 5 per ticket which is really cheap and worth it! Bring your friends and family together and I guarantee you'll enjoy every moment of it. 🙂 Oh, do click in HERE to see a short video on the highlights of this year event and you'll definitely love it! 🙂
Okay I guess that's all for today. Hopefully I'll get to blog my next post before Christmas so see you guys soon. <3
Merry Christmas!
Love xx
Adeline