Hiya! Well so fast it's been a week again which means it's blog time again! 🙂 To be honest, I really enjoy blogging and sharing bits and pieces of life with all of you so I do treasure this time of the week and tried my best to update weekly so hope you guys enjoy it. 🙂 Counting down to end of Jan whereby my student visa will expire and thus I'm not allowed to work anymore, this will be one of the last few posts I'm putting up so I even treasure the chance that I still have to blog here. For anyone of you that is interested to follow my stories after this could follow my personal blog HERE which I just set up recently so that I could continue blogging. 😛
Okay lets just go into the main body of the blog, which is part 2 of my jalan-jalan cari makan journey! Since I've introduced some of my top picks for Asian cuisines in London last week, this week I'll be introducing some of my personal recommendation for Western and other cuisines as well! 🙂
As London is one of the most ethnically diverse city in the world, the city has lots of amazing cuisine to offer. As a Malaysian I could really understand this as Malaysia is really famous for its food due to the culture diversity we have and thus there's unique cuisines offered due to fusions and localisation of world cuisine. Besides, I'm really into food and always enjoy trying out new types of cuisine and thus London is really the best place to fulfill my cravings. 😛 Even when I was back in Malaysia then I've seen many videos and blogs recommending some cafe and restaurants in London and thus I was really delighted when I could finally be here to try them out myself and indeed they are really good!
Some of my top pick for western food / cafe in London:
Western Cuisine
Golden Union Fish Bar– 38 Poland Street, Soho, London W1F 7LY
Since this is England, I believe when people ask you what food do you think of when you thought of England, the answer will definitely be FISH AND CHIPS  which is the same as referring to Nasi Lemak (coconut milk fragrant rice with chilli) when it comes to Malaysia. So the first restaurant I'll like to talk about is Golden Union Fish Bar which is my favourite fish and chips shop in London as I thought they sell the best fish and chips in the world! The price is reasonable despite its in central London, portion is huge, and most importantly the fish are really fresh and well battered!
Burger & Lobster– 11 locations around London, and also in Genting Highlands back in Malaysia
Burger & Lobster is so famous worldwide and I even heard of its name before I came to UK! And thus I decided to try it out when I first arrive and it's delicious! As its name suggest, the main food served in the popular chain restaurant is burger and lobster. Since it cost about the same for a burger or a lobster, smart consumer like me will definitely choose a lobster cause you know what, its a WHOLE lobster! It's my first time in life eating a whole lobster by myself and I would really that it is indeed very satisfying. It cost about £26 for a lobster that weights about 700gms which comes together with chips and salad which I thought is pretty reasonable as well. It was really good that it's always on the top of the to do list when I'm bringing my friends and family that are visiting from abroad on a tour in London! And oh, they recently opened up a branch in Sky Avenue in Genting Highlands back in Malaysia so for all those foodies out there that couldn't make it to London now can try it out back home! Not sure if it taste the same like here so for those who have tried out are really welcome to leave a message below and tell me how is it! 🙂
Tips: I personally prefer the grilled lobster more than steamed ones or the lobster roll! 😛
Borough Market– 8 Southwark Street, London, SE1 1TL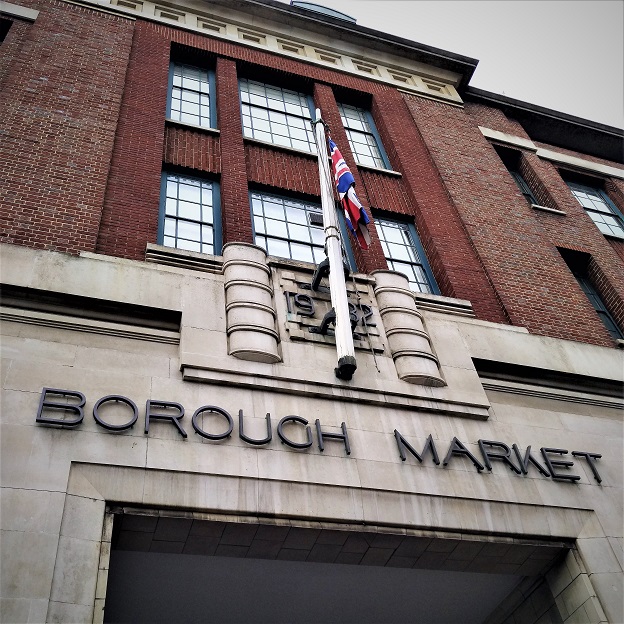 Well technically this is not a restaurant but as the name suggest, its a market. Borough market is one of the most oldest and renowned food market in UK which claimed to be dated more than 1000 years ago! The Borough Market consists of more than 100 stalls and stands that sells a wide range of fresh produce such as fish, meats, vegetables, ciders, cheeses, breads, coffees, cakes and etc. There's so much food offered that I thought it's the best place to go if you feel like sampling all kinds of food at a go!
Granger & Co– 3 outlets at King's Cross, Notting Hill and Clerkenwell
This was recommended by my brother's friend who said that their Ricotta Hotcakes is a bomb and must try! And thus we decided to try it out when my parents were here visiting last time but too bad it was SOLD OUT, which proved that it's really popular! So we try out other food instead such as the prawn and chilli linguine, crispy duck and also sticky chilli pork belly and it was really good! Although a bit pricey, I would still recommend you all to go for a try and definitely order the hot cakes and comment below how it taste! 🙂
Vapiano– 3 branches in London
Vapiano is a German fast casual restaurant chain offering Italian food and is really famous with branches all over the world. How cool is that 😛 Again this was recommended by my brother and this restaurant chain is kinda special cause it's a pizza and pasta bar, where food is made to order whilst customers wait in a queue so you can actually choose your chef, order directly and watch them cook on the spot. I think it's kinda special here cause you don't get much chance to watch the chef preparing your food not like mamak stall and hawker stalls back home which is so common (well I'm not comparing this to mamak okay don't misunderstand :P). Anyways, I like this place because it has a really good vibe for gatherings, food is tasty and cheap and drinks are served in pretty glass bottles which is really nice and I kept using the bottle till now! 😛
Tips: there's a 15% discount if you're a student! Just show your student ID 😛
Cafe
Monmouth Coffee Company– 3 branches in London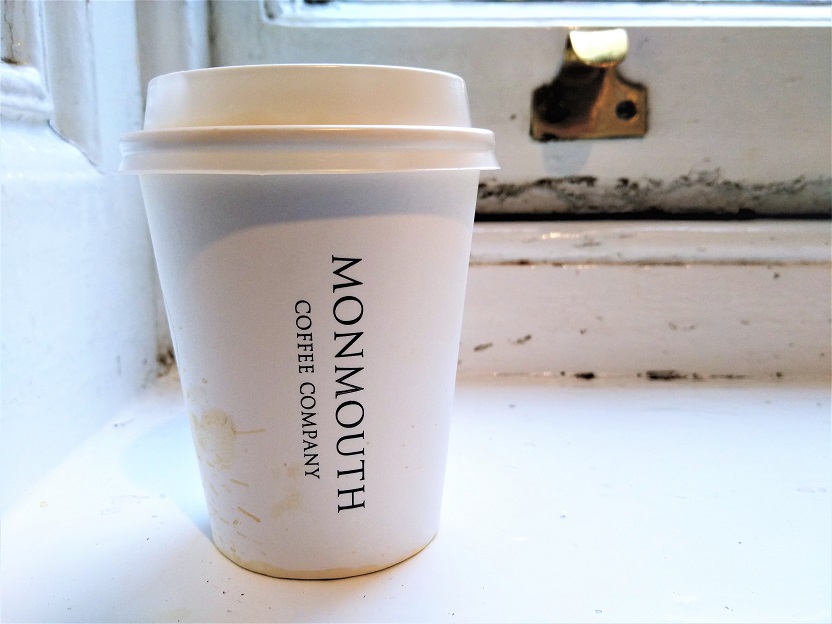 Speaking about coffee, I'm definitely a hardcore fan of coffee! Cafe hopping is one of my hobby back in Malaysia as I enjoy trying out different types of coffee and also enjoying the different ambiance of each cafe has to offer. However I've cut down this activity alot as it's quite an expensive hobby to do here due to our weak currency. But still I managed to try out a few cafe which I think is really good, which one of them is Monmouth Coffee Company. They are forever busy and there's always a long queue for the coffee but it really worth the wait. Their specialty is their filter coffee which has a very strong and nice aroma that you can smell it from far away. It's much better than Starbucks or Costa (in my personal opinion) and definitely is one of the best coffee I ever had in my life! 🙂
Crosstown Doughnuts– permanent stores in Shoreditch and Soho and markets across London
Hands up for those who are huge fan of doughnuts and I'll definitely be the first one to raise up my hands! I've always have a sweet tooth especially when it comes to bread. Doughnuts is definitely one of my favourite and Crosstown Doughnuts just satisfy all my cravings for different type of doughnuts! For all those Matcha lovers out there (still Asian in blood), their Matcha tea doughnut and Matcha latte is definitely a MUST TRY! And oh, what makes Crosstown Doughnuts special is the doughnuts are made by a hybrid sourdough which gives them a stronger crumb and bread-like texture, definitely better than Dunkin Donuts, Big Apple and JCo Donuts back home! 😛
Gail's Artisan Bakery– multiple locations across London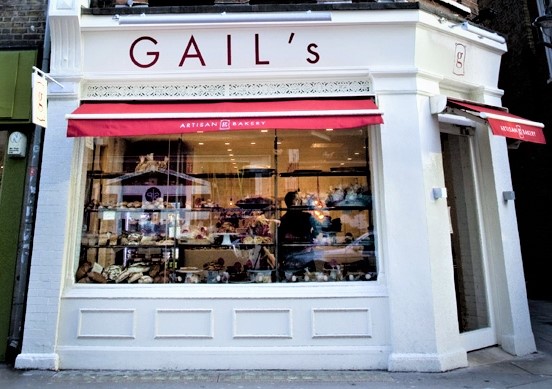 The interior design concept is always red and white across all shops 🙂 (image credits to moreno:masey)
This bakery / cafe was discovered unintentionally when I was walking past Soho. The breads and cookies displayed on the window attracted me so I decided to give it a try and it was so good that I need to recommend it to all of you!
Well I guess that's all for my post today. Of course there are still more that London could offer and awaiting me to discover so I might update the list again if there's chance. For all those foodies out there, how bout leaving some comments if you have any recommendations that I could try out? 😛
See you guys again soon next week!
Take care.
Love xx
Adeline