Finally squeezing some time out to reflect my EMEC17 trip to Granada.
Last semester, events student were notified that there is a scholarship opportunity to attend a conference, which you can already see from the title, named European Meetings & Events Conference 2017. I took the chance to apply and was granted the scholarship. At the same time, becoming an MPI member too. Becoming an event association member is nothing better as you can access to more insights and resources faster than anyone else. Therefore I hereby recommend people to explore respective industry's association.
Back to EMEC17. So glad that I have took Spanish class (It is a free course offered by University of Surrey, The Global Graduate Award. see details here), so I can actually converse a bit to the locals. But the funny thing is, I can only introduce myself in Spanish but nothing else. So when I spoke fluent introduction and they started to conversed in Spanish, gawdddd, I regretted. hahahahah!
I arrived in Granada one day prior to the event, thought I might be able to explore the city a bit, but well I was writing assessments in my own little room and only be able to go food hunting for dinner. As Spanish have their dinner late, I struggled a bit to find a restaurant until La Cuchara de Carmela. It is located by the riverside, excellent service and great food. I ordered Pulpo asado con mojo-picón y cremoso de patata, the roasted octopus, alongwith some rice. A dish of fried shrimp was served FREE too!
And of course I will never forget dessert!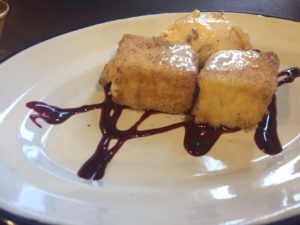 Day 2. Future Leaders Forum
So the D2 began. I made a bunch of new friends from different countries, that all passionate about events. We learned from each other, as well as from guest speakers. One thing to highlight is that, we were told that, we aren't no student, we are TRAINING IN PROFESSIONALS.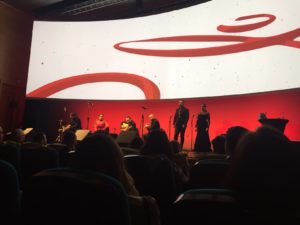 Opening of EMEC17 was followed. Performance of Flamenco with smooth stage design as well as colour, great sensation! It was inspiring and somehow, motivating. After the general welcome, we were brought to a private tour around Alhambra. Alhambra, The Red One, is a palace and fortress complex located in Granada, also a UNESCO World Heritage Site and the inspiration for many songs and stories. As it is protected, the site is very strict on timing and number of visitors. Therefore if you are planning to visit during summer, please book ticket in advance.
By the way, there was a small funny incident that occurred. As we were assigned into different groups for private tour and being utterly impressed by the architecture and culture, my newly-made friend and I accidentally followed the wrong group. Then only realised when we need to take the coach back to welcome reception. Anyhow, we made it to the reception and had a wonderful evening at the reception! We even danced Flamenco on stage!
Day 3
Second day of the conference depends on what workshops we select to join. Unavoidably, technology, neuroscience and sustainability again hit the conference. Not only event related issues, the conference did provide some soft skills workshop as well, which they invited David Beckett, pitch trainer to start a workshop. 20seconds pitch, achieve and strike your goals!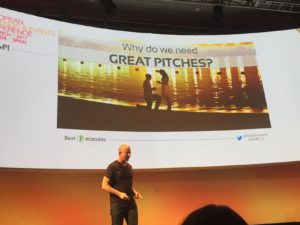 Followed by another tour again! This time is around the city centre of Granada. Organiser arranged a Scavenger Hunt that let us explore the history and food and wine of the city by designing a competition. Weather was so perffffeeeccccttttt too!
I counted, that we walked for almost 20K steps! Of course food is so much needed after this tour. Went to a local tapas shop and had like four plates! Including free food. This is because for every drink you ordered, one small free dish will be given. Even though I was so filled, I cant help but still hunted churros down. No spain trip is complete without churros!
Wrapped up.
No regrets even though the journey home took almost 8 hours.
New friends, new lessons.
The one lesson impressed me the most is
"We aren't just event planner, we are the engineer of trust."
So recharged and ready to fight again for 2nd semester. Mucho gracias and adios Granada! #EMEC17