Hi there! It is nearly the end of March, I hope that this month goes well for you guys.
This week, I'm going to talk about how I spend my free time. Unlike the packed timetable in the universities in Asia, the timetable in our uni is very flexible, roughly about 20 hours per week. Therefore, it allows us to fill our free time with something meaningful. During free time, some students may do some part-time jobs, some may go to the gym in Surrey Sports Park, the others may chill with their friends, have a pizza/ pancake party, drinking in the Rubix, or having a short trip to London, Woking and other places. Moreover, there are tons of activities happening on the campus, such as the charity cake sales, female's night, Kpop dancing sessions……Trust me, you won't feel bored in the uni!
During my free time, I will do some part-time jobs. Currently, I am working in the Hillside restaurant, Simply fresh, and I'm a student ambassador as well. You may ask: is it too much work for you? Aren't you busy having three part-time jobs? Well, all the jobs are fairly flexible, I can choose not to take a shift if I am busy with my studies, or I have exceeded the working hours limit of my Tier 4 visa. (For your info, for the international students holding Tier 4 visa, we are allowed to work part-time for maximum 20 hours per week. Despite earning some pocket money, I really enjoy the time when I work with my colleagues. I can feel the 'family spirit' when we are working together xx. Therefore, part-time jobs allow me to make friends with all sorts of people, for example, my colleagues that are doing different courses, my supervisors, and some customers. I will share some more details about how to apply for a part-time job, and how a part-time job is like in my next blog. If you are interested in applying for a part-time job in the uni, stay tuned 😊
Sometimes, I'll play the violin in the PATS building (the music department). There are a couple of practice rooms with pianos in the building. For me, playing the violin is a perfect way to relieve my stress, as I always feel good about mastering a song, maybe it is the sense of accomplishment. I prefer pop songs than classical music, therefore I always do some pop song covers, and post them on my Instagram XD. Moreover, Surrey String Orchestra has a rehearsal every Tuesday. Therefore, I have the chance to play some more technical music pieces and improve my skills. The seniors are very kind, they always give a lot of advice during the rehearsal. It is worth bringing my violin here from Malaysia, I can't imagine how lonely it would be without my violin around. Sometimes, I will go to the concerts held in the PATS Studio. I just watched a concert by the Primrose Piano Quartet two weeks before. In fact, there are many concerts and recitals happening in the PATS Studio. For example, there is a lunchtime recital from student performers at 1.10pm every Wednesday. I am planning to go for a collaboration concert by Jane Chapman (a classical harpsichordist) and Sam Cave (a guitarist) next week too.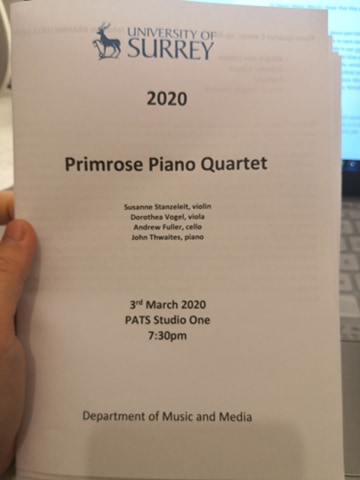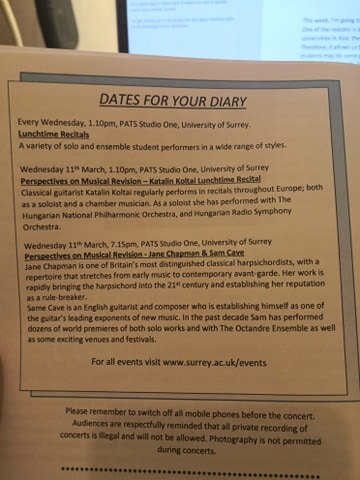 In addition, I will go to the town if I have a whole day free. My favourite place is Wetherspoon. Weatherspoon is a pub that claims to be 'the only pub which opens early in the morning until late evening (11pm)'. They serve a wide range of western dishes with fairly affordable prices. For instance, there are traditional English breakfast, pizzas, and a variety of burgers. I always order a mushroom risotto (about 5 pounds) and a glass of white wine (about 2.50 pounds). To have some self-time, I will read my book, or watch Youtube videos after having meals. I don't know why, but I simply like the atmosphere there. It's quite relaxing. I even spend my Christmas Eve in Wetherspoon! Besides, I might explore the town, and maybe visit the bookstore, Waterstones and the Guildford library on High Street. Moreover, I will go window-shopping at the Friary centre if I have time. However, occasionally, I would just wander the streets, taking pictures while listening to music to empty my mind. You will find how the beauty of Guildford when you slow down your pace and savour the small moments.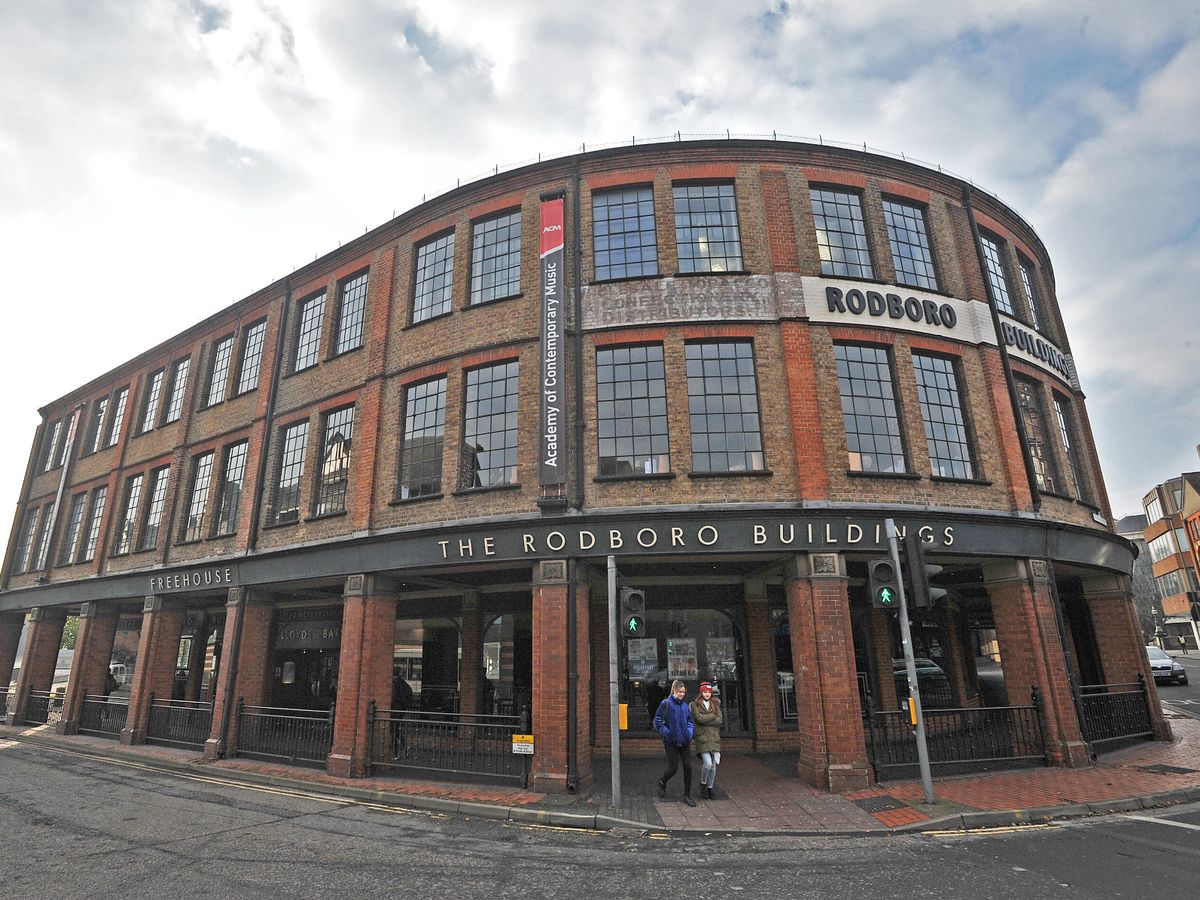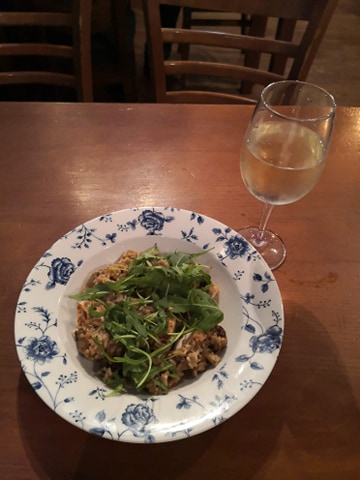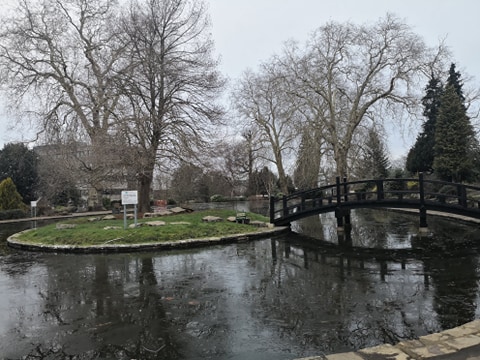 Last but not least, I will cook a nice meal for myself. I like having Chinese soup, especially herbal chicken soup and Bak Kut Teh. However, the soup needs to be boiled for a long time. Thus, I only make Chinese soup during my free time. Often, I will cook sweet potato soup as a dessert. When I cook a large portion, I will invite my friends to my house and have dinner together.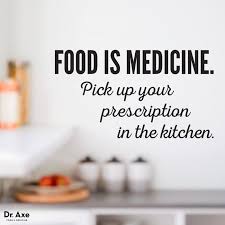 Alright, this is how I spend my spare time. As the saying goes, 'all work and no play makes Jack a dull boy'. If you enter the uni, don't just focus on studies. There are tons of activities waiting for you! Spending quality time with yourselves or your friends would mentally recharge yourselves and make you more optimistic in the face of future challenges. If you're reading this blog, feel free to share your ways to spend your spare time in the comment! Hope you have a great weekend! Catch you guys next time!