Hi there! How have you been? It's the last week of July and literally there are only three weeks left for me staying in Malaysia. Time flies, isn't it? By the way, how is your preparation for Surrey? I heard that Isabelle is holding a pre-departure briefing on 27th August, I hope that you all could make it, I am sure you will be benefitted from the briefing.
Alright, this blog will be about the advantages of doing voluntary work and the steps to join and log volunteer hours in Surrey Volunteering Team. As I mentioned last week, I was surprised that voluntary work experience could be a huge advantage when I applied for my placement. I interviewed for a laboratory assistant placement job, and surprisingly, the interviewer asked me quite a few questions about my volunteering experience and my thoughts about volunteering, instead of asking me specific questions related to the research project. The interviewer seemed to feel satisfied with my answer, and I got an offer from him after two days! I think it is probably because that volunteering could help employers to see my passion, dedication and commitment. These are important values that the employers are looking for, since they might think that you would carry the work ethic into your placement job.
Moreover, volunteering is a good way to train your confidence. Getting involved in voluntary work means that you have to meet different people from different backgrounds, and carry out many tasks that you have never tried before. For example, when I first participated in a fundraising event for Shooting Star Children's Hospices, I was so shy to speak to the public about the aims and objectives of the charity. My voice was very soft and even some people asked me to repeat as they couldn't hear it clearly. When I was volunteering at the Guilford Beer Festival, some customers asked me to recommend some beer, my face turned red and started stammering as I was pretty nervous at that time. However, the more voluntary work you involve in, the more confidence you gained. Voluntary work kinda gives you the opportunity/environment to learn to speak to the public and communicate with teammates and others. Particularly, it is a great opportunity for international students/non- native speakers to learn speaking and listening. You may also make friends with your teammates, which is a bonus! I met Elizabeth in Varsity Games 2019 and she became one of my besties. We always meet up and have dinner together.
Furthermore, I would say volunteering could indirectly improve your time management skills. As a student, our main priority is our degrees, and volunteering should not occupy your study time. Therefore, it is worth learning to determine the number of voluntary working hours you want to commit, which would not affect your studies. Having said that, I personally think that the voluntary hours don't really matter, it is the thought of willing to contribute that makes you different.
Now, let me show you the steps to create a Surrey Volunteering account.
1. Firstly, fill in your details via this link: https://www.surreyvolunteering.com/volunteer-registration
2. Then, you can update your profile. You can find out the voluntary work opportunities available by clicking the tab 'opportunities' (Please refer to the diagram below).
3. By clicking the tab 'log your hours', you can start filling the details of your voluntary work (eg. The organization that offer you the work, your role, the skills you gained from the voluntary work) (Please refer to the diagram below) . Remember to ask the person in charge of the voluntary work about his/her name, email address and phone number, you would need those details to log your hours.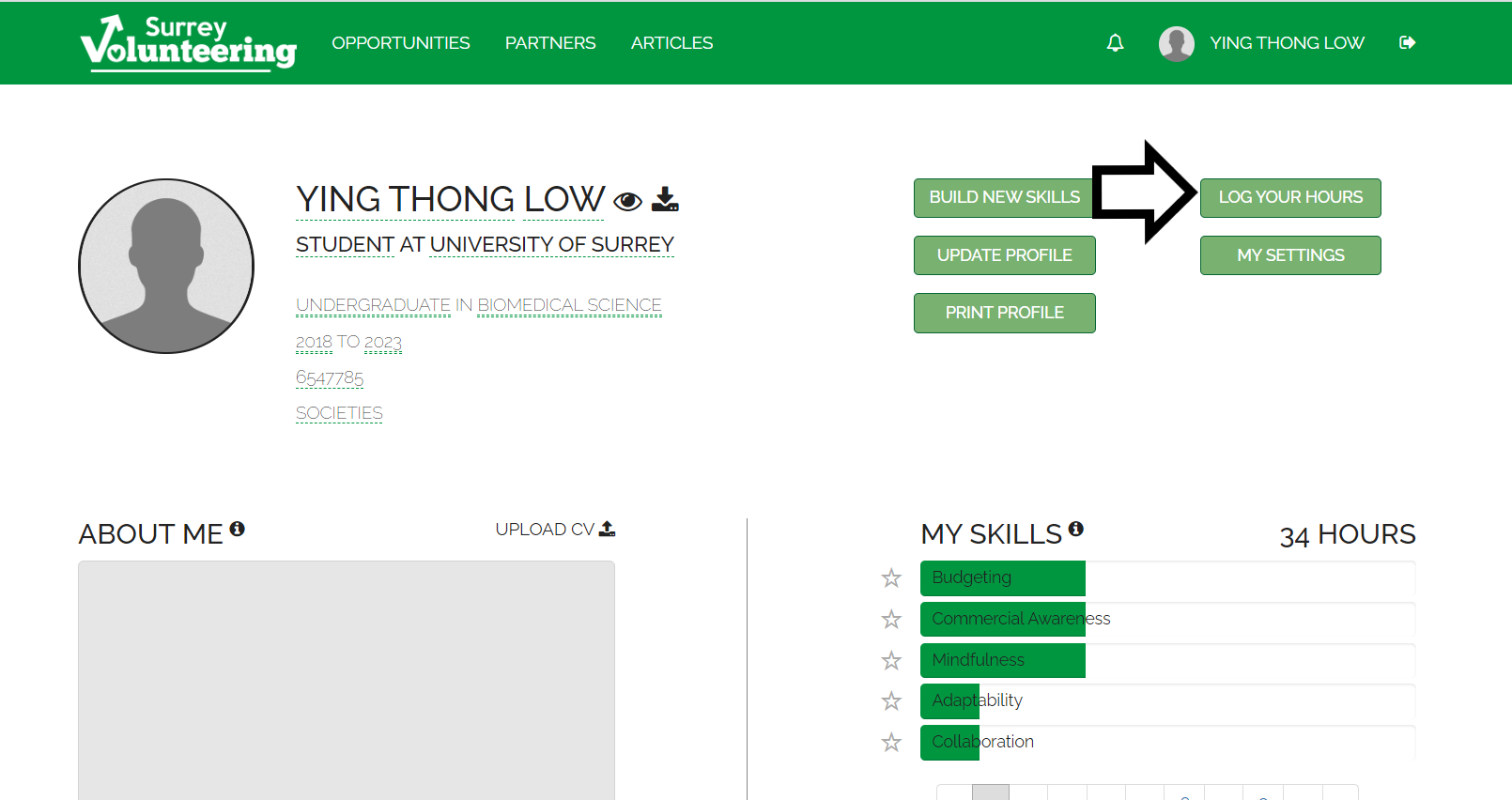 4. After that, you have to write a reflective note, you could talk about what you have learnt, your feelings and which part you wish to improve next time. In addition, you might have to write a message to the approver as well.
5. Finally, submit the form and wait for the approval. You will receive an email when you have successfully logged your hours.
That's it for registering and logging hours, quick and easy XD. Hence, feel free to try taking part in voluntary work when you are in Surrey. I believe this will be one of the fond memories of your university life.
For more voluntary work opportunities, click this link: https://do-it.org/ 😊
Have a nice day! See you next week!