Hi there! It's the weekend again, I hope that you had a nice week without being overwhelmed by the lectures and assignments. I have been busy doing research on my final year project, part-time work and lectures. I also joined the yoga society and archery team to keep myself active. I quite enjoy this new routine by the way, but it took me some time to get used to it.
Around this time every year, most of the students are applying for internships, placements, master degrees and PhDs. I am currently applying for a PhD too. Hence, I would like to share some useful resources available in Surrey that could help your application. I will focus on the application for placement based on my experience.
I sometimes get asked about how to look for a placement. Normally, second-year students will attend a seminar in the first or second teaching week, where you will be provided information about what a placement is, the advantages of having a placement year, how to prepare your CV, and where to find out more information about placements. In the seminar, the career advisor will recommend you to look at the resources provided by the Employability and career centre, particularly, Surrey Pathfinder.
Surrey Pathfinder is a digital hub/ webpage with 24/7 access, that offer careers appointments and event bookings, jobs, placements and interactive development tools. Organisations that recruit placement students usually post their advertisements on the portal. You could filter the advertisement based on your course and the properties of placement. There will be job descriptions, requirements, application deadlines and ways to apply for the placement stated in the advertisement. Thus, you just need to follow the instructions and prepare the documents required. This is how I applied for my placement. Alternatively, you could look up placement opportunities on the official websites of the organisations/institutes that you are interested in, however, I would say that the advertisements of most of the big organisations are always posted on the portal.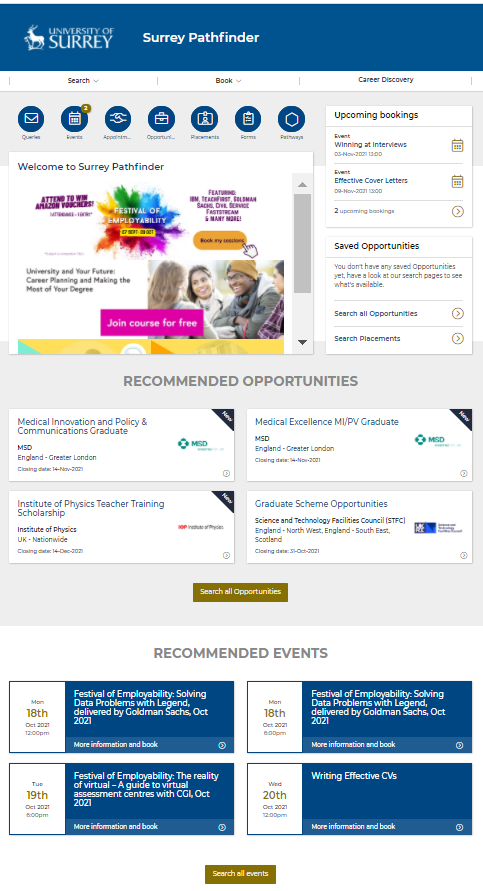 Furthermore, around this time two years ago, the Employability and Career Centre will organize a recruitment fair in the PATS field, where a multitude of companies are invited to provide placement information specific to their companies. As a biomedical science student, pharmaceutical companies like GlaxoSmithKline (GSK), Pfizer and Merck & Co. (MSD) are more of my interest. Through talking to the employee, you could get an idea about how many and what kind of placement students they are looking for, how is the assessment centre/interview process is like. There might be current placement students who could share their placement experience in the particular placement too. Therefore, I would really recommend you to sign up for the recruitment fair if it is happening this year.
Alright, after you have an idea about what organisations you would like to apply to, it is time for you to update your CV and write a personal statement/cover letter, depending on the requirement of the company. There are lots of talks, workshops and seminars organized by the Employability and Career Centre throughout the year. Notably, the Festival of Employability is happening now until 28 October. Apart from the employer showcases from many leading graduate recruiters, there are many workshops on how to write an effective CV, how to prepare for an assessment centre, as well as how to improve your personal profile on LinkedIn. The workshops are super useful as you will get guidance from professional career advisors. (By the way, each week of the Festival, 3 lucky winners will be given £50 Amazon vouchers. Thus, the more events you attend, the greater your chance of winning!)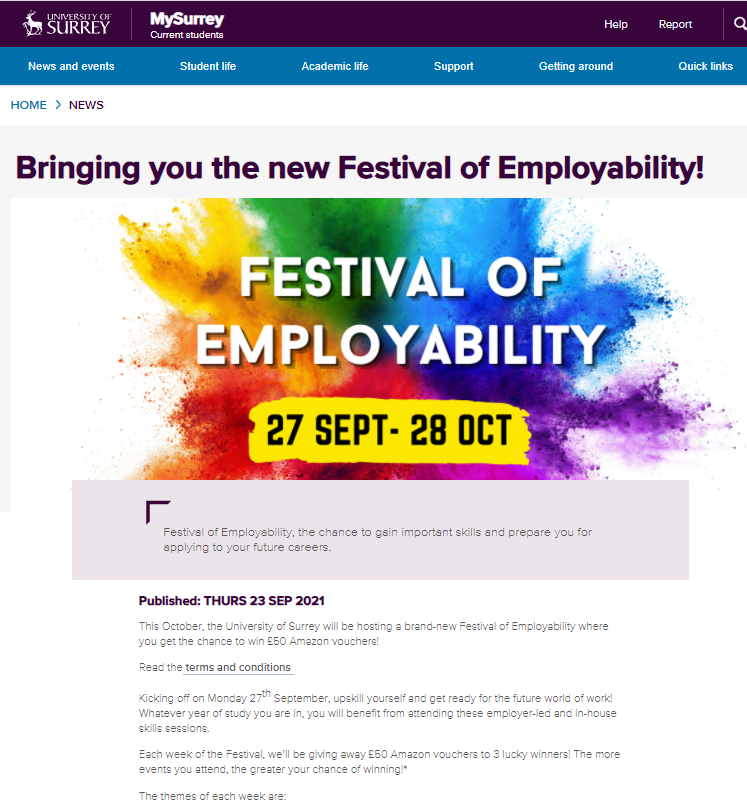 Moreover, you could book one-to-one appointments with a career advisor to check/discuss your CV and personal statement, which I found very useful. I booked a mock interview with them, and it turned up that most of the questions we practised in the mock interview were asked by the interviewer in the real interview. In addition, if you have any doubts about whether to apply for a placement, or you are not sure about your future career, feel free to consult them to get professional advice.
By the way, if you are an international student who is not doing a sandwich course but you are interested to apply for a placement, you are allowed to switch your course to a sandwich course. I am not sure how it is done, but my friend talked to her personal tutor, and her personal tutor got this sorted for her. The tricky part is the student visa, since you may need to extend your visa for one more year in order to finish your course if you are doing a placement.
I hope that the information is useful, don't hesitate to contact me/the Hive if you have any questions regarding applying for a placement. As you might be aware, the University of Surrey was awarded the University of the Year for Graduate Employment by the Times Good University Guide 2022. This indicates how outstanding our university is in lighting up students' future careers. I will update you on my blog if I found other resources useful for application as I apply for my PhD.
Wish me luck on my PhD application! Have a nice weekend!